It is a cold evening in Santiago de Chile. Like every Thursday for the last 9 years, a group of yoga students gather under one common goal.  To serve and bring food to some of the many homeless people that live on the streets in Santiago, Chile.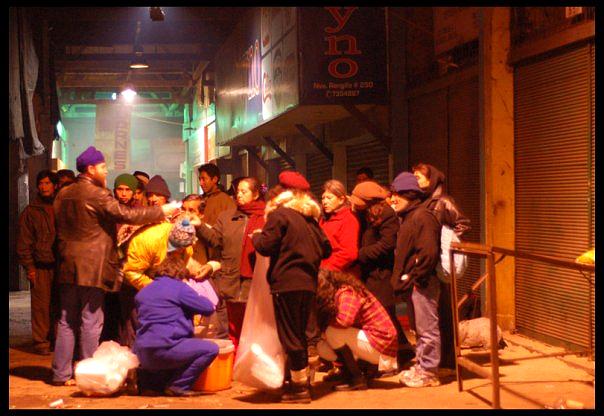 Almost ten years ago, two students of Yogi Bhajan inspired by his teachings started this program.   There were no thoughts about how they were going to do it, no fear about how much money it will cost; they just had the clear intention of it, and the heart to not let anything stop it.

They started with some hot tea, and cheese sandwiches. And week-by-week, these two young men found a way into these peoples heart. The gangsters stopped being aggressive, the old ladies started telling their stories, and the old
men started smiling.

This is how Langar Chile was born.

Now Langar Chile is an organized Nonprofit, has his own kitchen, volunteers from all walks of life, teams that cook vegetarian meals, teams that serve, teams that work from their computers. It is a source of inspiration for other Langars all over South America, with a professional website, a newsletter, and a video.

How can all this happen?

By the grace of the Guru, because after all this "growing up", the Langar Chile spirit remains the same - simple and full of joy.  It is all about getting together, cooking and serving food; nothing more complicated than that.

For the "Langareans" (those who feel part of the non profit), the food is just an excuse to talk to these people. Because after all this time they've opened up, they tell their stories, and they are all amazing.

The greatest challenge is not the money. Langar Chile has always been covered by the Guru, and we trust we will always be. The greatest challenge it to keep the right spirit. This is not a duty; it is something we do from the heart.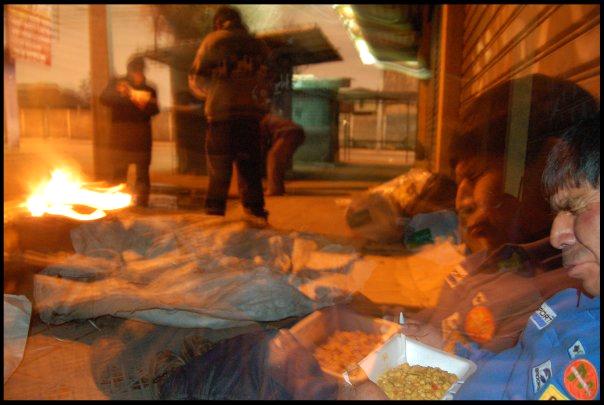 We keep going, because we feel people are counting on us, and they give us so much. We are the ones blessed by serving them, not the other way around. And it is real; it is a feeling we get every time we go, and it is not because we feel great about ourselves for doing this; it is because we can share with them. They are not better or worse; we are not here to save them, but to feed them and spend some time with them.

 Langar Chile in Numbers


Serving a vegetarian meal, every Thursday, since 2003


Non Profit Organization since 2009


200 vegetarian meals, every week


9.600 meals every year


86.400 meals since the beginning in 2003


Around 50 active sevadars in all the different areas (cooking, serving, donating, coordinating activities, others?)


An estimate of 18.000 cooked vegetarian meals given in the 2010 earthquake affected areas


Support with "How to" workshops and some cooking materials to other Langar Programs in Chile, Osorno and Viña del Mar


Support to other Langar Programas in Latin America, though email.  (Argentina, Paraguay, Colombia, Peru and Mexico.)
 
Langar Chile Contacts
 
Tips to start your own langar program:
Start from the practical aspects. Be real. This is not about philosophy, or ideas. It is only serving


Commit to it, commit to it, and commit to it


If you are serving in the streets, find out about permits, or other requirements you might need


Be simple, it is about cooking food and serving it


If people reject you, keep in mind that you are the one knocking on their door. It is their "home", and you should respect that


Be real with the people, an attitude of "I am here to help you" is deeply annoying


Come back to the spirit of service, not duty. Chant Ardas Bhaee till you go back to the heart. Days if necessary


Make one dish to avoid issues of somebody getting more of one dish, possible fights for it, it is cheaper, and easier to serve


If you are serving in a dangerous place, keep in mind security


Enjoy it, enjoy it, and enjoy it!