Serene Singh had been a Rhodes Scholar for less than 48 hours last November when she boarded a flight for Southern California. She had a contest to get to, National American Miss, the nation's biggest youth beauty pageant.
Rhodes Scholars are rare enough — Singh, a CU Boulder senior, is one of 32 from the U.S. in the latest crop and CU's first winner in 25 years. Rhodes Scholars also aiming to be Miss America were perhaps unheard of until now.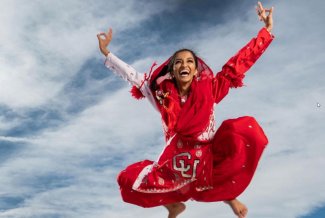 But Singh (Jour, PolSci'19), a bhangra-dancing, snowboarding Boettcher Scholar from Colorado Springs with a 3.98 GPA, isn't shy about the diversity of her ambitions, or much else, for that matter.
"There's no class in confidence," she recently told a Denver audience of about 750 CU alumni and friends while dressed in a bright yellow jumpsuit — you have it, or you build it.
The former Miss Colorado Teen and America's Junior Miss said pageant competition has helped her cultivate presence, poise and a sense of her "own unique beauty."
To pageant skeptics (she once was one), Singh says she skips bathing suit contests. But she doesn't scoff at contestants who find confidence through them: "I say to those women, I think they should do it shamelessly. I applaud them for being bold."
Singh has done a lot.
A champion debater, member of CU's Presidents Leadership Class and chief justice of CU's student government, she's also a classic activator: She founded CU's Sikh Student Association, the National Sikh Youth Program and the Serenity Project, a nonprofit group devoted to empowering marginalized women.
There's no class in confidence, said Singh — you have it, or you build it.
Last spring, mere months before she became CU's first woman Rhodes Scholar, she won a Truman Scholarship, which provides $30,000 awards for young people invested in public service and access to an alumni network rivaling the Rhodes'.
Last summer, after spending part of it as an Obama Foundation intern in Washington, she returned to campus and resumed the presidency of both CU's Sikh Student Association and the political science honors society — all while leading the Colorado Bhangra Team, a competitive Punjabi dance squad. CU Boulder's team, part of the statewide team, numbers about 30, she said, mostly non-Indians.
Singh, who grew up in a Sikh family, was also preparing to undertake an honors thesis about public perception of Sikhs in the U.S., tackling two majors and stopping nearly every dog she saw for a pet and a selfie.
"I've got about 400 now," she said, presumably including her own chihuahua, Betta ("child," in Hindi.)
After commencement in May, the Rhodes Scholarship will take her to England for all-expenses-paid graduate study at the University of Oxford. There she'll follow in the footsteps of many prominent Americans, including Rhodes alumni Bill Clinton, Rachel Maddow and U.S. Supreme Court Justice Byron White (Econ'38).
In all, 20 CU Boulder alumni have won the Rhodes since it was established in 1902. Before Singh, the last CU Buff Rhodes Scholar was Jim Hansen (Engr'92; MAeroEngr'93), in 1993. The former CU football captain later earned an Oxford Ph.D. Today he is superintendent of the Naval Research Laboratory's Marine Meteorology Division.
Worldwide, there were 100 new Rhodes Scholars in 2018. Of the U.S. contingent, 21 were women, the most ever. Besides Singh, CU Boulder's Nikki van den Heever (CivEngr'17; MEngr'19) made the final round.