Tejinder Pal Singh's name was announced as the recipient of the prestigious Australian of the Year series award on Tuesday.
The 2017 Northern Territory Local Hero is food van founder, Tejinder pal Singh.
His name was announced as the recipient of the prestigious Australian of the Year series award on Tuesday.
The Award recipients will join recipients from all other States and Territories as finalists for the national awards, which will be held in Canberra on 25 January 2017.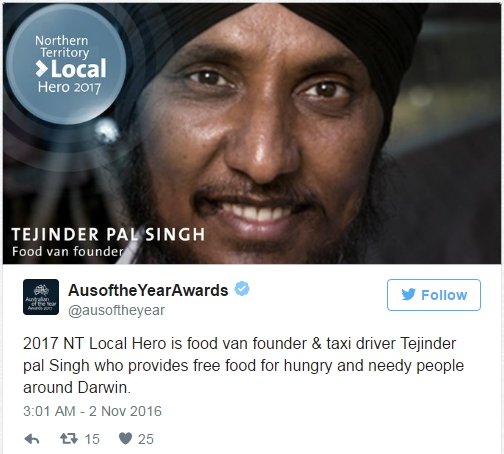 For the past four years, Tejinder Pal Singh has dedicated the last Sunday of each month to feeding poor and needy locals of northern Darwin.
After a gruelling 12-hour shift driving a taxi, Tejinder spends five hours cooking up a storm in his kitchen, preparing 80 kilograms of vegetarian curry and rice, which he then serves as a free lunch.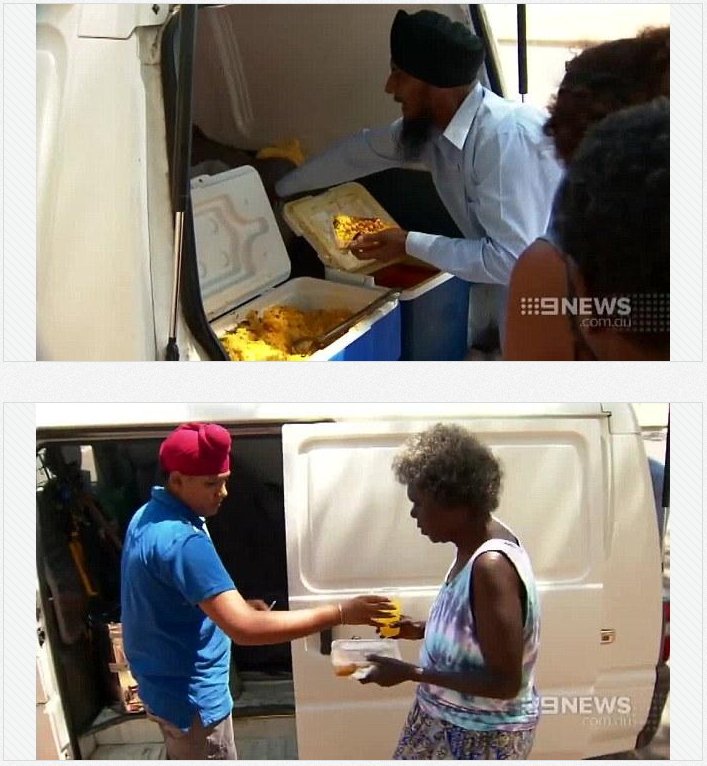 After arriving from the Punjab region with his family in 2006, Tejinder endured a racist tirade of abuse while transporting a passenger which inspired the humble man to break down the negative prejudice associated with turbans.
Funding the feast each month from his own pocket, Tejinder attributes his generosity to his deep Sikh faith.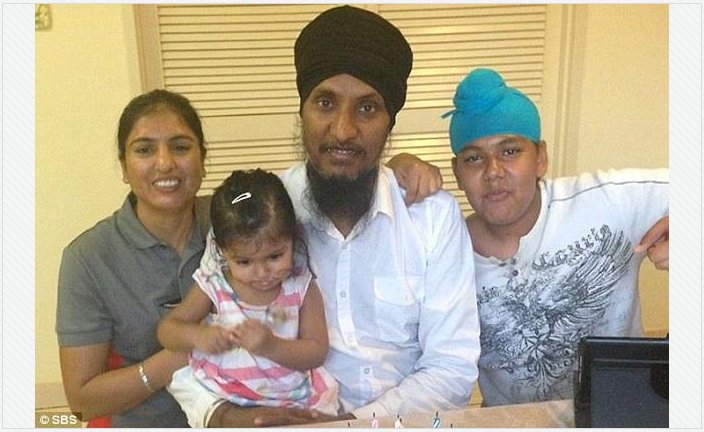 His work has inspired three other groups to take up the cause to distribute free food to the homeless on Sundays. And the hungry and thirsty come flocking when they see Tejinder's van, emblazoned with the sign "free Indian food for hungry and needy people."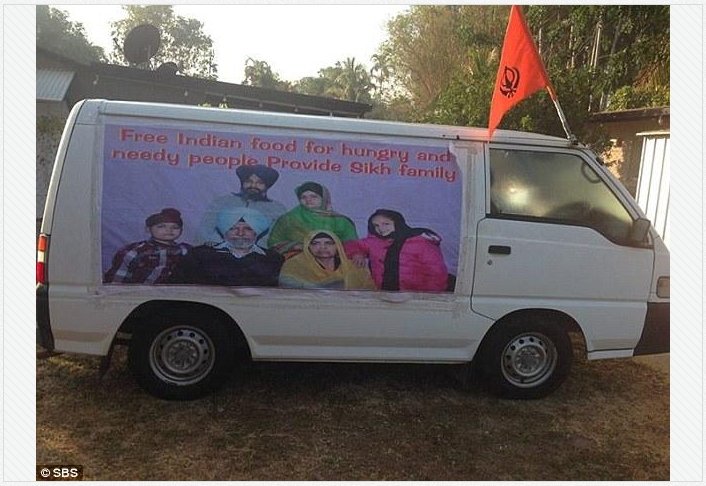 "One more step to making awareness about Sikhism and share thoughts. Thanks to teachers and future of my beautiful Australia," said Tejinder Pal Singh on social media post.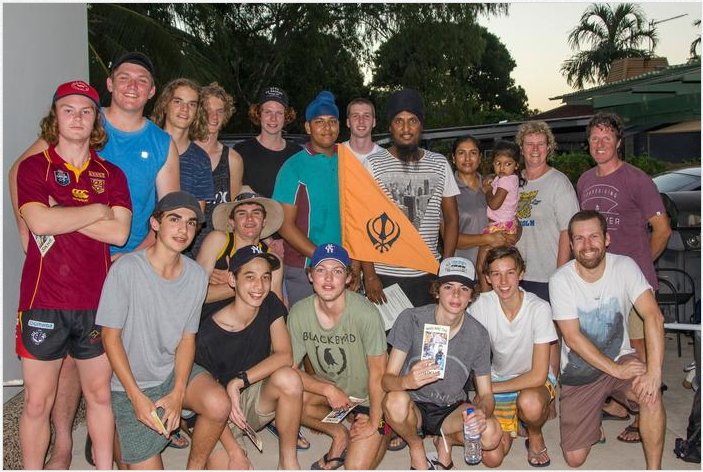 Northern Territory Chief Minister, Michael Gunner, recognised the recipients for their outstanding efforts and contributions to the NT community and the nation.
"These inspirational people epitomise selflessness by often putting others before themselves," Mr Gunner said.
"We can all learn from their efforts and hard work in helping make our communities and the whole of the Northern Territory a better place to live and work.
"Our recipients hail from vastly different backgrounds yet they all have one thing in common – they have an overwhelming desire to help others.
"It's often that these are the people who go about their business unrecognised, which is why I'm so pleased that their achievements are being acknowledged.
"I'm sure that all Territorians will join me in thanking our recipients and wishing them well at the national Awards." Australia Day Council NT Chair, Daryl Manzie, said the Territory Awards recipients are four inspirational Australians.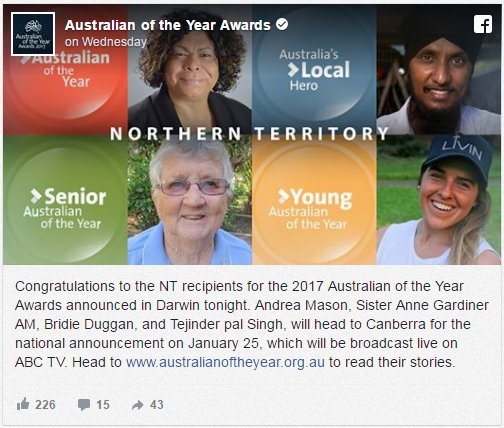 "These Awards celebrate the achievements of Australians worthy of the nation's attention and tonight's finalists, and indeed Award recipients, are no exception to the rule," said Mr Manzie.
"These are remarkable members of our community who lead by example and inspire others to make a difference locally, nationally and globally. They are willing to stand up for what they believe in, to mentor and to take others on their journey.
"It is an honour to recognise them through this esteemed Award process and I wish them every success as they go on to the national Australian of the Year Award ceremony in January. Good luck and thank you."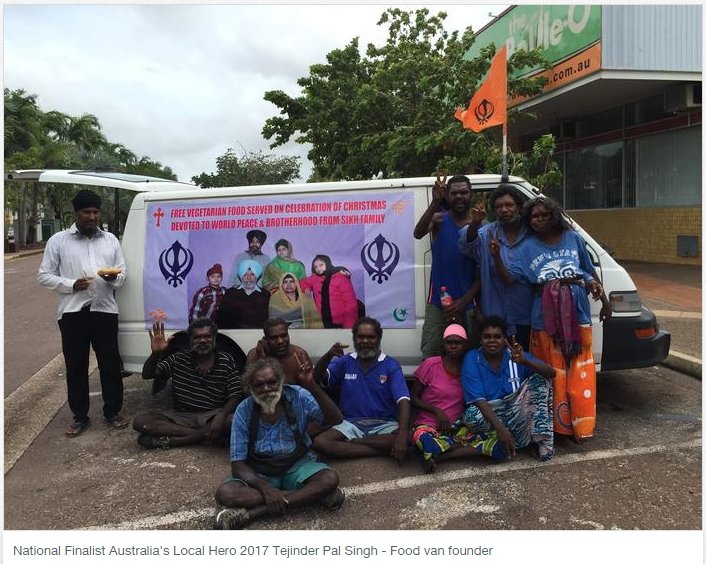 ------------------------------------------
Related article:
Selfless Migrant Sikh Taxi Driver Serves Food To Needy