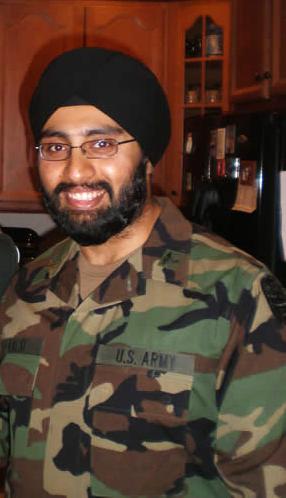 (Washington D.C.) December 11, 2009 - The U. S. Army has announced that it will accept a second Sikh recruit, Captain Tejdeep Singh Rattan, with his Sikh identity intact. Captain Rattan, a military dentist, had refused to remove his dastaar or shave his hair as a condition of joining the military.

On Vaisakhi 2009, the Sikh Coalition launched a campaign calling on the Army to accept all Sikhs, including Captain Kamaljeet Singh Kalsi and Captain Tejdeep Singh Rattan into the military.  The Army announced that Captain Kamaljeet Singh would be allowed to serve earlier this fall.

The U.S. Army's acceptance of Captain Tejdeep Singh and Captain Kamaljeet Singh marks the first time in 23 years that the Army will accept Sikh recruits who maintain their articles of faith.  

While the Sikh Coalition whole heartedly applauds the Army's action, it remains concerned that Captain Tejdeep Singh and Captain Kamaljeet Singh received individual accommodations to Army policy.  There has not yet been a change to the overall policy excluding Sikhs from service.

The Big Picture: What This Victory Means for the Sikh Community

The individual accommodations for Captain Tejdeep Singh and Captain Kamaljeet Singh have significant implications for Sikh employees.

The Army is America's largest and most prominent employer.  Ending discrimination in the United States Army sends a message to all other employers, both private and public, that discrimination against Sikhs who maintain their articles of faith is not acceptable.  

Though Sikhs have approached several police and sheriff's departments for jobs, they are often told that if Sikhs cannot serve as US soldiers, they cannot serve as police officers either.

Most importantly, over the long-term, equal participation of Sikhs in all of society's institutions, including the Army, will go a long way towards reducing the prejudice Sikhs often face in schools and on the streets.

Next Steps

Over the coming year, with the community's active support and in collaboration with other Sikh organizations, the Coalition will continue to work with the US Army to ensure all Sikhs may serve without individual exemptions.  We are encouraged that the Army has expressed its willingness to review its general policy of excluding Sikhs from service.

A Thank You to Our Community Partners

The Coalition would like to thank the law firm of McDermott Will & Emery LLP, and Amandeep Singh Sidhu, Esq., McDermott's lead attorney on the matter. In 2009 alone, McDermott attorneys have donated over $250,000 in pro bono legal services to the Sikh Coalition on this issue.

The Coalition would also like to thank Representative Howard Berman (D-CA) and Jasmeet Kaur Ahuja on his staff for the countless hours they devoted to ensure a successful resolution of Captain Rattan's and Captain Kalsi's matter.

Several Sikh groups worked together to achieve this goal. The Coalition would like to thank the Sikh Council on Research and Education for the many hours it invested in outreach on Capital Hill, as well as the SALDEF and United Sikhs. Finally the Coalition would like to thank the thousands of Sikhs who signed petitions to the Army's leadership and contacted their Members of Congress.

As always, the Sikh Coalition urges all Sikhs to practice their faith fearlessly. If you are barred from joining the military or any type of employment because of your Sikh faith, please report the incident at [email protected].