Sikh Religious Society organizes its Second Annual "Sarbat Da Bhala"
(Well-being for All) Run in Palatine Gurdwara Neighborhood  

Palatine, IL: Sikh Religious Society organized its second annual 3.2 km Run/Walk on June 30, 2019 in Palatine, Illinois, a suburb of Chicago.  The theme of the run was "Sarbat Da Bhala" (Well-being for All). More than 250 participants of all ages including the neighborhood residents and their families took part. Neighbors cheered the runners as they passed by their homes.
State of Illinois Senator Ann Gillespie, who represents the people of this neighborhood in 27th Senate District, was the honored guest and kicked off the run. The Run/Walk was for well-being, health, peace, love and tolerance.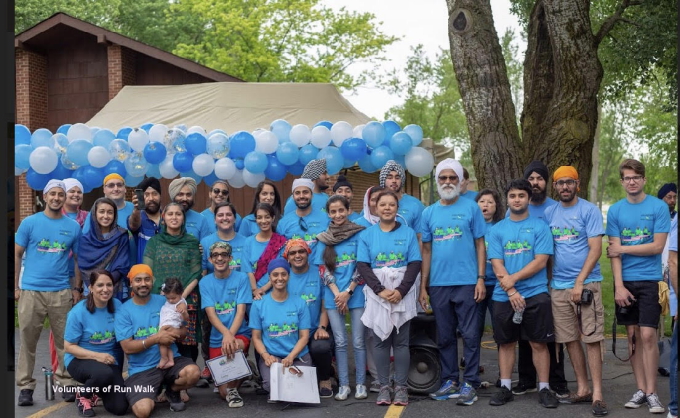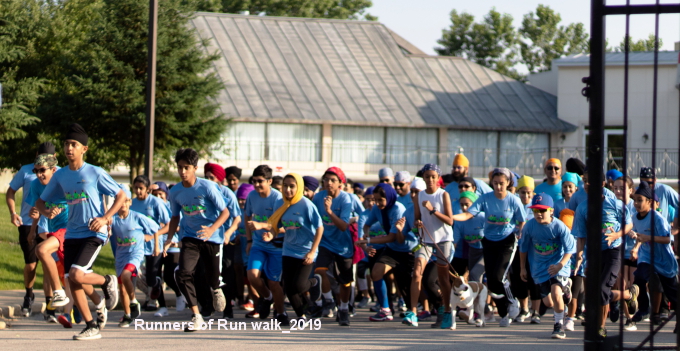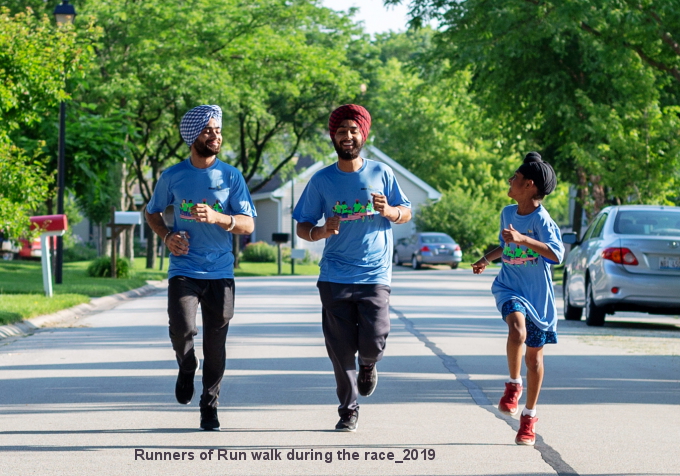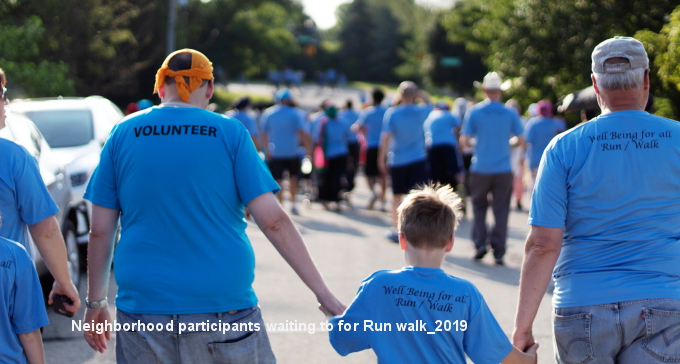 The event was organized by the Sikh youth volunteers and neighbors of the Palatine Gurdwara in collaboration with the Sikh Religious Society board of Trustees. 
"The purpose of this run/walk is to engage the neighborhood, encourage each other to get healthy and support youth involvement in community activities," said Jasvir Kaur of the youth organizing committee. 
 This year's "Well-being for All" Run/Walk was dedicated to the 550th. birth anniversary of Guru Nanak Dev Ji the founder of Sikh faith, to honor his spiritual journey walks, where he traveled over 40,000 km, over a period of 24 years, visited nine countries, mostly on foot, having interfaith dialogues with people he met along the way, reminding the importance of truth, social justice, love, respect for each other's faiths and compassion. The Gurmat Sunday School students, Sehaj Kaur, Ajeet Singh and Asees Kaur, spoke about what inspires them about Guru Nanak. 
The youth took a keen interest and played a strong role in organizing the event. Brian Smith a very cooperative neighbor of the Sikh Gurdwara was the core team member of the organizing committee and attended most of the planning meetings and played a vital role in developing the event plan and inviting other neighbors to participate.
State of Illinois Senator Ann Gillespie encouraged the youth to participate in such healthy activities and handed out award certificates to the top 3 winners of the Run, 1st place Mukal Kumar, 2nd place Amandeep Singh and 3rd place Shaan Singh Sohi.
"This would not be possible without a hardworking team of youth organizers, medical staff, a diverse group of dedicated youth volunteers and their parental support. Everyone loved it and we are making this event an annual tradition," said Prempal Singh, Trustee of the Sikh Religious Society Board.
Photo credits: Amrit Gill, Adam Witt and Siddiq Ashraf.
Contact: Rajinder Singh Mago, 630-440-7730