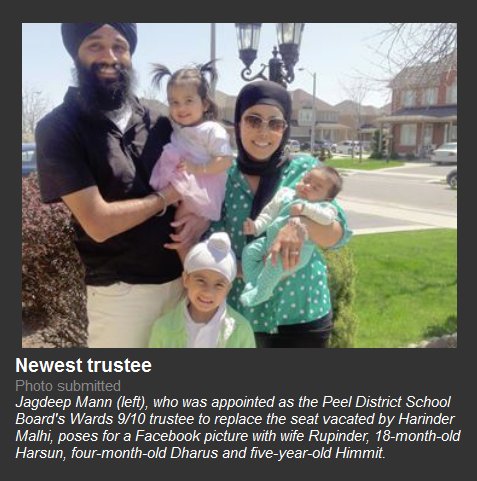 Jul 24, 2014 : BRAMPTON— The public school board has appointed someone to replace former Brampton trustee Harinder Malhi.
Malhi was the Peel District School Board trustee for Brampton's Wards 9 and 10 until winning the Brampton-Springdale seat in the June 12 provincial election.
After the election, board members decided they would appoint someone to fill her vacated seat.
Wednesday (July 23), trustees heard presentations from 23 applicants for the post that was advertised publicly. The interviews were conducted in an open session at the Peel board's Mississauga headquarters on Matheson Boulevard.
Each candidate was given three to four minutes to speak about why they wanted the position that will be up for grabs again during the upcoming October municipal election.
Jagdeep Mann, a Ward 10 resident, has been chosen by trustees to serve on the board until this current term of office formally ends Nov. 30, 2014.
Mann is a chartered accountant currently working as an income tax auditor with the Canada Revenue Agency. The 30-year-old has lived in the community for more than 25 years and is a Chinguacousy Secondary School graduate.
He and his wife Rupinder have three children. The couple currently has a five-year-old in senior kindergarten at the board. Their youngest children are four months and 18 months.
"I want to make sure my children… all the children, especially in Wards 9 and 10 and Peel get access to the best education possible," Mann said after his appointment.
He was considering a run for trustee prior to the seat vacancy and is still contemplating mounting a campaign during the upcoming election, but has not made a final decision.
"I'm still in the process of considering it," said Mann, adding that he is leaning towards running in the election.
"I felt very excited," Mann said on hearing the board's decision to appoint him.
There was a long list of accomplished candidates with a lot to offer, he said of the competition.
"I was very honoured that the board put their trust in me," Mann remarked.
Applications for the position were accepted from July 7-11, and included an application form and a typed, one-page summary explaining why he or she should be the successful applicant. There were 24 applications received, mostly from Brampton residents. But there were also three Mississauga residents, one from Caledon and another from Bolton who wanted the job.
Last month, trustees agreed they would appoint a Peel resident who is an eligible public school supporter. The trustees also considered appointing a former trustee.
The board advertised the vacancy and the application process in local newspapers, and on the board's website.