India got independence from British rule in 1947 and the state of Punjab was divided. Muslim-majority areas, including the capital city, Lahore were awarded to Pakistan. Shimla became the capital of the new Punjab on the Indian side. Gopi Chand Bhargwa was the first Chief Minister of the Indian Punjab followed by Lala Bhimsen Sachhar. S. Partap Singh Kairon was the third Chief Minister from January 1956 to June 1964.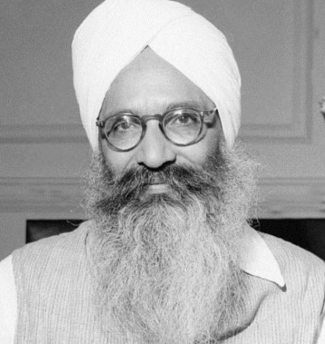 Kairon was born on 1st October 1901 in village Kairon in Amritsar district. His father, Nihal Singh was a pioneer in initiating women education and founded a Sikh Girls School in his village. Kairon was the first Sikh leader who went to America for higher studies. He received a postgraduate degree in Political Science from the University of Michigan. He also received a postgraduate degree in Economics from the University of California at Berkeley. During his stay in USA and his work in factories and farms to support his stay there, Kairon was deeply influenced by the American way of life. He saw miles upon miles of oranges, grapes and peaches in California and dreamt of seeing a fruit-laden Punjab on similar lines which would bring prosperity to the farmers of Punjab.
When he returned to Punjab in 1929, he preferred to enter public life rather than take up a teaching job in a university. He started a weekly titled The New Era in 1931. He joined Shiromani Akali Dal, the party of the Sikhs and also became a member of Indian National Congress. This was possible as both parties allowed dual membership. He was jailed in 1932 for five years for participating in the civil disobedience movement. He remained a close associate of Master Tara Singh, the Akali Leader and was elected as MLA on an Akali ticket in the first ever Assembly election in 1937. This was the beginning of a fruitful political career and he remained an MLA continuously till 1964. 
Kairon became a Minister in the first Punjab Cabinet in 1947 which gave him the opportunity of organizing rehabilitation of the refugees from Pakistan. He rendered yeoman's service to the rebuilding of a modern Punjab after the partition holocaust of 1947. Imagine the unfortunate scenario in which the fertile canal colonies that Sikhs had spent their back-breaking toil in were awarded to Pakistan.
The hardy farmers, who had converted the arid land into the granary of the nation, had to cross over to India as penniless refugees to be allotted meagre amounts of land to till in the area of East Punjab where land was sparse and lacked adequate irrigation facilities. At this juncture, Kairon appeared on the scene as the man of the hour. As the Agriculture Minister he took a historic decision for land consolidation which facilitated the ushering in of the green revolution. It was an extremely challenging job to bring together and consolidate small, unconnected plots owned by farmers in one place to make it viable for farming.
As Irrigation Minister he saw the completion of the Bhakra Dam and the building of Bhakra Canals. He was instrumental in establishing the landmark Punjab Agriculture University (PAU) in Ludhiana with the aim of enabling the country to be in a position to provide food grain to all her citizens. Among his other priorities were the construction of roads in rural areas and the electrification of villages. Pandit Jawahar Lal Nehru, independent India's first Prime Minister, selected him as the Chief Minister when Bhimsen Sachhar failed to control the Akali agitation.
Historians are unanimous in their opinion that as Chief Minister, Kairon turned Punjab into an economic powerhouse. He placed Punjab on the industrial map of the country by building industrial townships of Faridabad and Gurgaon. He opened three Engineering Colleges and a Polytechnic in each district. The Post Graduate Institute of Medical Education and Research at Chandigarh proved to be a boon and he established Punjabi University at Patiala and another University at Kurukshetra. People remember him also for introducing small poultry farms, cultivation of grapes, apple gardens in the Kullu Valley, plantation of eucalyptus trees on roadsides across the state and development of dairy farming in all rural areas. The development of the city of Chandigarh was another remarkable contribution by him.
However, all these qualities that led to the development of Punjab could not prevent criticism of Kairon for not following proper government procedures in decision making and not giving proper respect to his political colleagues and bureaucrats. He went to the extent of transferring senior officers without any notice, and once even arrested a divisional commissioner while on duty. In his zeal to carry on development work he made many enemies and a hostile group of politicians opposed him constantly. The police excesses in his regime were duly publicized in the media. 
Kairon was against the Akali demand of a Punjabi Suba; he was rather a strong supporter of expanding the territory of Punjab. People could not even digest the fact that he became a political opponent of Master Tara Singh who had been his promoter in politics. He succeeded in creating a rift between Master Tara Singh and Sant Fateh Singh to weaken the Akali movement. He sidelined many senior ministers like Gian Singh Rarewala, Giani Kartar Singh, Darbara Singh and Gurdayal Singh Dhillon. It is also believed that he turned a blind eye to the doings of his family members, some of whom were allegedly involved in dubious land and property grabbing deals.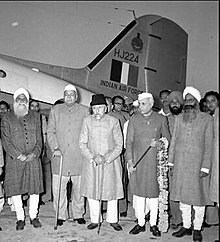 The historic role that Kairon played after the Indo-Chinese war in 1962 was praised by the entire nation. He himself wore an army uniform and organized mass support for the defense forces in terms of arranging recruits and funds. Pandit Nehru participated in a massive rally of half a million Sikhs in Amritsar against Chinese aggression. The sudden death of Pandit Nehru in May 1964 was the beginning of Kairon's downfall. With Lal Bahadur Shastri succeeding Pandit Nehru as the Prime Minister, Kairon's opponents succeeded in having a judicial inquiry initiated against him. Kairon was forced to resign when the report of the inquiry committee was released. He and his family members were charged with corruption. Kairon had to resign on 21st June 1964. All his friends and supporters also abandoned him and avoided meeting him. I met him twice and saw him sitting alone in his house reading books.
He admitted before me that betraying Master Tara Singh was his biggest political mistake. He also felt that he should have been more vigilant with regard to the activities of his family. Kairon felt bitter at being abandoned and was very critical of his close friends and officers. He tries to make amends with the Congress high command and went to Delhi many times, but fate was not in his favor. On 6th February 1965 when he was travelling back in a small car, he was assassinated on the main highway near Sonipat. 
Kairon's son Surinder Singh Kairon became a Member of Parliament. His grandson Adesh Partap Singh who married the daughter of S. Parkash Singh Badal remained Akali Minister in Punjab Cabinet. On my request the Govt. of India released a commemorative postal stamp in 2001 on Kairon's birth centenary.