Executive Director Sapreet Kaur Becomes First Sikh to Offer Prayer
at Presidential Inaugural Prayer Service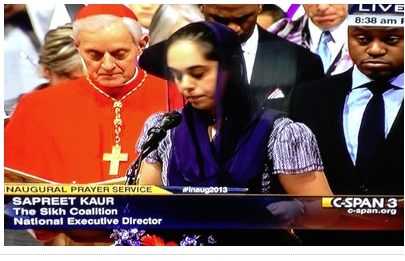 On Tuesday, January 22, 2013, Sapreet Kaur, Executive Director of the Sikh Coalition, made history by becoming the first Sikh American to speak at the Presidential Inaugural Prayer Service in Washington, DC., at the request of the White House. President Barack Obama, First Lady Michelle Obama, Vice President Joe Biden and Dr. Jill Biden were in attendance.


Watch the video clip above
Click here to view the program
The Presidential Inaugural Prayer Service has historical roots in the inauguration of the first American President, George Washington. It evolved into an interfaith event following the American Civil War and became a regular tradition during the presidency of Franklin Roosevelt.
Although Sikhs have lived in the United States for more than a century, the inclusion of the first Sikh speaker in this year's Presidential Inaugural Prayer Service means that Sikhs are gaining visible recognition as an integral part of American society. The Sikh Coalition is especially proud that a Sikh woman represented our community in this historical feat, consistent with the Sikh belief in gender equality, as taught by Guru Nanak over five centuries ago.
As always, the Sikh Coalition urges Sikhs everywhere to practice their faith fearlessly.
-----------------------------
Related Article:
http://www.sikhnet.com/news/57th-presidential-inauguration