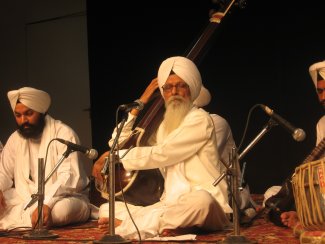 Professor Kartar Singh was a remarkable devotional singer and an exceptional author. He was an exceptionally talented artist whose perseverance and devotion towards the restoration of the traditional Gurmat Sangeet cannot be fully described in words. Prof Singh served as the Director at Sangeet Bharati Institute (Pracheen Kala Kendra), Ludhiana (est. 1966); Director at Gurmat Sangeet Academy (SGPC), Anandpur Sahib (est. 1999), and Director at Prof. Kartar Singh Gurmat Sangeet Vidyalaya, Phagwara (est. 2015). Graced by the guidance of Prof Singh, these institutions remain committed to the causes of Bharatiya Sangeet & Gurmat Sangeet.
Additionally, he was also serving as - Member of Kirtan Sub Committee (tasked with the selection of Ragi Jathas) at Sri Darbar Sahib (Golden Temple), Amritsar since 2000; Member of Gurmat Sangeet Faculty and Advisory Committee, Dept of Gurmat Sangeet at Punjabi University, Patiala; Nominated Member of the Governing Body of Ishmeet Singh Music Institute, Ludhiana (Punjab Govt) since 2010; Nominated External Expert - Faculty of Performing Arts at Sri Guru Granth Sahib World Sikh University, Fatehgarh Sahib (2017-2019); Member of Local Audition Committee of All India Radio, Jalandhar (1996 to 1999); external Expert on the Board of Control in Music, Guru Nanak Dev University, Amritsar (2007-2009); and also served as an Examiner for Panjab University, Guru Nanak Dev University, Punjabi University, Punjab School Education Board (Mohali) & Pracheen Kala Kendra, Chandigarh.
Early life & Tutelage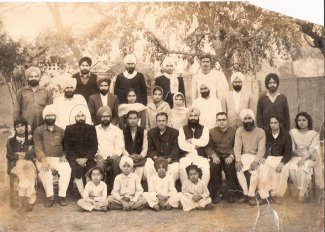 Professor Kartar Singh was born on April 3rd, 1928, at Village Ghummanke, P.O Baghiana Kalan, Distt Lahore (Pakistan) to Bibi Harnam Kaur and Bhai Attar Singh. He started learning to perform "Kirtan" at the tender age of 13 under the tutelage of Giani Gurcharan Singh Ji, then Bhai Sunder Singh Ji Kasoor wale, then Bhai Dalip Singh Ji, and later polished this virtue of Gurbani singing while accompanying Rababi Bhai Karma (disciple of Bhai Chand, direct descendants of Bhai Mardana Ji). At around 18 years of age, the young Kartar Singh rendered his first kirtan performance at Gurdwara Singh Sabha, Village Renala Khurd, Gujranwala (Pakistan). Soon after, the horrific event of India's partition happened forcing him to migrate to India in 1947.
Life post-partition
Unfortunately, he lost many of his immediate family members, including his father, to the violence that ensued during partition of India in 1947. From that point on, he found his calling in music and there was no looking back as he devoted the rest of his life to it. After moving to India, he briefly stayed at Karnal (Haryana) for a couple of years while regularly performing kirtan at the historical Gurdwara Manji Sahib, before moving to Jalandhar sometime later. The turning point of Prof Kartar Singh's life, as he would often remember fondly, came around 1950 when he attended Harivallabh Sangeet Sammelan at Jallandhar. According to Prof Singh, it was his presence at that 'auspicious' occasion that embarked him upon his lifelong journey into 'Sangeet Sadhna', which ultimately culminated into his passion to revive traditional Gurmat Sangeet.
Career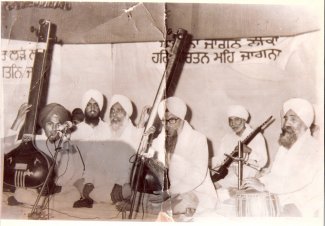 Thereafter, he continued his musical learning about different forms of singing (Gayan shallies) in the genre of Indian Classical Music (Hindustani Shastri Sangeet) under the able guidance of Ustad Jaswant Singh Bhawra Ji and Pandit Balwant Rai Jaiswal Ji (disciple of Pandit Vinayak Rao Patwardhan). Prof Singh spend his next 30 years teaching music at Malwa Central College and Guru Nanak Girls' College, both at Ludhiana, where he ignited the musical imagination of his students and instilled in them a yearning to learn music, which would later win them innumerous accolades in 'Shabad Gayan' and other music competitions at College and University level Youth festivals all over India.
Even today, after so many decades of learning music under Prof Singh's guidance, his students continue to practice and preach singing of 'Gurbani Kirtan' in prescribed 'Raags'. Prof Singh always took distinct pleasure in acknowledging the fact that many of his disciples perform 'Gurbani Kirtan' with traditional musical string instruments ('Tanti Saaza'), while serving as 'Ragi Jatha' at 'Sri Darbar Sahib', Amritsar and other prominent places of worship in India and abroad.
Bibliography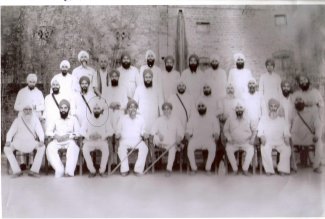 Prof Kartar Singh was an expert in both 'Gurmat Sangeet' and 'Bhartiya Sangeet'. He authored seven (7) highly acclaimed books on 'Gurmat Sangeet' throughout his writing career that spanned over more than forty (40) years. His books, namely, Gurbani Sangeet Darpan; Guru Angad Dev Sangeet Darpan; Gurmat Sangeet Darpan Part-I; Part-2 & Part-3; Guru Teg Bahadur Sangeet Darpan (in English & Punjabi) and Bhagat Bani Sangeet Darpan, collectively included more than 2,000 compositions in various 'Shudh Raags' and 'Mishrat Raags'. These books were published by Shiromani Gurdwara Parbandhak Committee (SGPC), Amritsar, and around 50,000 copies have been printed/sold worldwide. Unfortunately, his work on the last book Guru Nanak Sangeet Darpan remains unfinished.
Staying true to "Gurmat' values throughout his life, Prof Singh did not charge any royalty from the sale of the books authored by him. He did so because of two reasons, firstly, he claimed to have dedicated these books to the 'Sikh Panth' in letter and spirit, and secondly, to minimize the selling price of these books while bearing in mind the financial constraints of buyers, who were mostly fresher 'kirtankaar' from a humble background.
Shabad Pradhanta & Research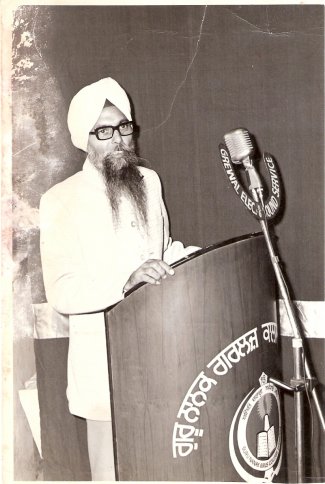 Prof Kartar Singh strongly emphasized the importance of awareness towards the supremacy of the 'shabad'(shabad pradhanta) at all times, particularly during Gurbani Kirtan singing. It is this very essence of 'Gurbani' into which his understanding of music was deeply rooted. This understanding paved the way for his mind-blowing innovations in the world of 'Gurmat Sangeet' and also guided him while writing his books. For instance, he introduced rare compositions in 'swai'(1 1/4), 'paun'(3/4) and 'dedh'(1 1/2) beats (taala) in his books. These books were the outcome of decades of untiring research efforts put into studying and understanding various 'Raag swaroop' prescribed by the bygone writers (Shastrakaars), including some from the Medieval age, like Pandit Lochan, Pandit Vithul, Sri Kanth, Pandit Somnath, Pandit Bhav Bhatt, Pandit Appa Tulsi, Pandit Viyankatmukhi and Pandit Ahobal, to name a few.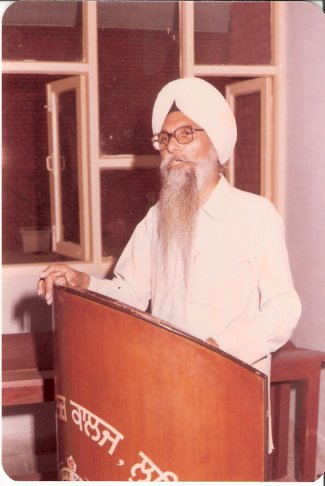 Besides that, Prof Singh also researched and learned from many modern music experts, like Pandit Vishnu Narayan Bhatkhande, Pandit Vinayakrao Patvardhan, Pandit Ramashrey Jha, Pandit Ram Kishan Vyas, Ustaaza Geeta Banerjee, Prof. VS Nigam, Pandit Vishnu Digambar Pulaskar; and from 'Gurmat Sangeet Granth Kaar' like Dr. Bhai Vir Singh, Bhai Kahan Singh Nabha, Dr. Charan Singh, Dr. Gobind Singh Mansukhani; and more recently from 'Gurmat Sangeet Granth Kaar' like Prof Tara Singh, Sant Sarvan Singh Gandharv, Principal Dyal Singh, Bhai Avtar Singh Bhai Gurcharan Singh of Delhi, Gyan Singh Abbottabad and Dr. Gurnam Singh (Punjabi University, Patiala).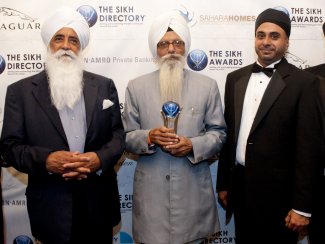 Prof Kartar Singh was an expert Gurbani singer (gayak) in 'aprachalit Raga' (unconventional Raag), like Raag Basant Bilawal thata, Raag Maru Khamaj thaat, Raag Devgandhari, Raag Asa, Raag Maajh, Raag Malhar (with Gandhar shudh), Raag Kanra (with Nishad shudh), Raag Tukhari, and Raag Gauri. In its attempt to preserve singing in difficult 'Raag's, T-Series Recording company recorded Prof Singh's recital in difficult Raags like Raag Gauri, Raag Gauri cheti, Raag Gauri bairagan, Raag Gauri mala, Raag Siri Raag, Raag Sorath, Raag Malhar (with Gandhar shudh), Raag Maru, Raag Devgandhari, and Raag Kalyan. He was particularly fond of singing Gurbani in difficult beats like 'partaal' and 'aprachilit taala' (unconventional beats), like 'mat taal' (9 beats), 'jagpal taal' (11 beats), jai taal (13 beats), firodast taal (14 beats), dhamar (14 beats), pancham sawari taal (15 beats), Sagar taal (17 beats), etc.
Legacy: Revival of Gurmat Sangeet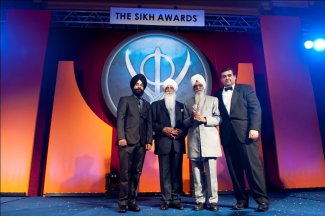 Furthermore, Prof Singh played the most pivotal role in the movement that revived the practice of Gurbani Kirtan rendition in prescribed Raags / Gurmat Sangeet with string instruments at Sri Darbar Sahib, Amritsar, in March 2006. He also holds the distinction of being the oldest person ever to sing Gurbani Kirtan at Sri Darbar Sahib (Golden Temple).
Recognition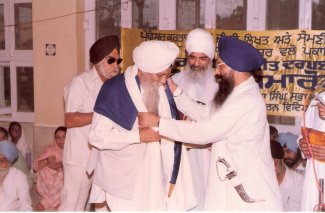 For his lifelong contribution to the revival of the traditional art of Gurmat Sangeet, he was conferred with numerous National and International awards, including Padma Shri (2021) bestowed by Honorable President of India, Sangeet (Tagore) Ratna Award (Fellowship) conferred by Sangeet Natak Akademi (2012) by Honorable Governor (West Bengal), Sangeet Natak Akademi Award (2008) from Honorable President of India, Sikh Lifetime Achievement Award (2011) at London (U.K), Vishesh Puraskar (2014) from Sarbat Da Bhala (Welfare of Mankind), Dubai (U.A.E.), Shiromani Ragi Award (2009) from SGPC, Sri Amritsar, Shiromani Ragi Award from Govt of Punjab (2016), and Gurmat Sangeet Senior Fellowship from Punjabi University, Patiala (2011).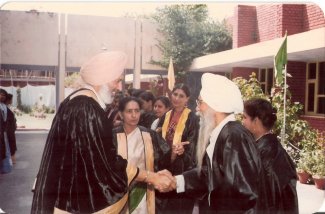 A Ph.D. has been completed on the following topic related to Prof Kartar Singh Ji - "Contribution of Sangeet Acharya Prof Kartar Singh to Gurmat Sangeet tradition and analytical study" (2020).
Affirmation
At the ripe age of 93 years 9 months, he was still as enthusiastic about music/Gurmat Sangeet as ever. The whole world is witness to his exemplary lifestyle, showcasing simplicity, minimalism, and detachment.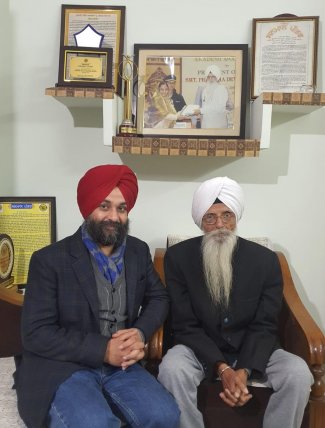 After dedicating more than 80 years of his life to music/Gurmat Sangeet, he continued to affirm the following till his last breath - "I have been a humble student of music since 1941, and Gurmat Sangeet is the only legacy I would like to leave behind".
Compiled by:
Jaspreet Singh (Grandson), All disciples, Family members & Sikh Sangat, in loving memory of Prof Kartar Singh Ji (Padma Shri).
(3 April 1928 - 2 Jan 2022)