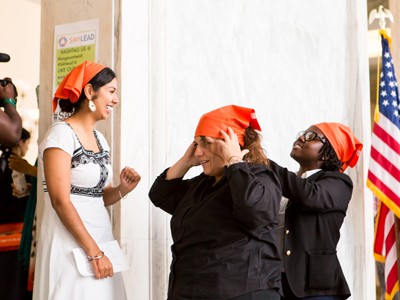 July 31st, 2014: Creating Sikh American history, SALDEF's SikhLEADers held the first-ever Langar on Capitol Hill, introducing Congressional leaders, colleagues and neighbors to a Sikh American way of life. Reflecting the values of langar, all faiths and races were invited and sat together on the floor sharing a simple, vegetarian meal in the Rayburn Building of the U.S. House of Representatives.


READ: NBC NEWS: Leaders in Washington, Sikh Community Gather for First Langar


National leaders, including Congresswoman Judy Chu (D-CA), Congressman Mike Honda (D-CA), Congressman Ami Bera (D-CA), and Congressman Mark Takano (D-CA), addressed the gathering, reflecting on Sikh American contributions, alongside their ongoing commitment to serve Sikh American communities across the nation. Congresswoman Grace Meng (D-NY) and Congresswoman Jan Schakowsky (D-IL) also visited the langer.


WATCH: Video from Langar on the Hill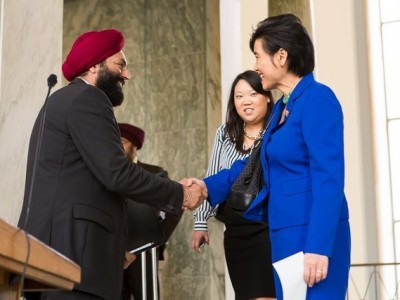 During the event, Congresswoman Chu—a co-chair of the American Sikh Caucus—announced that the Caucus, through its co-chair Congressman David Valadao (R-CA), along with 32 other co-sponsors from around the country, introduced a resolution honoring the memory of the attack on the Sikh Gurdwara in Oak Creek, Wisconsin (H.Res. 698). Congresswoman Chu also accepted the Dalip Singh Saund Award in recognition of the American Sikh Caucus' support of the Sikh American community.
Jasjit Singh, SALDEF'S Executive Director, also spoke on the significance of Langar as a 500 year-old anti-segregation movement, and celebrated the remarkable leadership demonstrated by this year's SikhLEAD Internship Class.


READ: Meet the SikhLEAD Internship Class of 2014!


This event was made possible with the support of a dedicated and visionary community. SALDEF and the 2014 SikhLEAD Internship Class are in deep appreciation of all of those who contributed and joined the first-ever Langar on the Hill. Congressman Mike Honda (D-CA) and his staff, including Ken Scudder, K.J. Bagchi, Kelly Honda, and Helen Beaudreau, were also instrumental in allowing the SikhLEAD Internship Class to bring their vision to fruition.


VIEW: Pictures from the Langar


SALDEF and its SikhLEAD Class would like to thank the hundreds of community members from around the country, and the following gurdwara sangats and leadership for their support of this event: Guru Ram Das Ashram, Los Angeles, California; Khalsa Care Foundation, Pacoima, California; Illinois Sikh Community Center, Wheaton, Illinois; Guru Gobind Singh Foundation, Rockville, Maryland; Guru Nanak Foundation of America, Silver Spring, Maryland; and Sikh Foundation of Virginia, Fairfax Station, Virginia. They would also like to thank Bombay Cafe of Fairfax, Virginia for their support.


The SikhLEAD Internship Class also arranged to have the remaining meals from the langar donated to the D.C. Central Kitchen, which supports shelters for the homeless across the D.C. area.


Insure that Sikh American youth have to the tools to become our future leaders and continue to pursue their dreams and create history! Support SikhLEAD today!


(Photos (c)SALDEF/LesTalusan.)