SALDEF Launches FIRST EVER National Sikh American Survey
Washington D.C. - SALDEF is excited to announce the launch of the first ever National Sikh American Survey. The survey will capture details on demographics, political affiliation, opinions on social issues, personal experiences and behaviors of the Sikh American community. Upon completion of the survey, SALDEF will create a report that will be made available to the Sikh community, researchers, educational institutions, government, private and the non-profit sector. The survey will also be used to guide SALDEF in tailoring decision making on advocacy, programing and outreach for the community.
Click here for more survey information: https://saldef.org/national-sikh-survey/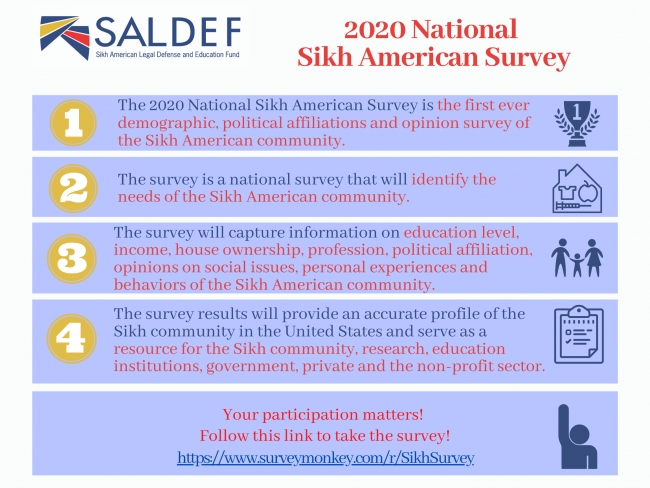 "The National Sikh American Survey is the first of its kind and will be critical in tailoring SALDEF to the needs of the community," said Kiran Kaur Gill SALDEF Executive Director. "SALDEF's fundamental goal is to ensure that we are providing the resources needed for the community to excel.  This survey will not only help us with our programming but also help to ensure the wants and needs of the community are heard by decision makers."
SALDEF is conducting the survey to develop a first of its kind dataset of the community that traces its roots in the United States to over 125 years. The survey dataset will provide an accurate profile of the Sikh community in the United States and serve as a resource for the Sikh community, research, education institutions, government, private and the non-profit sector.
Quick Survey Facts
The survey is currently open.
The survey closes Aug 9, 2020.
Survey Link: https://www.surveymonkey.com/r/SikhSurvey 
It is open to Sikh Americans 13 years and older.
READ MORE: Who are Sikh Americans (informational) www.saldef.org/who-are-sikh-americans 
READ MORE: Sikh Media Style Guide -- http://saldef.org/wp-content/uploads/2009/10/Sikh-Style-Guide-6.20.pdf 
WATCH: https://www.youtube.com/user/SALDEFMedia  
Please direct any inquiries to:
Gujari Singh
[email protected] <mailto:[email protected]>
(631) 404-9977
-------------------------------------------------
About SALDEF: SALDEF is a 20-year-old national Sikh American policy, media, and educational organization. Our mission is to empower Sikh Americans by building dialogue, deepening understanding, promoting civic and political participation, and upholding social justice and religious freedom for all Americans.