Three years ago, soon after the Bollywood biopic, Bhaag Milkha Bhaag (Run Milkha Run) hit the screens, Milkha Singh, the celebrated Indian athlete, got a call at his Chandigarh home.
On the other end of the line was Carl Lewis, winner of nine golds across four Olympic Games.
Lewis had watched the movie at home with an Indian friend who translated for him.
"He told me that he was amazed how a village boy who ran barefoot rose from scratch to become a world record holder [he never did set an officially ratified record]," Milkha told Press Trust of India.
"A few days later, I got a gift from Lewis, which to my amazement was a baton.
"On the baton was written: 'A present from Carl Lewis, multiple Olympic gold medallist, to legendary Milkha Singh. I salute your achievements'."
Lewis's appreciation was hardly misplaced.
Milkha's is the most extraordinary story.
Barely a teenager when his parents and three siblings were slaughtered in the post-Partition violence, he began to run seriously only after joining the Indian Army.
By 1958, the Flying Sikh – as he came to be known – was British Empire and Commonwealth Games champion over 400 metres.
But it was the Olympics two years later that Milkha is remembered for.
For 200m, he led the final before disastrously deciding to conserve some energy.
Otis Davis of the United States and Germany's Carl Kaufmann sped past, as did South Africa's Malcolm Spence, who Milkha had beaten in Cardiff in 1958.
If anything, Davis's was an even more incredible tale.
After four years in the army, he had gone to the University of Oregon on a basketball scholarship.
He tried out for the track team, coached by Bill Bowerman – one of the founders of Nike – when he was 26.
Two years later, he had Olympic gold, in a world record time of 45.07 seconds.
More than half a century on, Milkha's fourth place – the time of 45.73s was an Indian record for nearly 40 years – remains the country's high watermark at the Olympics.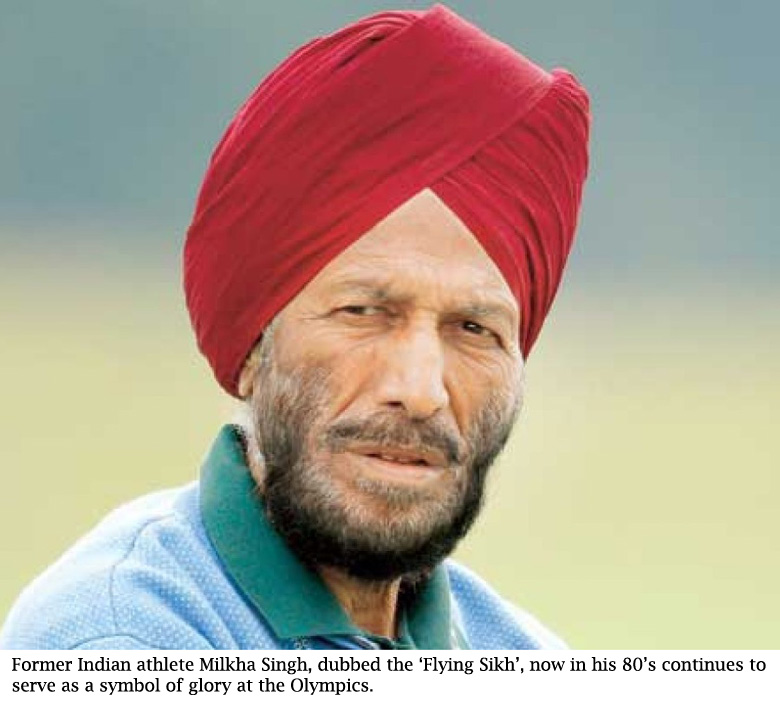 The hockey team won gold eight times between 1928 and 1980, and Abhinav Bindra won the 10m air rifle event in Beijing (2008), but nothing captures the world's imagination quite like what happens on the athletics track, in the swimming pool or inside the boxing ring.
Three of Milkha's successors came close to glory.
Gurbachan Singh Randhawa finished fifth in the 110m hurdles at the Tokyo Olympics in 1964, while Sriram Singh set a blistering pace and led the great Alberto Juantorena for more than 500m before fading in the 800m final in Montreal (1976).
Eight years later, in an Olympics missing the leading athletes from the Eastern Bloc, PT Usha missed out on a 400m hurdles gold by 0.01 of a second.
It is unlikely that any of the 36 Indian athletes that have qualified for the track and field competition in Rio de Janeiro will win medals.
The United States-raised Vikas Gowda made the final in the discus four years ago, but the fact that they are there at all is a massive fillip for a country that faces constant jibes about the conspicuous lack of athletic prowess.
Milkha is now well into his eighties, but even for those that never watched him, he remains the Flying Sikh, a reminder of a distant time when Indians could actually dream of making the final of the Olympics' blue-riband events.