Former athletic club destroyed in 2012 blaze while being remodeled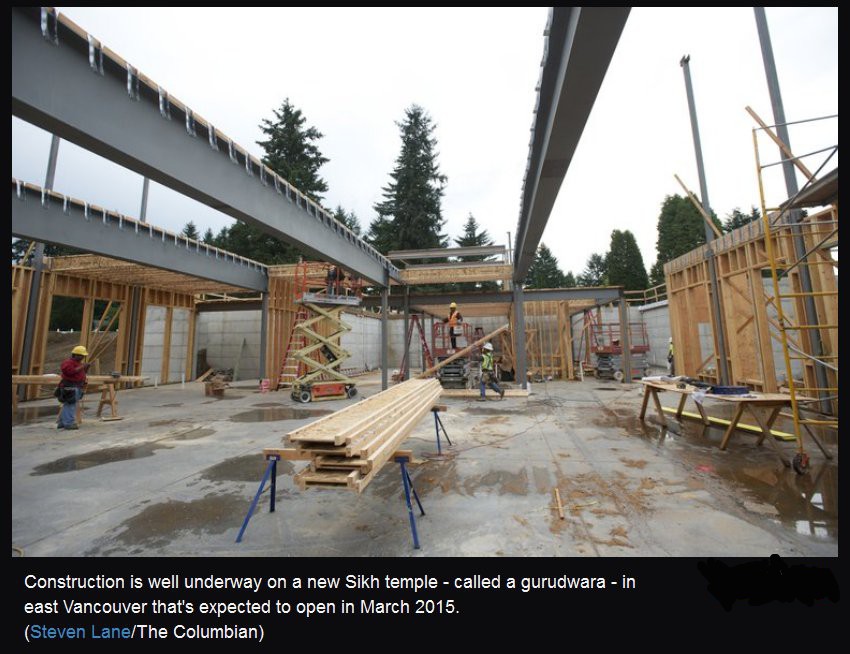 Construction is well underway on a new Sikh temple - called a gurudwara - in east Vancouver that's expected to open in March 2015. (Steven Lane/The Columbian)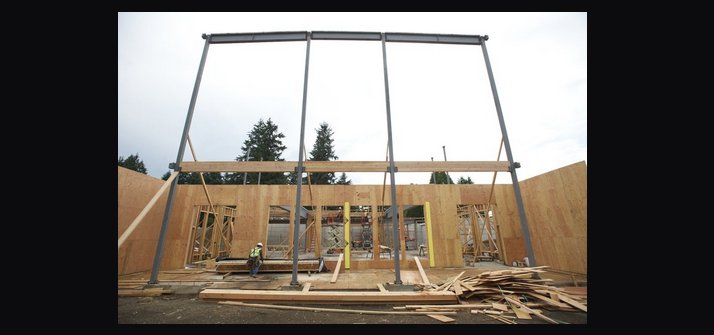 Construction continues Friday on the Sikh Temple at 13400 N.E. 20th St. (Steven Lane/The Columbian)

August 2, 2014: A new Sikh temple is rising from the ashes of the nearly finished building that burned in October 2012. Construction is expected to finish in March 2015, or perhaps sooner, according to project manager Tony Singh.
The cause of that fire was never determined, but the federal bureau of Alcohol, Tobacco, Firearms and Explosives, which routinely investigates fires at places of worship, has told both the Sikhs and The Columbian that it apparently wasn't intentional.
"There was no indication that it was an arson," Colene Domenech of the Portland field office said last year. "The evidence did not indicate this was anything targeted at their temple or their religion."
The loss of the building was painful nonetheless, Singh said. The job was 90 percent done when the fire destroyed it. Meanwhile, local Sikhs continue to meet at their old temple, the Guru Ramdass Gurudwara at 3600 O St. in Vancouver's Rose Village neighborhood. There are approximately 200 member families. The group's president, Gurjit Singh, said the Sikh community has been very generous in finding the funds to build not just one building but also its replacement. Tony Singh said there has been no insurance payout on the fire. (Singh is a religious surname taken by many Sikh men.)
The new building will be three stories and total approximately 18,000 square feet, according to Tony Singh. The ground floor will have a main meeting hall and offices; the basement will have a cafeteria; and upstairs will be a library and residence.
Tony Singh said the estimated total cost of the project is about $4 million. The general contractor is Barrier Construction Group, a Sikh-owned business based in Seattle. "It will be a really nice building when it's finally done," Tony Singh said. Once the new temple is ready, he said, the group will gladly sell the old property.
Jaime Manriquez, the leader of the Landover-Sharmel Neighborhood Association, said his group has heard nothing about the project anytime recently. He said he has sent an email to the Sikhs inviting someone to speak at neighborhood association's August meeting. "I hope that I get a response and that we can start some communication," he said.
This site, at 13400 N.E. 20th St., used to be the home of the Landover-Sharmel Athletic Club. The athletic club went out of business in 2007, leaving behind a 17,000-square-foot building on 2.5 acres. The Sikhs bought the property for $835,000 in 2008 and began a remodeling process that ended in the fire.
Last fall, another Sikh temple was opened at 4700 N.E. St. Johns Blvd. by former members of the O Street group who said they were frustrated with slow progress on the rebuild.
Sikhism is a religion that emerged in northern India roughly 500 years ago as a progressive reaction against the rigid and repressive caste system. It is now the fifth-largest religion in the world.