It is unfortunate that some British art historians presented a distorted picture of Lahore darbār accusing Maharaja Ranjit Singh of destroying the Mughal heritage of Lahore Fort built by Shah Jahan (era 1628-58). Thomas Henry Thornton wrote in his book: "There is no originality of Sikh art and architecture claiming that the Sikhs were looters; that Ranjit Singh did not have any aesthetics as he was illiterate and 'of martial habits'; that all he did during his rule of forty years was to disfigure Mughal monuments and rob them of their marble and red sandstone to embellish the Golden Temple". Nadhra has tried to deconstruct this false history by her research into the legacy of Maharaja Ranjit Singh and Lahore Darbār [1].
I was introduced to Nadhra Khan only recently who is a qualified Historian of Art in Lahore, Pakistan. She teaches art history and serves as the Director Gurmani Centre for Languages and Literature at the Lahore University of Management Sciences. A specialist in the history of art and architecture of the Punjab from the sixteenth to the early twentieth century, her research covers the visual and material culture of this region during the Mughal, Sikh, and colonial periods. 
Maharaja Ranjit Singh (1780-1839) occupied Lahore in 1799 and ruled the Punjab from that city for forty years. He chose to live at the Lahore fort built by the Mughal emperors and to some extent, brought back the grandeur and magnificence it knew in Mughal times. Ranjit Singh selected the Musamman Burj in the Lahore fort for both his private and official use and chose the sheesh mahal chambers or mirror pavilions within the Musamman Burj, built by the Mughal emperor Shah Jahan, as his residence.
Nadhra reminisces about the glory and glitter of Ranjit Singh's darbār in Lahore fort based on the available contemporary sources [2], the glory that was lost forever after annexation by the British in 1849. Maharaja was a great entertainer for his guests. He wanted to establish that Lahore darbār and its glory is unmatched compared with any other Indian or European kingdom. When Lord William Bentick, the Governor General of India visited the Maharaja at Ropar in 1831, he was treated lavishly. The description available in darbār archives is as follows: "Misr Beli Ram was ordered to get fine gifts and rare object, with seventy-one garments bound in pashmīna (costly hand-woven woolen fabric) wrappers, ready to be presented to the honorable guest. The platoons and horsemen were all asked to be dressed in brocade suits and ornaments, and to stand in a row from the portico to the bridge for firing a salute upon the chief guest's arrival. The chiefs at Sikh court were also required to wear fabulous clothes and jewelry and were arranged to stand near the Maharaja's canopy according to their ranks".
The description of another meeting held at Ferozepur in 1938 with Lord Auckland is equally fabulous: "Sikh chieftains, all clinquant, all in gold, or clothed in every diversity of colour, and every imaginable variety of picturesque costume, armed to the teeth with spears, saber, shield and lighted matchlock, - scrambled onwards…." The colonel Stienback, who accompanied Lord Auckland, was mesmerized by the opulence and magnificence of the Maharaja's troops and his awe is evident from his statement that "the scene which now presented itself is utterly beyond description. All that the imagination can conceive of human grandeur – all that the most exuberant fancy can devise in its endeavour to portray the acme of royal splendour – was here embodied forth".
The Maharaja made sure that the guests were impressed with the riches of the Lahore darbār as he put on elaborate clothes and fine jewelry, ordered a superior quality carpet to be laid out and sat in a gold chair. The magnificence of the Sikh court was echoed by a silver bungalow Ranjit Singh had ordered for holding court away from the Lahore fort. This double story silver bungalow on the wheels was pulled by eight elephants and was transported to Ropar in 1831 at the meeting with Lord William Bentick, the Governor General of India. A peacock shaped boat was ordered by the Maharaja to meet the Governor General in midstream of river Sutlej.
The marriage of Prince Naunihal Singh in 1837 was a great occasion of celebration where British officers and hill rajas were invited as guests. It was a lavish wedding and opulence of Lahore darbār was on full display: "The lists of items given away as offerings and presents inform us of the riches that circulated in Sikh society. Luxury items made of silver and gold including utensils, beds and chairs, votive objects, picture frames used for sacred images, gold-threaded horse saddles, silver and gold howdās or elephant seats are mentioned. Pashmīna and gold woven fabrics appear to have been a great favorite along with different kinds of cottons and silks. Jewelry was worn extravagantly by both men and women in both the bride's and bridegroom's party".
The pomp and pageantry of the Lahore darbār was fully displayed during popular Hindu religious festivals, namely, Dussehra, Diwali, Holi and Basant. These festivities and royal entertainments also included dance performances by the dancing girls. The band consisted of thirty or forty singing and dancing girls chosen for their "beauty of face and figure, playfulness and agility". The Maharaja was very fond of watching dance performances and sometimes spent all day or most of the night in such entertainments.
Nadhra tries to soften Ranjit Singh's martial impression further by his fondness for gardens. The Shalimar Gardens in the outskirts of nineteenth century Lahore was not only visited for enjoying the remarkable beauty but it also offered a place for journey-break on the Maharaja's frequent visits to Amritsar. He used to put up at the Gardens for days while proceeding towards the Holy City or upon entering Lahore on his way back. Besides the Shalimar Gardens, Maharaja engaged expert gardeners to lay out the Hazuri Bāgh between the Badshahi Mosque and the   Lahore fort in 1813. Following the Mughal tradition, a marble baradarī was constructed in the centre of the garden.
In 1819, the Maharaja ordered Fakir Imamuddin, thanedār (in-charge) of Gobindgarh fort at Amritsar, to lay out a garden (Rambāgh) outside the katrā of Jai Singh Kanhaya, and that it should be similar to the Shalimar Gardens. Ranjit Singh's summer palace stands in the center of the garden with four ancillary buildings on the cardinal axes. The Garden still exists in Amritsar but is now called the Company Bāgh and the buildings are used for different purposes. The Summer Palace is now used as Maharaja Ranjit Singh Museum.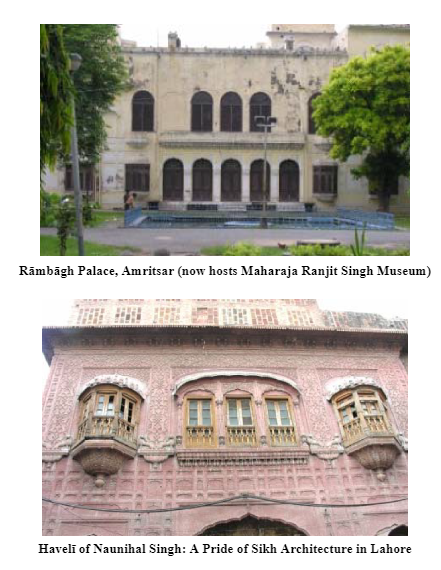 Maharaja was also fond of beautiful buildings. The chronicles of Lahore darbār of 1832 shed interesting light on the architectural activities that prevailed during the Sikh rule over the Punjab. Ranjit Singh proposed the building of a Baradari at Kaulsar [Amritsar]. The Maharaja ordered bungalows to be built "all along the way from Adinanagar to Amritsar" in all probability as halting places for himself. In addition to laying out gardens with baradarīs, the Sikh monarch and his sardārs also built large mansions or havelīs in Lahore. Remnants of two large havelī complexes, Jamadar Khushal Singh's havelī in Chūna Mandī and Naunihal Singh's havelī inside the Mori Gate survive in their original form and are being used today as a girls' college and a girls' school, respectively.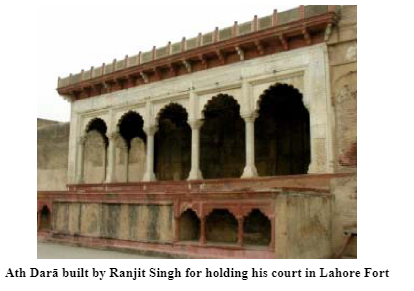 Maharaja Ranjit Singh, with all his riches and resources, chose to build for holding court at the Lahore fort, a simple Sikh pavilion known as Ath-Dara (eight doorways). According to Fakir Waheeduddin, the author of "Real Ranjit Singh" (1965), "He turned down all suggestions to use the marble throne of Diwan-i-Aam or other Mughal enclosures within the fort for the purpose of holding darbār. Instead of a traditional throne, he used to sit in chairs of gold and silver, either cross legged or with one leg tucked under him in an informal manner as portrayed by Emily Eden. Ranjit Singh's gold-plated throne, now in the Victoria and Albert Museum, is one of his chair-like thrones".
Nadhra points out explicitly to the utter humility of Maharaja in her write up: "In spite of his power, success and control over a vast empire for forty years, Ranjit Singh struck all coins in the name of the Khalsā. None state his own sovereignty - a proof of his deep reverence for his religion and especially for the tenth Guru Gobind Singh, who formed the Khalsā. There is one exception, a coin he struck in the name of his beloved Muslim wife Moran in the early years of his reign as mentioned by several historians. He used to call his court the Khalsā darbār, his army the Khalsā, and himself a humble servant of the Guru". A plaque commemorating his additions to the Golden Temple at Amritsar reads as follows: "The Great Guru in His wisdom looked upon Maharaja Ranjit Singh as his chief servitor and Sikh, in His benevolence, bestowed on him the privilege of serving the Temple".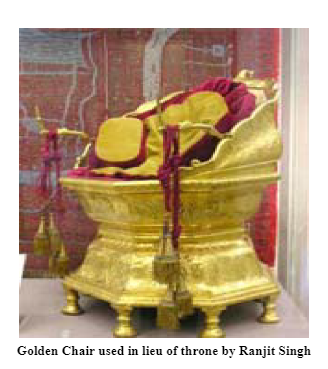 The magnificent life at the Lahore darbār, so painstakingly introduced and maintained by Maharaja Ranjit Singh did not come to a halt at his death. His cremation ceremonies were celebrated with equal fervor and majesty. His final conveyance was to a funeral pyre made of sandalwood elaborately decorated with pashminā shawls and silks. His ashes were collected in gold vessels and dispatched to Hardwar for immersion in the Ganges with all the grandeur, pomp, ceremony and protocol offered to him while he was alive, living up to the magnificent standards he had set during his lifetime. The final respects and stately farewell were accorded to him not only by his courtiers and people but also by the British army while the caravan accompanying the ashes travelled to Hardwar en route to Hindustan (as the British Indian territory was called). 
References 
1.Hardev Singh Virk. Sikh Art and Architecture of Lahore through the Eyes of Nadhra Khan. https://www.sikhnet.com/news/sikh-art-and-architecture-lahore-eyes-nadhra-khan
2.Nadhra Shabaz Naeem. Life at the Lahore Darbār: 1799-1839. A Research Journal of South Asian Studies, Vol. 25, No. 2, January-June 2010, pp.283-301.
Would you like to get the SikhNet summary delivered to your inbox every Friday? If so subscribe to the news (HERE).  If you'd like to contribute an original article, please read our editorial guidelines and email us at: [email protected].