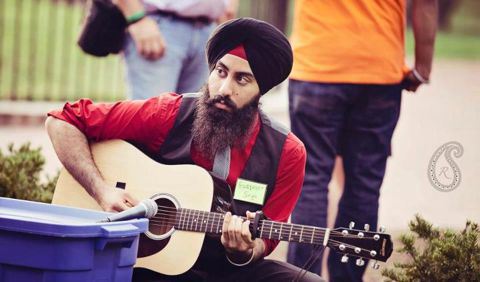 Gurpreet Sarin (source: American Idol Net)

The entertainment industry took notice of Gurpreet Singh Sarin, a young singer who won the first round of auditions on American Idol.

The twelfth season of American Idol premiered on Jan. 16. The premise of the talent show is to hold auditions around the country and have contestants compete against each other until a winner is selected and named - American Idol.

"The reason I auditioned is because of my love and passion for music and singing," said Gurpreet Singh, of North Potomac, Maryland. But when he knew he was going to be on the show as the first Sikh contestant, he realized it also would be good exposure for Sikhs.

It was a good opportunity to "educate America and the world about Sikhism," he told SikhNN. "People are taking notice about the religion and identity."

The 22-year-old college student was interviewed by local news media but also received media attention from India, the United Kingdom and Canada.

"It's like a cohesive factor," he said. "(When) people see someone represent them, it brings people together. It's exciting, getting good feedback."

In appreciation, he received prime tickets to the presidential inauguration from the Sikh Coalition, a New York-based advocacy group. He and his siblings attended the swearing-in ceremony on Jan. 21, said Sapreet Kaur, executive director. And he and his mother attended one of the official presidential balls that same evening.

Gurpreet Singh's interest in Western music began a couple of years ago.

"There weren't many sardars singing Western music," he told SikhNN. Perhaps this would be another niche for him. He had already carved out a niche for himself as an accomplished tabla player and Indian classical singer. He and his family, including an older sister and younger brother, are well known in the Washington metropolitan area for singing Gurbani kirtan and playing several Indian classical instruments.

In anticipation of the auditions, Gurpreet Singh began taking private voice lessons about six months ago. He also began singing to customers at Potbelly restaurants and coffee shops. He chose songs based on the age of the customers. If many kids were dining at the restaurant, he would choose songs by teen pop star, Justin Beiber.

But Gurpreet Singh's greatest inspiration is blues singer Ray Charles. For a largely adult crowd, he would certainly choose one of his songs.

Gurpreet Singh auditioned with perhaps hundreds of candidates in Newark, New Jersey. He was awarded one of 41 golden tickets to move on to the next round of the competition, and was one of several contestants whose auditions were aired on television.

His segment was themed entirely around his being the multi-colored Turbinator, which is a play on the word terminator in the 1980s hit science fiction thriller, "The Terminator."

Backstage at the audition, Gurpreet Singh is shown teaching bhangra moves to host, Ryan Seacrest, and talking about his dastaar.

Wearing a purple dastaar and matching outfit, he walked on stage in front of four judges: singer, Mariah Carey; pop star, Nicky Minaj; singer and record producer, Randy Jackson; and country star, Keith Urban.

"They told me you change your turban with every outfit," Minaj said.

"I have 40 to 50 turbans," Gurpreet said.

"And that's like a lavender moment that I really like," Carey said.

Carey asked him to pronounce his name. And Jackson asked if he had a nickname, to which Gurpreet Singh replied: "The Turbinator."

But as Gurpreet was singing his song, Minaj cut him short: "Thank you." Gurpreet looked surprised.

"You sing that whole pentatonic Indian kind of skill thing?" Jackson asked.

"I do a lot of sargams, like rifts," Gurpreet said, and sang an alaap. The judges seemed more impressed by the Indian classical.

"I love your look," Minaj said. "I think you have a pretty voice but I don't think it is a stand out voice."

"I think you have a beautiful voice," Urban added. "I think it is very light. And I think in this kind of competition when there are other singers, they're comin' at it, I think your voice might be a little too light this time around." He voted no.

"I like light singing and breathy stuff so I thought, you know, it was really pretty," Carey said. "I'll give you a yes."

Jackson also voted yes. "I think you're worth one more shot."

And it all came down to Minaj's decision. Gurpreet pleaded that they had a connection and promised to next time wear a marigold dastaar to match Minaj's hair color.

"Turb, you're goin' to Hollywood!" she said.

Gurpreet proudly showed his golden ticket to his brother and father who were waiting outside the audition room.

"The alaap sargam was spontaneous, showing diversity," he later told SikhNN. "I think that kind of separated me. They saw a different side of me, they saw the light voice in Indian classical singing… shabad singing is subtle." But he is now practicing to make his voice more commanding for the next round.

"The experience seems like a dream," he added. "To be on TV, it's exhilarating, exciting. I have never met a celebrity. It was nerve racking."

A total of 160 golden tickets will be awarded to audition winners from around the country who will then compete in Hollywood.

American Idol airs on Fox television stations on Wednesdays and Thursdays at 8 p.m.