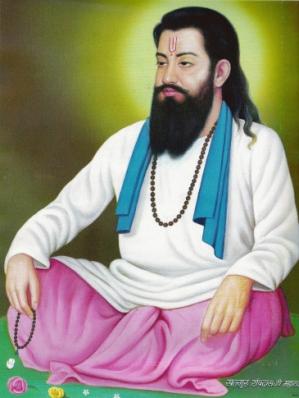 JALANDHAR: Taking a single leaf from the tree of the Sikh religion, the followers of  Bhagat Ravidass have declared 'Ravidassia', a separate religion and affirmed Guru Ravidass their sole master. They have also released a separate religious granth 'Amrit Bani Guru Ravidass' which will replace Guru Granth Sahib in all Ravidass temples.

The Ravidass followers made this announcement in Ravidass temple in Kashi in Banaras district of Uttar Pardesh which would serve as highest temporal seat for the community. The community as sought recognition of Ravidassia's a seeparate community.

The new holy granth which contains the 'Bani' of only Bhagat Ravidass (included in Guru Granth Sahib) was released by Sant Niranjan Dass head of dera Sach Khand Ballan in Jalandhar district. The Balla dera had came to lime light when last year few Sikh miscreants attacked on Ravidass temple in Viana in Austria and dera preacher Swami Rama Nand of Balla dera was killed. The Sikhs had objected that due respect was not given to Guru Granth Sahib in the Ravidass temple.

Cerain sections of Ravidass community were opposing to domination of Sikhs over them and were trying to establish separate identity for their community. Recently, a famous Punjabi singer Miss Pooja had also released a song on these lines for setting up separate religion for Ravidassias.

The reports reaching here said that the community leaders at Kashi have also released the logo of community on which word 'Hari is written. The slogan to address Ravidassia will be 'Jai Gurudev'.

The declaration of separate religion by Ravidassia is bound to have its impact on Sikh politics particularly in context of Punjab. It is considered a major set back for the Shiromani Gurdawara parbahandak Committee (SGPC) supreme Sikh body which was trying to keep Ravidassia community in the Sikh fold. The critics of SGPC blamed it on SGPC for their failure to give due respect to Ravidassia community.

Meanwhile, Sandeep Singh national general secretary of youth wing of SAD (Panch Pardhani) on Sunday said that  agents of Hindu forces in the Ravidass community have taken such decision to disintegrate followers of Guru Ravidass from Sikh religion. He said that there is no place for communalism and casteism in Sikh religion. He warned of consequences of such steps which would be harmful for the dalits. He hoped that the awakened dalits of Punjab would not fall prey to motives of people working against their interests.