Naad Pargaas USA released a rare translation of the novel Sundri by Bhai Vir Singh at University of Michigan, Ann Arbor, MI. This was a rare translation by Prof. Puran Singh that was undertaken in 1924 but never saw the light of the day since then. This new volume is edited and co-introduced by Harjot Kaur. 
The function was attended by Great granddaughter of Bhai Vir Singh, Komal Kaur Dang and her husband Satpal Dang. While noting her personal experiences with Bhai Vir Singh, Komal Kaur Dang, congratulated the team of Naad Pargaas USA for making efforts in reviving a literary tradition amongst Sikhs both in India and amongst diasporic communities. She asked the members of the Sangat to support the endeavors of Naad Pargaas USA.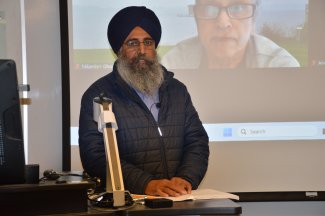 Nilambri Ghai, granddaughter of Prof. Puran Singh joined the occasion online. She congratulated the team of Naad Pargaas including, Prof. Jagdish Singh, Dr. Jaswinder Singh (Punjabi University Patiala), Harjot Kaur (editor of the new volume) and Amandeep Singh (Director, Naad Pargaas USA).  She mentioned that publishing this work has been a long process that was close to her heart. She expressed her gratitude to Harjot Kaur for undertaking rigorous endeavors to launch Sundri in the form it is was being released. She emphasized, "I don't think there could have been a better and more accomplished team to have done this work." This was followed by her fond and loving appreciation.
Prof. Arvind Pal Mandiar, Director graduate studies at Asian Languages department, University of Michigan, presented a keynote address at this release function. He talked about the process of structuring of indigenous knowledge systems in pre-modern and modern Punjabi literature with the advent of modernity and the process of secularization. He mentioned that such structuring problematized the understanding of Gurbani as theology. Talking note from Attar Singh's works, he discussed how the nature of Bhai Vir Singh's literature was a first step in the shift from pre-modern to modern literature.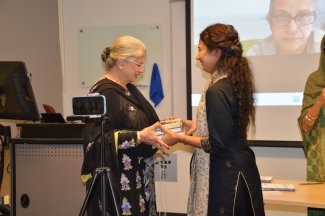 Harjot Kaur, editor of this volume, presented a comprehensive account of the native understandings about Sundri. She traced the biographical accounts of Bhai Vir Singh, his understandings of history, while backtracking few critical commentaries on Sundri enunciated by scholars. Understanding the mother principle of Mata Sahib Dewyan, she mentioned that native Sikh sources including the Sakhi tradition were key sources to Sikh belief that remained key to relate with Sundri. The paper is also published online by Routledge Journal Sikh Formations, that can be accessed from the link below.
Full article: Bhai Vir Singh's Sundri: A semiotic reclamation of native meanings and imagination (tandfonline.com)
Four, scholarly papers were presented on this occasion. Dr. Parvinder Mehta from Wayne State University MI, presented her paper on Sundri and Sikh Subjectivity.  She questioned the frameworks of understanding non-western literature from a Western perspective.  She raised the question of understanding the politics to power and power to politics of representing Sikh identity with respect to interpretation. While discussing the plot she mentioned how the critical analysis on Sundri continues to displace the Sikh experience of Sundri from a secularist perspective that she appreciated was done in detail in the new introduction to this novel. Towards the end of the talk she discussed the frameworks of feminism that would require reading and interpreting novels like Sundri from a Sikh perspective while requiring new strands to be explored within Sikh feminism rather than plagiarizing concepts and values of western feminism.  
Dr Harleen Kaur from Arizona State University discussed the organizing of archival knowledge systems as a colonial mechanism to regulate colonial modes of governance that have continued to define and understand the present modes of knowledge through same colonial logics of knowledge production. She later expounded upon the ideas of historical narratives and Sikh womanhood from the plot of Sundri.
While inspired by the cosmic mother principle that reflects through Mata Sahib Dewan, Gurpreet Kaur apprised the novel of Sundri and its introduction. She noted that Sundri reflects the unity of consciousness. She provided exegetical commentary on the introduction to new edition of Sundri. Expounding upon Seva, she mentioned that Sewa drives its meaning from the Nam Rasa tradition beyond the dualities of mind and world. This she believed was perhaps the reason that Sikhs perform Seva at a universal level.
Amandeep Singh, the co-author of Introduction to  Sundri talked about the contextual backgrounds in which Sundri was written. In background of Sundri's translation into English, he discussed the difference between literary and conceptual translation. He noted that literary translation provides continuity of text and its life beyond the constraints of language, space, and time that adds value to the text. He said that many times the original is discovered in a new light through translation. Conceptual translation on the other hand renders a translation of sign, symbols, and metaphysical meanings to the text. He mentioned that a good translation like that of Sundri undertaken by Prof. Puran Singh, complements meaning and intentions of original, while remaining sensible and contributing to the growth of language, idiom, expression, and knowledge. He also mentioned that critical evaluations in post-colonial studies focus deeply on ideological/political undertones of text like identity politics, language politics etc., that determines how the self does gets subjectified while building up of consciousness into political structures. To understand Sundri as it is, he noted that it was indispensible to relate with the Sakhi tradition and spiritual essence of Sikhi. This was perhaps the reason that a Gurdwara stands tall at Naushera, Gurdaspur in reminisce of Shaheed Bibi Sundri. 
Towards the end of the program Komal Kaur Dang, great granddaughter of Bhai Vir Singh, shared her personal life experiences with Bhai Vir Singh. She said that community should support institutions like Naad Pargaas to engage rigorously with works of Bhai Vir Singh and other Sikh scholars. She expressed her satisfaction and delight to be a part of the book launch ceremony.
A book exhibition was also organized during the event where the members of the Sangat purchased the titles of interest published by Naad Pargaas. The Sangat and community members enjoyed the book release function. Many members of the community expressed their gratitude to the organizers for functions like these for Sangat's intellectual upliftment and education. The book is available for purchase from Singh Brothers Amritsar, Punjab, Amazon.in and would soon be available on Amazon.com.