The students of Miri Piri Academy are a familiar sight in Amritsar.  Students from all over the world attend this prestigious boarding school, this year from 16 countries, and are highly recognizable in their blue uniform and Sikh turbans. But what most people don't know is that about 10% of the student body are local students from Punjab and other parts of India.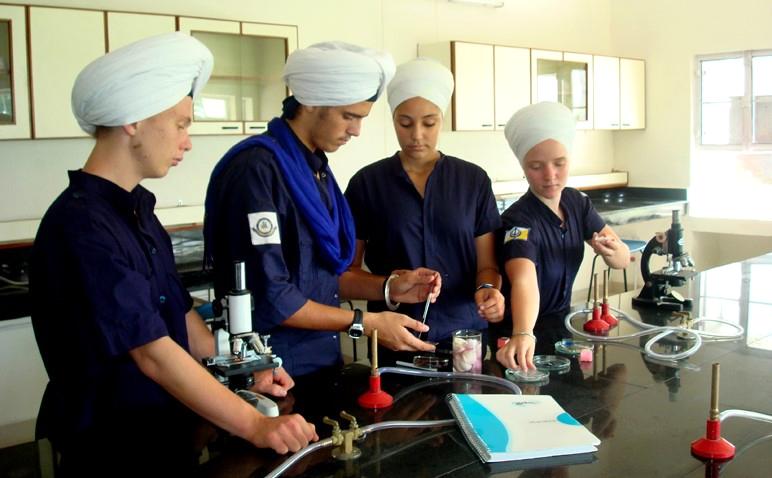 Miri Piri Academy (MPA) is an international, English-medium school located in the center of Sikh activity in Amritsar.  It offers a diverse curriculum of academics along with sports, drama, and music.  But the main reason Punjabi families send their children to MPA is to become well-grounded in Sikhism.

Every Sikh family today faces the same challenge. We are doing the best we can to raise our children as Sikhs, according to the Hukam of Guru Nanak, in a world that is rapidly changing. In the time of the Guru, children nearly always followed in the footsteps of their parents. Their profession, marriage, financial position and all major life decisions were taken in the context of the family above all else. Today that is often no longer the case, both for Sikh families in India and also for those who have migrated to the west. We can no longer to expect our children to follow in our footsteps. Rather, we have to find a way to kindle a love for the Guru in their hearts, to love their turban, and to learn how the teachings of the Guru are relevant in the world.

Miri Piri Academy is in a unique position. Our program is based on the teachings of the Guru and includes Bana, Bani, Simran, and Seva. Our students come from Sikh families, both from within Punjab and from countries around the world as well as other world religions. We are tasked with teaching and sharing the value of the Guru's Path with children who have grown up in the modern world and have learned to question everything.

Gagandeep Singh, a recent graduate from Hyderabad, explains why he wanted to go to Miri Piri Academy.  "I wanted to come to MPA because I saw the other students living as Sikhs and I got really inspired. I wanted to have that experience, too. I am interested in taking my education into military services and have a vision of myself as a military officer in the health department within the next few years.

"Before I was a Sikh by birth, but now I am actually living as a Sikh. I wish to live as a Sikh my whole life and follow the Sikh spiritual path forever."  After graduation last year, Gagandeep was accepted into Humber College in Toronto, Canada and is pursuing his goal studying Health and Fitness Science.
Ultimately, despite all the conveniences and distractions of the modern world, human beings deepest desire is to feel connected and to have a sense of purpose and meaning. Whether they are raised as a Sikh or on any other path, they can find a sense of connection at Miri Piri Academy that will sustain them for a lifetime.
Miri Piri Academy is currently raising money to build a gymnasium on campus.  
Please help us reach our goal! Donate generously at miripiriacademy.org through Paypal or contact Saraswati Kaur for bank transfer information:  [email protected]