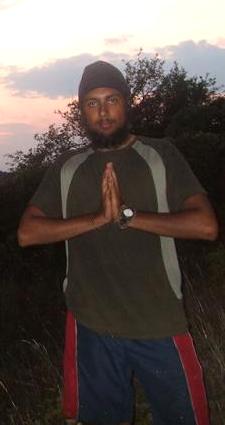 Satnam! My name is Onkardeep Singh Khalsa. The end of September 2009 marked the completion of a 29 day cycling trip from Berlin to Istanbul. It was the first time I've ever done anything like this but I wanted to step out of my comfort zone and experience the world for what it was. I travelled with 2 other friends and together we rode through 10 countries clocking up 2600km. I also wanted to dedicate the trip to something greater and decided to raise money for the Faiths Act Together project that the Tony Blair Faith Foundation runs in the UK.

The journey was full of adventure, never knowing where we would sleep or what the next day would bring but there was a certain comfort in submitting fully to the world and accepting whatever came our way. We always tried to keep on smiling and waving at everybody we saw. I was truly taken aback by the sheer generosity and love of all the people we met; many of whom offered us help, food and even shelter. Many people on my trip had never even heard of what a Sikh was and it was an amazing privilege to be the person to be able to share a few things about the Sikh way of life.

If I had to summarise what I learnt from the trip in one sentence, I would say, 'When you submit, everything will be provided'. Whatever we felt we needed, something would always turn up! It was an amazing experience. I have been very fortunate to be able to have completed this journey and learnt so much along the way. It has really reinforced one of my personal goals, which is to serve the world by promoting unity among faiths and spreading love amongst all. It also highlighted to me the sheer strength of Jap Ji Sahib, which carried me through many difficult hours on the trip.

I would love to see more Sikhs take an active part in interfaith dialogue and to be more active within their communities. There are so many things to get involved in and the world really needs its Sikhs to support and continue to create amazing projects that serve humanity!

If you wish, feel free to make a donation at justgiving.com

Below is a poem which was inspired by the amazing journey and a few pictures of some of the people we met on the way. Enjoy!

Share a Wave and a Smile

A challenge comes in ways unknown,
Ride along ride fast, the soul is grown.
Life is the biggest teacher,
Be the lighthouse, make love the feature.

Everything will be provided dear,
Beginning middle and end, no fear.
Keep going, impossible is nothing,
It's all in the mind, sing sing sing.

It's not how much you have,
But how little you need.
Share a wave and a smile,
Let love be freed.

Together as one lets complete this journey,
Smiling in times of good and bad, the key.
What goes up, must come down,
You radiance shall illuminate your crown.

Go the extra mile, pay off it will,
Laugh, dance and eat to your fill.
Don't forget to relax my friend,
A new challenge may be around the bend.

It's not how much you have,
But how little you need.
Share a wave and a smile,
Let love be freed.

Within every misfortune lies a blessing,
Keep this in mind and you shall be King.
Whatever you want to achieve,
You can do it, just believe.

A journey's end marks a new beginning,
Let there be no attachments to which you cling.
Step outside your comfort zone,
And real Truth you shall be shown.

It's not how much you have,
But how little you need.
Share a wave and a smile,
Let love be freed.
            
Blessings,
Onkardeep Singh Khalsa.