Presented by Defence Secretary Sir Michael Fallon MP at a prestigious dinner in London, hosted by the British Sikh Association.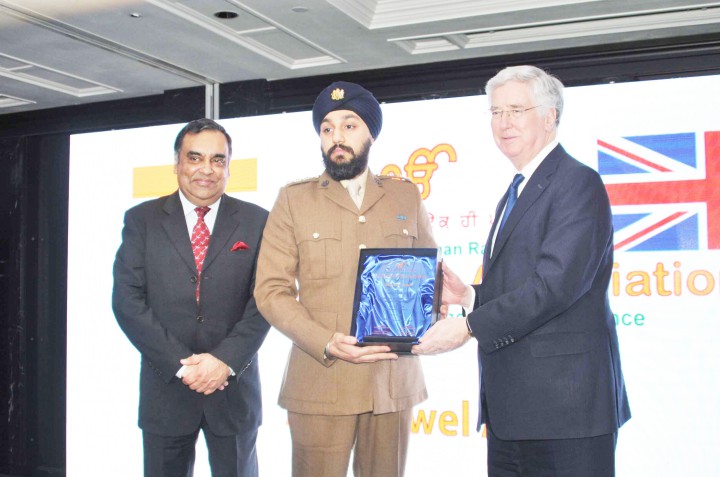 Singh-Sohal received the award for journalism and for his immense work in raising awareness of the battle of Saragarhi, by founding the annual UK Saragarhi Day commemoration, through books a forthcoming documentary.
Jagjeet (or Jay) Singh-Sohal is a writer, broadcaster and communications consultant. An ITV News trained reporter he has produced live breaking international stories at Sky News. As an independent producer he has brought the Sikh story to mainstream audiences, with the "Turbanology" documentary, books and Arts Council exhibition exploring Sikh identity; and the "Sikhs At War" project which focuses on the frontier and WW1. He is the leading authority on the epic battle of Saragarhi on which he has written a book and is currently making a documentary. In 2015 he created the UK's first "WW1 Sikh Memorial" at the National Memorial Arboretum. Jay is also an Army Reserve Captain and has served on operations in the Middle East.
Indian-origin British director Gurinder Chadha has also been honoured with the Sikh Jewel Award for 2017 for her immense contribution to British cinema.
Chadha, whose films include "Bhaji on the Beach", "Bend It Like Beckham" and "Bride and Prejudice", received the award from UK Defence Secretary Michael Fallon at the Vaisakhi Dinner organised by the British Sikh Association at the Lancaster Hotel here Thursday night.
Her most recent film, Viceroy's House, follows the final days of British partition-era India, depicts through the eyes of the man – Lord Mountbatten, the final viceroy of India - responsible for overseeing the partition days. Chadha's films, including Bend it Like Beckham, Bhaji on the Beach and I'm British But… explore the British Asian experience.
Jasminder Singh, OBE, Chairman and founder of Edwardian Hotels too, received the award.
Sikh Jewel Award also presented to Mr Jasminder Singh OBE for Outstanding Contribuion to Charitable Causes and to the Hospitality Industry.
The High Commissioner of India to the UK, Y K Sinha, who was the Guest of Honour, was also present on the dais.