A meeting in Ilford, East London between members of the Sikh community and police representatives saw officers in attendance state "On behalf of the Met, we apologise for hurt caused".
Stated by Police Commander for Crime Prevention, Inclusion & Engagement Mark McEwan, the apology came after several Sikhs in attendance at the meeting raised the issue of media sensationalising what happened as a "Sikh gang" issue, based on police first mentioning the faith in their public statement on the incident.
The meeting, which was chaired by Harmander Singh who is a long-time point of liaison between the Sikh community and the police forces, saw representatives from various Sikh organisations in attendance to hear from and question the Met. The officers were thanked for their actions in reacting swiftly to the incident but also grilled about using the label of "Sikh", especially in relation to the fact other communities when involved with crimes have been described as "Asian".
The officers in attendance claimed the use of "Sikh" in their statement on the incident was used to help address the right community, claiming this could help the right witnesses and those who knew those involved come forward.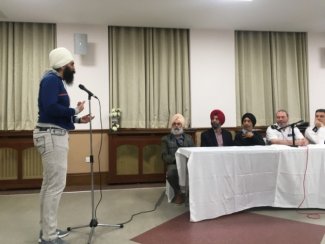 Amandeep Singh, Sikh educator, said during the meeting that police should have been aware of how some media outlets would manipulate their use of the term.
"Everyone knew what was going to happen when the police labelled them as Sikhs" said Amandeep Singh, "I've got a young girl and she went to school and people were asking her 'Are you part of a Sikh gang?'".
In response, the officers stated they would revise what kind of terminology they use in future. The officers suggested this would involve discussion with the Sikh police networks including the National Sikh Police Association UK. However, this was deemed by some to by an ill-considered, with suggestions the police need to open up their discussions to include grassroots community figures too.
Harmander Singh said "Police in uniform cannot represent the community. There is a conflict of interest there that does not help either side."
The need to be proactive to ensure such an issue is not repeated was further emphasised by Councillor Jas Singh Athwal, leader of Redbridge Council, who said more needed to be done in the future.
"This was a reactive meeting rather than a proactive meeting. We need to be proactive and see these things coming in the distance and making sure it never happens again."