17/11/2016: An Ambala-based photographer, , has been documenting the famous Sikh festival of Hola Mohalla for 18 years. The engineer-turned-photographer learnt to use the camera from his father.
"I have learnt the finer techniques of photography from him and in a way he taught me 'how to write with light'," according to Sodhi. "For me, photography is a natural way of expressing my love of the outdoors. In a way I live with photography."
It was in 1998, when he accompanied his father to the festival, that he took his first photos of the festival. He was trained to be a mechanical engineer and he was in his 30s at the time. Since then, he said he has returned each year to take photos.
The Sikh festival is celebrated annually at Sri Anandpur Sahib in Punjab. It was believed to have been started by the tenth Sikh Guru, Guru Gobind Singh, making it a tradition from 1701. In the festival, the Sikh warriors, called "Nihangs", take part in mock military exercises.
Below are some of his beautiful photos taken through the years. Some of the earlier ones are shot on film while the later ones are on digital cameras where he has experimented with different lens. He is now raising money on crowdfunding site Wishberry to publish the best photos from the last 18 years in a coffee table book next January on Guru Gobind Singh's 350th birthday.
While he has exhibited his photos in various parts of the country and travelled to Washington DC in 1999 for an exhibition, he wants to show the evolution of the Sikh festival to the rest of the world through his photographs.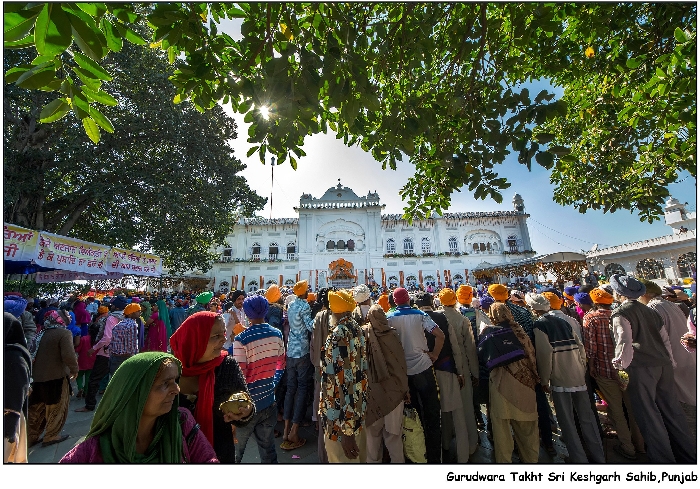 "One of the five temporal seats of Sikhism, Anandpur Sahib located in Ropar district in Punjab, is the main place associated with festival of Hola Mohalla. It was here in 1699 that the 10th Sikh Guru, Guru Gobind Singhji started the Sikh panth. There is a magnificent Gurudwara atop a hilltop referred to as Keshgarh Sahib. The river Sutluj flows on the southern side forming a boundary with beautiful Himalayas in full panoramic view."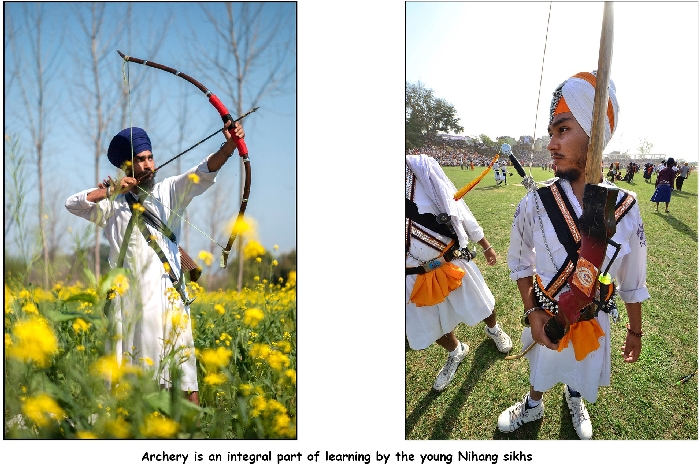 "Archery is an integral part of learning by young nihangs. In older times, archery was one of the main weapons to hit a target faraway. It requires lot of practice, devotion and discipline to be an ace marksman. Nowadays it is mostly used as ceremonial warfare equipment during the festival."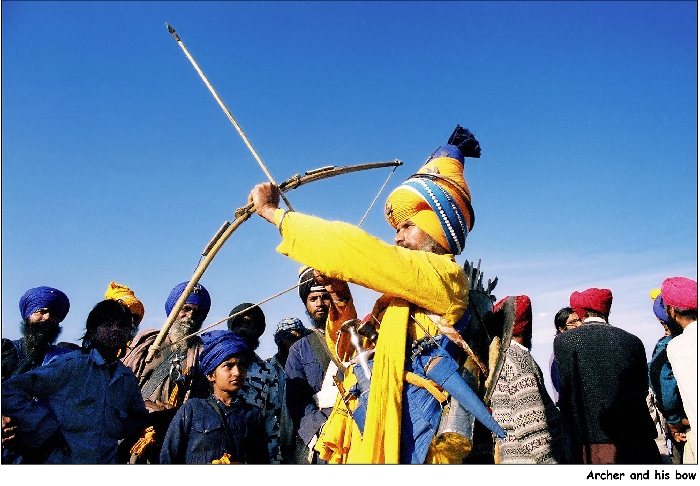 "Nihang Baljeet Singh was displaying his archery skills during 1998. His yellow robes and a very antique-looking bow and arrow and other weapons of war he was carrying on him made me capture this moment against a clear blue sky. A polarizer was used on the roll film camera with Kodak 400 asa film."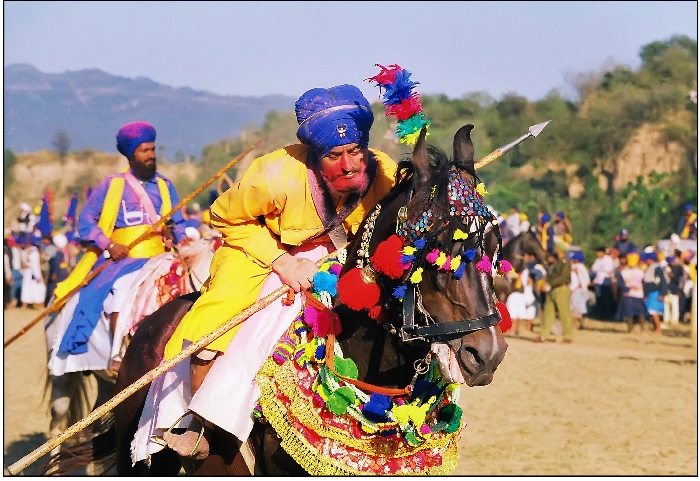 "This one was shot with a film camera in 1999 during the Tricennetary celebrations of the Khalksa Panth, this horse rider with a Neza (pointed weapon) used in tent pegging was gracefully displaying his martial art skills."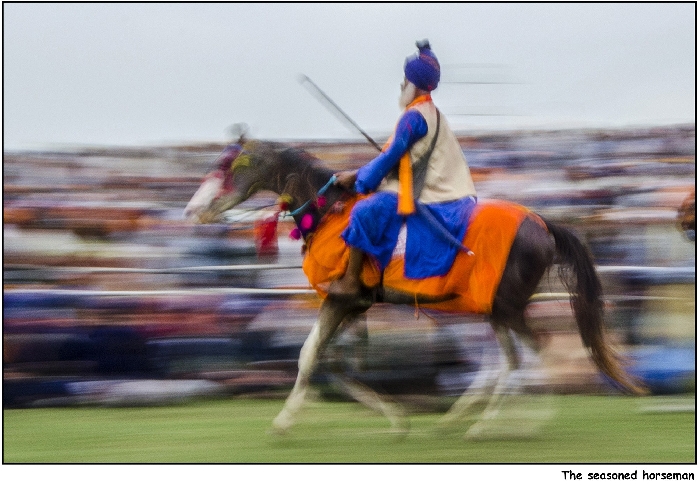 "In this shot I was experimenting with the photographic technique of 'panning'. After many unsuccessful attempts, I finally got a shot of an elderly horseman in motion."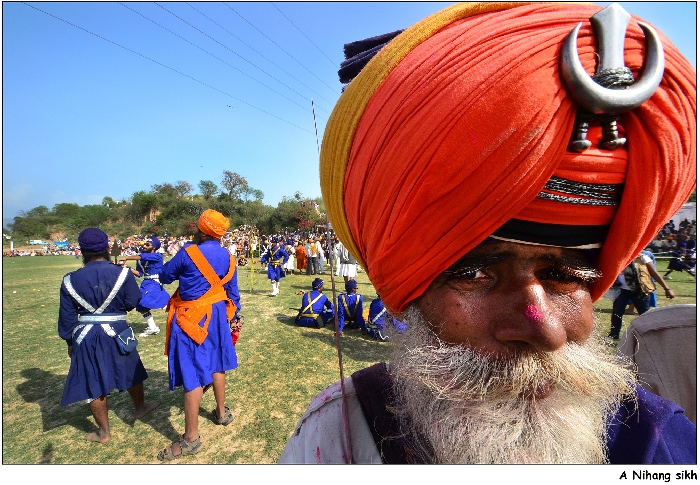 "Shot in 2010, this picture has a story behind it. Nihang Gulzar Singh, who is in his 70s, insisted that I give him an instant print, which he wanted to carry home for his family. After a lot of struggle and several explanations, I told him it was not possible to give him a print of his photo, which was his precondition for a photoshoot. I told him I would instead mail him at the earliest if he would give me his mailing address. I kept my promise but was not sure whether he received it or not. I also didn't see him after that date even though I am a regular at the festival and know many of these warriors. The pink colour on his nose and his orange turban are the highlights of the photograph."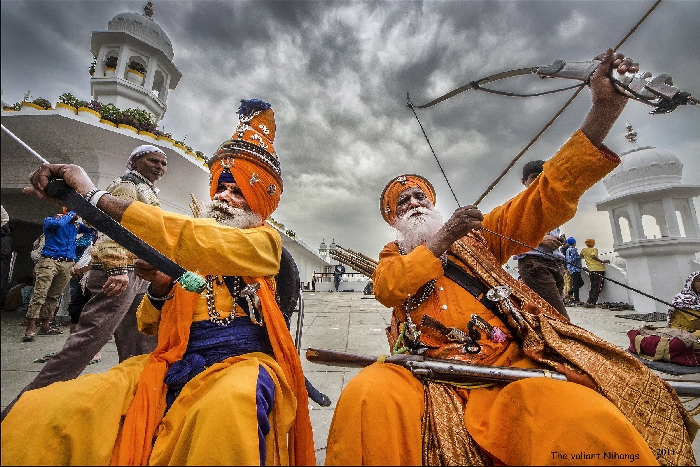 "The valiant nihangs shot in 2011 is also one of my favourite shots. The two comrades were resting casually, but the moment they saw me they were excited to get themselves photographed with their weapons. There was a glow on the faces considering their ages and a childlike keenness to be photographed. With dark clouds fast approaching, their persona was awesome and very inspiring."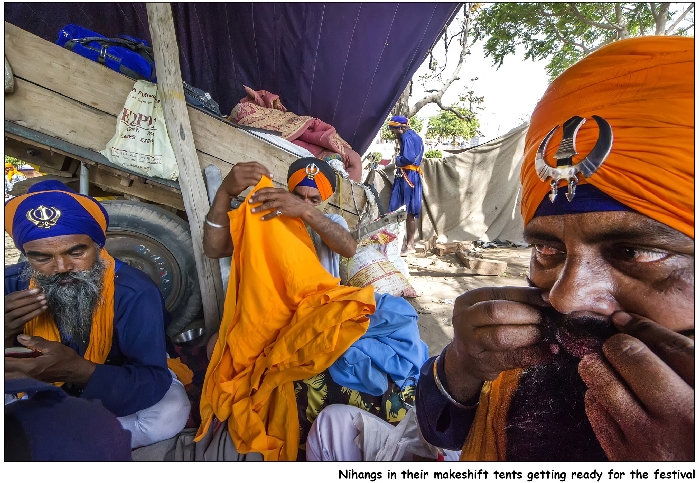 "Shot in 2012, this one was shot in a nihang camp where they were dressing up and getting ready for the final day of the festival at Charan Ganga Stadium. Some were tying their turban, some twirling their moustaches, some getting ready with newly stitched clothes. The 'Khanda' is evident on all the three warriors's forehead, the symbol of Sikhism."


"Anandpur Sahib is referred to as 'holy city of bliss' and is mainly surrounded by semi-urban towns and villages. During the three-day festival, the town comes to life with lakhs of devotees converging here to pay their reverence to the 10th Guru. Devotees arriving in cars, vans, tractors, motorcycles are offered community kitchen food (langar) enroute to the gurudwara by the villagers."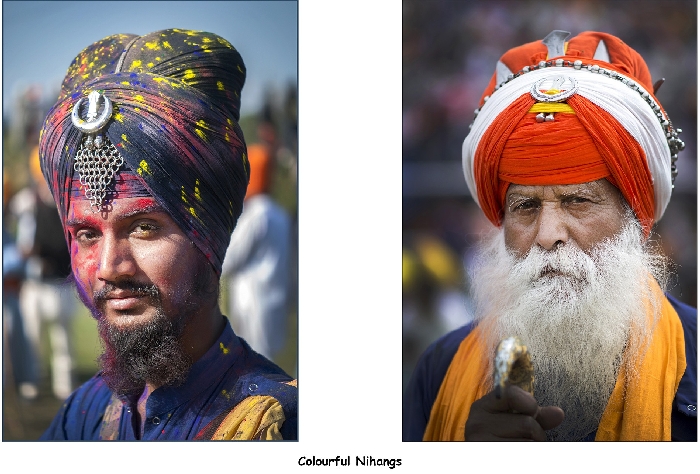 "Shot in 2015, I had especially purchased a 85mm lens for potraite of Nihangs. Here is an exciting study of young and the old warriors."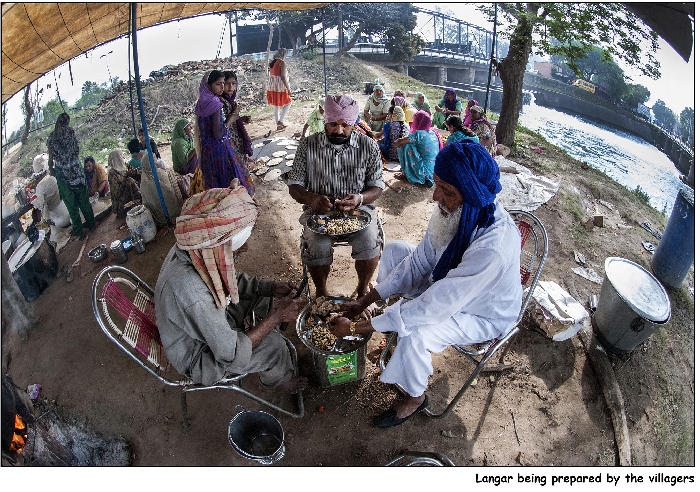 "Langar or community kitchen is an integral part of Sikh culture. Villages which are situated on either side of the major roads leading to the gurudwara have makeshift arrangements for devotees. Freshly cook food is served free of cost with love and devotion and without any discrimination of caste, creed, colour and religion. Here village folks, men, women and youngsters are seen preparing langar. This is shot with a Nikon fisheye 10.5mm lens."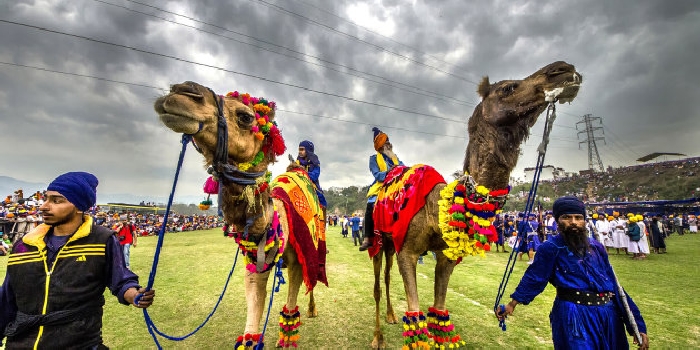 Images by Maninder Singh Sodhi