Palatine, IL: The Governor of the Punjab province in Pakistan Chaudhary Muhammad Sarwar accompanied by his wife, the first lady of Punjab (Pakistan) Mrs. Parveen Sarwar visited the Gurdwara in Palatine Illinois on May 28, 2021. Their delegation included the Counsel General  of Pakistan in Chicago Mr. Tariq Karim, their staff and families, along with several local Pakistani American community members who joined the entourage for an opportunity to visit the Palatine Gurdwara Sahib.
The Sikh Religious Society (S.R.S.) Palatine, Illinois Gurdwara  management Board hosted  the delegation who were in Chicago for a fundraiser for a clean water project in Pakistan. The governor took some time out for interaction with the Chicago Sikh community to update them with the progress of construction and renovation of Sikh shrines in Pakistan and to promote religious tourism.
Governor Sarwar and the entourage were first led to the gurdwara congregation hall to pay respects to the Guru Granth Sahib where they were given a brief explanation of the Sikh way of worship. Later on an open meeting platform was set up in the langar (dining) hall where the Sikh Religious Society president Amardev Singh thanked and welcomed Governor Sarwar and his delegation for their friendly visit.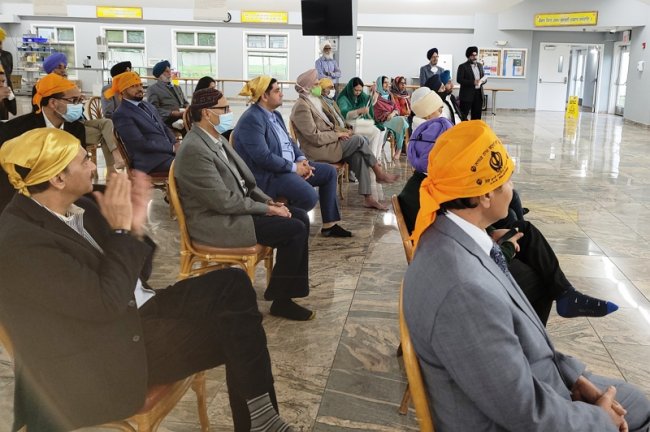 Counsel General of Pakistan in Chicago Mr. Tariq Karim spoke to introduce himself and assured that he would be happy to facilitate any visa services and help solve other requirements problems to visit Sikh Shrines in Pakistan.
Thakar Singh Basati compiered the program. Mr. Sajid Chaudhary talked about Global Punjabi Milap and introduced Governor Sarwar.
The Governor spoke in Punjabi and described his friendships and cooperation with the Sikh community in UK where he became the first ever Muslim Member of Parliament from Glasgow in Scotland in 1997. Later he gave up his British citizenship to become the governor of Punjab, in Pakistan.
Governor Sarwar talked about the renovation progress made so far to the Sikh shrines in Pakistan and formation of Baba Guru Nanak University in Nankana Sahib Pakistan under his watch. He described how the the long talked about corridor to Sikh shrine at Kartar Pur was completed in a very short period of time to celebrate the 550th birth anniversary of Guru Nanak Dev ji in 2019, and a large adjoining original piece of land has been reserved for farming where Guru Nanak Dev ji used to farm during his last years of life. No buildings will be constructed on that farmland and no design changes will be made to any shrines without consulting the Sikh community.
The Governor said that having been a M.P. in the United Kingdom he understands the sensibilities and issues of the minority communities, so he is mindful of the minority Sikh community in Pakistan and he assured to do his best to take care of them and considers their welfare as a part of Pakistan's responsibility. He also said that the Pakistani Prime minister Imran Khan is focused on developing and promoting tourism to Pakistan and renovation of Sikh and other communities' shrines and landmark buildings. He said that the Sikh visitors to Pakistan have an open invitation to visit the Governor's mansion while visiting Pakistan and he is open to any suggestions to make their travel more comfortable.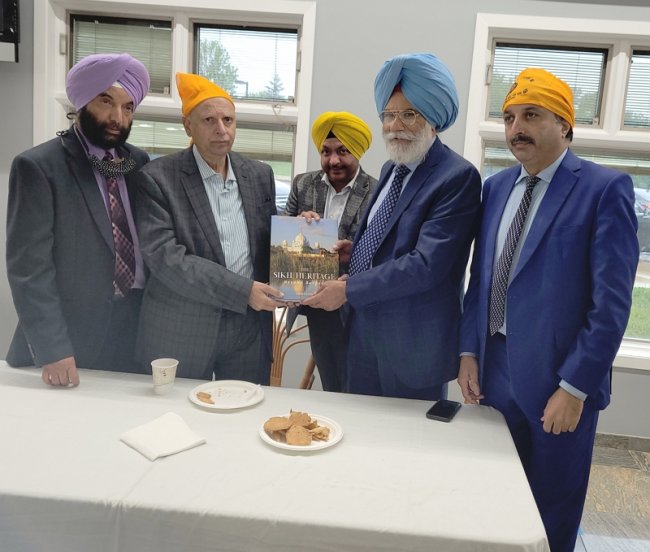 S.R.S. Board members jointly presented a book Lost Sikh Heritage in Pakistan authored by Amardeep Singh. Executive Secretary Irwinpreet Singh presented a letter of thanks and few suggestions to the governor regarding  taking care of Sikh shrines in Pakistan and including Amardeep Singh, a traveller, author of "Lost Sikh Heritage in Pakistan" books, and a documentary film maker of Singapore in any committee of experts overseeing Sikh shrines preservation and restoration.
Rajinder Singh Mago in his remarks pointed out that the Sikh religious tourism which right now includes only a few gurdwaras should be expanded to Sikh Heritage or Sikh Legacy tourism to include Sikh history, culture, art, architecture and military traditions like forts, Havelis and other historical buildings related to Maharaja Ranjit Singh's Lahore Darbar and his generals like Hari Singh Nalwa. Mago also mentioned that Shaheed Bhagat Singh was from the present day Pakistan area, so all this should be Part of Pakistan's history and should be recognized in Pakistan. "It wouldn't hurt to make or name something after Bhagat Singh," said Rajinder Singh Mago. "You have given us a good idea, and we will soon come through with it," responded Governor Sarwar. 
Dr. Harjinder Khaira presented another "Sikh Heritage" book by Dr. Dalvir Singh Pannu to the governor.
Global Punjabi Milap organization presented a "loyee" (shawl) and Punjabi books authored by Sajid Chaudhary on behalf of their organization, as mementos to the governor.
Darshan Singh Dhaliwal, a businessman from Wisconsin who was accompanied by several colleagues and friends, also attended the event.