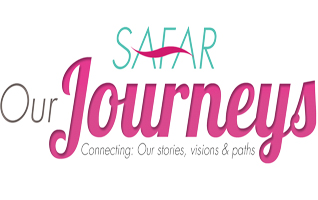 One of my students asked me the other day in my class: "Professor, how did you end up here teaching this class) in this university? How can I get to the same place you are, in my life?"
I replied in an almost automated way, "Well, I started off as a student organizer …", and then went on through my CV … "till I ended up back home in Canada teaching young people like you about my experiences."
The question did not seem then as profound as it felt when I thought about it later.
How did I end up here?
It is really a "long and winding (or maybe twisted) road" as the Beatles famously cry in their song.
As I thought more about my student's question, I realized the journey I have taken has been unique and special to me and only me. So it might be impossible for that young woman to duplicate my life and end up in the same place, but her journey would be unique and special to her.
The uniqueness and specialness of my journey has been that it has always been underlaid by a strong tradition of equality, strength of mind, and unbroken faith.
That has, of course, come from my background as a Sikh and has always been with me and I guess always will. The most interesting part of my recent experiences has been meeting people, especially women, who have made a similar discovery. Finding out that their fortitude and fortune has come from a fundamental place within our spirit and faith as Sikhs.
But like everything that evolves or emerges in my consciousness, I have to analyze it to find out if that is what the founders of our faith foresaw as the depth and breadth of Sikhism.
Earlier, in these very pages of sikhchic.com, I have explored various aspects of Sikhism and its influence on my work, which has mainly been in human rights and justice in conflict zones. I looked at the principles of the Mool Mantar and Chardi Kalaa and how they motivated me to stay honest and continue to work hard in the face of human rights violations. I recorded examples of brave Sikhs I met in Afghanistan who kept gurdwaras open under the Taliban or those who farmed for survival in remote places in Chile and all of them had their faith intact, for it is what kept them going.
Now, I will have the great fortune to witness an event that is going to fundamentally impact the way Sikh women examine themselves and are viewed in the context of our faith and culture.
The upcoming conference, called "Our Journeys", is set to be a celebration of Sikh women's journeys growing up, becoming mothers, pursuing careers and passions, breaking ground in research, doing tireless advocacy for vulnerable people, and through it all, keeping and nurturing their faith.
I urge you to come and share this experience with the wonderful women who have written papers, and will present their narratives on our history, being Sikh at work, experiencing violence, negotiating gender, existing and thriving within the diaspora.
"Our Journeys" Conference 2011
Sikh Feminist Research Institute
Date: Saturday, October 1, 2011
Location: Ontario Institute for Studies in Education (OISE),
University of Toronto, Toronto, Ontario, Canada
The conference program and further details can be accessed by CLICKING HERE.
Conference registration has deliberately been kept at a nominal cost of $10 (there is a pay-as-you-can scale) in order to allow access to all. Payments can be made on-line by CLICKING HERE.
--------------------------------------------------
Cheques can be made payable to "Safar", and sent to:
Angela Lytle / Our Journeys Conference
Centre for Women's Studies in Education, OISE/UT
252 Bloor St W, Room 2-225
Toronto, Ontario, M5S 1V6, Canada