More than three years ago, 85-year-old lifelong human rights activist Bapu Surat Singh Khalsa started a hunger strike to raise awareness and help free Sikh political prisoners languishing in Indian jails. Starting the hunger strike from his home in Hassanpur, Punjab on 16 January, 2015, Bapu Surat Singh was forcibly removed from his residence a few weeks later and taken to a hospital, to receive treatment and force-feeding.
Bapu Surat Singh remains confined at Dayanand Medical College and Hospital in Ludhiana present day. On 7 August, 2018, he marked 1300 days of hunger strike.
As a result of this campaign and the work of Sikh organizations worldwide, over a dozen Sikh political prisoners have either been permanently released or given parole for the first time in decades.
Bapu Surat Singh has repeatedly vowed that his hunger strike will continue as long as the political prisoners remain imprisoned.
As an ongoing effort to raise awareness for this cause and inform the world of the plight of Bapu Surat Singh and Sikh political prisoners, artists and supporters submitted artwork that has been featured in #Art4Justice exhibitions in the U.K., U.S. and Canada.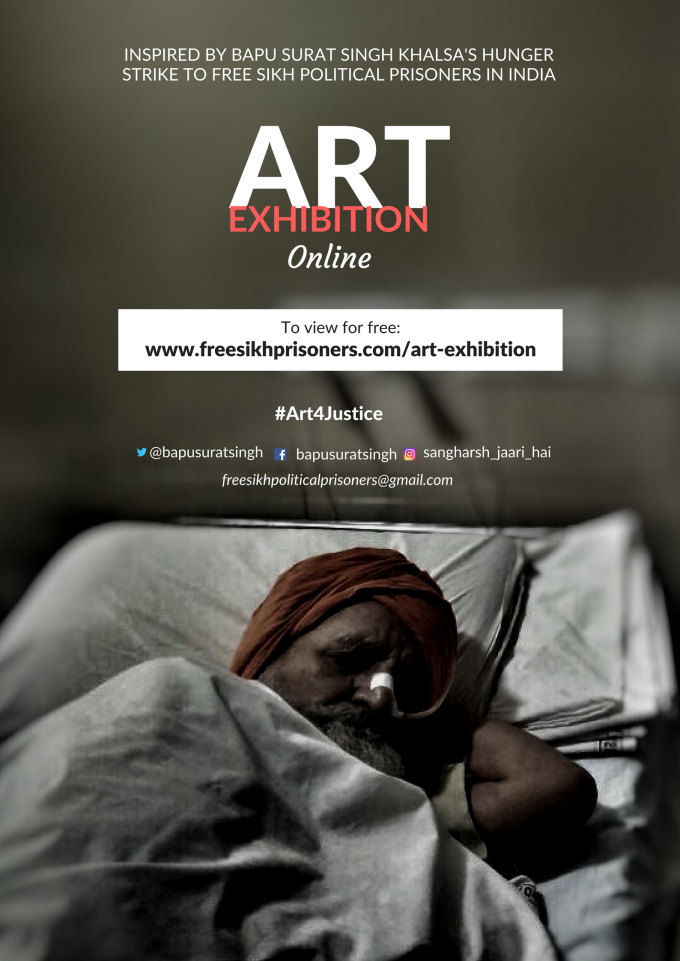 Recently this work was organized into an online art exhibition for the first time to commemorate Bapu Surat Singh's 1300th day of hunger strike (#1300DaysOfHunger).
The exhibition can be viewed for free at the following link: www.freesikhprisoners.com/art-exhibition/
If anyone would like to submit artwork for future exhibitions, please email a high resolution copy of your work to: [email protected]
Please be sure to follow, like and share Bapu Surat Singh Khalsa's hunger strike on social media:
Facebook: Bapu Surat Singh Khalsa - Sangharsh Jaari Hai
Twitter: @bapusuratsingh
Instagram: sangharsh_jaari_hai