BOOK REVIEWS
In competitive times such as these when parents aspire for only the best for their children, an attempt at spiritual progress can sometimes be lackadaisical. While the parents and elders endeavor to provide their children with the right tools to grow in life, getting the tiny tots acclimatized to religious tenets and teachings can be an uphill task. In such a scenario, our children are in danger of growing up without imbibing life's vital lessons. It is no wonder therefore, that many Sikh parents rue about the absence of understanding of Sri Guru Granth Sahib by the tiny tots. This is because adults perhaps don't have the time to simplify the Gurus' teachings for their children while there is almost no literature available that helps them understand the holy book and apply its principles to everyday living.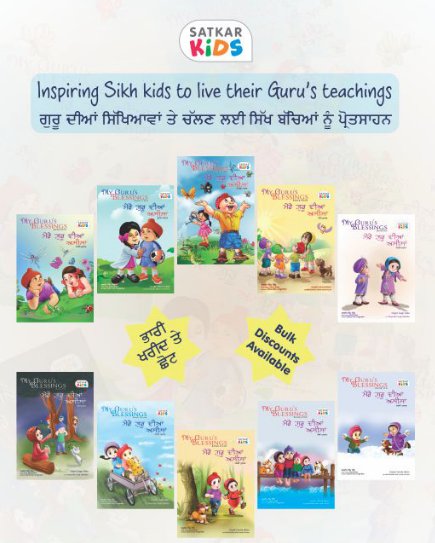 You will be delighted to know that an extraordinary new series of books for children aged between three and eight years has now come to your aid. Containing stories in both English and Punjabi by Daljeet Singh Sidhu, the set of 10 books by Satkar Kids comprises stories from everyday life that will easily register in the innocent minds of the children. Attention-grabbing artwork by Bhupendra Singh Ahluwalia makes them both eye-catching and interesting. What is worth noting is that every moral lesson contains a couple of lines from the Sri Guru Granth Sahib and its translation. As a result, the child learns not only about the importance of prayer, but also gets acquainted with the teachings of the holy book.
From the antics of the two principal characters - Kabir Singh and his sister Hernoor Kaur - to the problems and questions arising in their minds and their solutions, every lesson in each book will hold your child's attention and make him or her think. For instance, children often fight with each other. Shouldn't they be taught to talk about what happened and not hurt each other? When there are problems, does it seem that God is not listening to you? But, when you look around at the sky, the birds, and the butterflies, you realize that He is in fact all around you. All you have to do is pray to Him, and He gives you the wisdom and the strength to solve your problems. The books teach children these significant lessons, helping them hone patience, kindness, tolerance, perseverance and thereby become better human beings. The importance of choosing good friends, praying to God before eating your meals, going to the Gurudwara, singing Waheguru ji's praises and praying for even the wrong-doers are some of the lessons that every child needs to learn while growing up in order to lead a truthful, fulfilling life.


| | |
| --- | --- |
| | |

Sri Guru Granth Sahib is a treasure house of life's principals and teachings that every Sikh needs to live by. Nowadays, when even the adults seem to have forgotten to follow these, it is imperative that the young generation be made to learn to hold the Guru's hand in life's rat race. While children today are more impatient than ever, they don't appreciate being preached to. But, the books, titled 'My Guru's Blessings' (Mere Guru Diyan Aseesan) don't simply preach. Instead, they comprise stories with subtle lessons in living that the child isn't likely to forget easily. Affirms Prabhjot Kaur, a Mohali-based mother to six-year-old Bismaad Singh and three-year-old Bilawal Singh. "I got to know about the books through the internet and bought them right away. Every night before sleeping, I read stories from these to my sons. We often don't realize that little children have umpteen questions that we can't answer. The books and their simple, but effective lessons answered many of their queries. Not to mention the attractive art that is itself telling. Even my younger son knows many of the Guru's verses now," she says.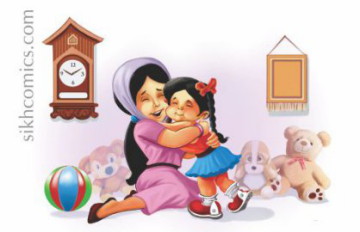 As mentioned earlier, an added benefit is that these books are bilingual-in English and Punjabi. After the children have read the stories in English, they will be encouraged to read in their mother tongue too. Many parents are finding it appalling that Sikh children these days are not comfortable speaking in Punjabi or reading it. The books help children initiate a habit of reading and understanding the language. Not only will the parents have a ball reading these stories at bedtime, but they will also revel in re-learning easy ways to lead purposeful lives. Make the books a part of your life and let them guide the tiny tots while enthralling their impressionable minds with teachings of Sri Guru Granth Sahib and offering them a visual delight through telling art.
Passing time takes a toll on the values and virtues of life as survival becomes primary, and spiritual growth secondary. Reinforce the significance of goodness in your child, as extolled by the Sri Guru Granth Sahib, through these books.
Priced at $3.99 per book, they are available at http://www.sikhcomics.com/satkar.


Lovedeep Kaur Sidhu is a journalist and lifestyle writer who formerly worked with the Hindustan Times, Mohali, and later as an associate editor with Urban Melange, a Chandigarh-based lifestyle magazine. She currently freelances. She can be reached at [email protected].