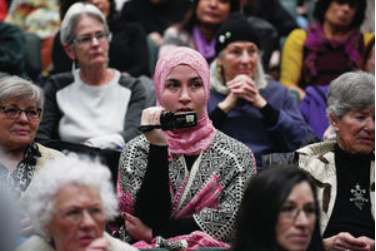 Serene Akkad of Albuquerque, records a lecture called 'Muslim Women Speak' at the Santa Fe University of Art and Design on Sunday that focuses on questions about Islam. Several women Muslim panelists answered questions about jihad, radicalization and what it means to be a Muslim in America. Luke E. Montavon/For The New Mexican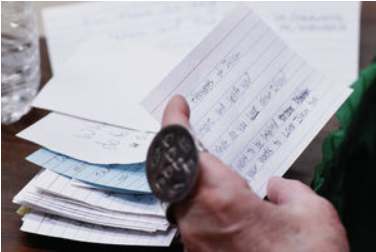 Audience members were asked to write their questions on index cards to be chosen by panelist Judith Fein on Sunday. Luke E. Montavon/For The New Mexican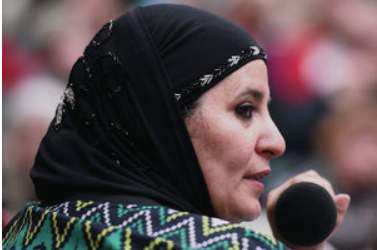 Samia Assed was one of the Muslim women panelists to answer questions Sunday regarding their faith and community during a lecture called 'Muslim Women Speak' at the Santa Fe University of Art and Design. Luke E. Montavon/For The New Mexican
Sunday, January 10, 2016: Not a single seat was empty at The Forum at the Santa Fe University of Art and Design on Sunday afternoon where 10 Muslim women on a panel were preparing to answer questions about their faith. People were leaning against the walls, perched behind the stage or sitting on the floor. A Sikh man stood guard at the door. And after the two-hour question-and-answer session was over, members of the audience lined up to talk further with the panelists.
Clearly, Santa Feans, and women especially, wanted to know more about the faith that has been linked to acts of terrorism in the U.S. and abroad.
Except that that isn't Islam, these women said. The people setting off bombs in Paris, gunning down innocent people in San Bernardino, Calif., or stoning women for charges of adultery, are not really Muslims, they said. Despite Islam's image in the press, their faith is one that seeks peace and empowers women rather than subjugates them, they wanted the audience to know.
The audience, which numbered in the hundreds, was sympathetic to their message.
"I'm just here to learn and to show support," said Jen Repede, who staked out a small spot on the floor in front of the panel with her friend, Andrew Stocker. "I feel like it's an important gathering to support people who are being so ostracized. [The idea that] ISIS is representative of the Muslim people is so far from the truth," he said.
Susan Munroe, who snared a seat in the front row, said she came because, "I am very supportive of the people leaving Syria. It's an absolute tragedy for the Islamic people." Munroe, who said she had taken up wearing a head scarf to show solidarity, said, "I'm also concerned at even the thought of Muslims being stopped at our borders."
But the big turnout Sunday didn't surprise her because Santa Fe "is so special and open."
The 10 women, half of whom wore head scarves, were confident, opinionated and devout. Some were of Palestinian heritage, others were converts born in the U.S. A couple of them grew up Muslim in Abiquiú. One, a former Southern Baptist, described herself as a "revert" after she read the Quran. One young woman owns a food truck with her husband in Santa Fe, and another woman runs a coffee shop off of Zafarano Drive. Another was a lawyer from Albuquerque who married an Iranian man and converted.
After briefly introducing themselves, they eagerly answered a variety of questions written on index cards by members of the audience. Nobody was shy.
"How does your community monitor or deal with people you know or suspect of getting radicalized?" one person wanted to know.
Sandra Akkad said they report them to the authorities. "We are part of the American fabric," she said, adding that many potential incidents in the U.S. had been thwarted by Muslim-Americans.
Samia Assed agreed, and suggested that recruiting in the U.S. is harder than people think. "For the most part, Muslims are happy here. It's hard to radicalize Muslim-Americans," she said. Fatima van Hattum, who started wearing a head scarf as a teenager in Abiquiú, added that although, "We have a good relationship [with] law enforcement, we're also watched a lot."
When asked whether Islam advocates killing or violence, Akkad pointed out, "It's not the religion that is killing anyone. It's these fringe elements." And Sabiha Quraishi chimed in, saying the Quran holds that if one person is killed the whole of humanity is killed.
One audience member raised the differences in the dress of the panelists and wondered whether it was related to different levels of belief. Assed said she wears the hijab, or head scarf, in memory of her late brother. The scarf for her, she said, was an expression of modesty, "but just because someone doesn't wear it doesn't mean they are any less faithful."
Akkad states that there are 1.6 billion Muslims around the world and the community is hugely diverse. Fewer than 20 percent are Arab, and different cultures adopt different styles of dress, she said.
Kathy Ahghar, who does not cover her head in Albuquerque, said she does wear the hijab when visiting family in Iran because it makes them more comfortable and she wants to show respect. "It's between you and God," she said.
Asked whether they felt they or members of their family were in danger for denouncing the violence for which "Islamic" radicals are responsible, Assed said, "I don't feel I have to answer for radical Islam. Of course, terror is terror, no matter what your color or race. But we shouldn't scapegoat the whole community for the actions of some."
She said she sees those radicals as extremists and, "We feel violated. For Islam to be taken in vain is hurtful on so many levels."
The terrorists are not really Muslims, said one of the panelists, pointing out that some of the 9/11 bombers were spotted drinking in a bar prior to the hijackings and some of the Paris terrorists had criminal records, both forbidden in the religion of Muhammad.
Most of the women said they felt safe in New Mexico, although several described acts of hostility and some fear. Rehana Archuletta-Hadid, for example, said that she has experienced hatred from a neighbor and, "I am fearful sometimes about being open about being Muslim."
All agreed that the differences between the Shiite or Sunni sects of the religion are blown out of proportion. And many said they never heard the terms until later in their lives. They were all just Muslim. The differences are politically motivated and not ideology, they stressed.
Many people in the audience were interested in Sharia, the body of jurisprudence in Islam that is often cited in stories concerning the punishment of women. But its interpretation depends on where you come from, Quraishi, the lawyer, said, and Iran doesn't really get it right, "which drives me insane."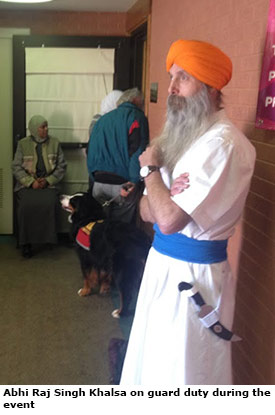 They were asked about jihad, a word which refers to a spiritual struggle in Islam. It has become a scare word and used to dehumanize Muslims, they believe. One woman said her jihad was her effort to be peaceful at all times. Another said jihad could be just getting up in the morning, completing chores or raising your children. It means the ability to endure and resist. For Akkad, "Dealing with [presidential candidate Donald] Trump is a huge jihad."
As for whether Islam subjugates women, the panelists insisted that was one of the biggest misunderstandings about their faith. When Islam was revealed, they said, women were assured certain rights and freedoms. "Patriarchy exists," van Hattum agreed, "but Islam does not teach the subjugation of women."
Another panelist pointed to the treatment of women in Afghanistan and Saudi Arabia, calling the limits on their activities as "terrible, but that's cultural. That has nothing to do with Islam." Of those countries, she said, "My personal feeling is that they are afraid of women."
Toward the end of the event, organizer and travel writer Judith Fein read out a question asking about the impact of the presidential campaign on them. Assed condemned the hate spewed by presidential candidates against first Mexicans, then the Muslims and said, "The Republican Party should demand that Donald Trump resign from running for president."
Ahghar said she would defend his rights to say "those" things, but "I am so hurt. Shame on us as Americans that we could allow that kind of speech."
A similar panel discussion is scheduled for next Sunday at 1 p.m. in ballrooms A and B at the student union building at The University of New Mexico.
Editor's note: The organizers of the event specifically called upon the Sikh community to provide protection for the women on the panel. Several sangat members attended and provided security. The final words of closing were of thanks for the Sikhs for presence. Another similar event that will entertain a larger crowd will take place this Sunday, the 17th, in Albuquerque NM. Stay tuned for further news.