Walking into a health screening event and coming across smartly dressed, smiling and enthusiastic young professionals and students from all backgrounds is both incredibly humbling and heart warming. A gracious hello and introduction from students and qualified health professionals, and within 15 minutes in confidential setting you are being seen by eager individuals who are happy to help everyone is just one aspect of what British Sikh Doctors Organisation offer. It is without doubt you will walk away with invaluable information about your health and advise on whether you need to see your doctor, dentist or optometrist for further treatment or just piece of mind.
British Sikh Doctors Organisation (BSDO) was set up in October 2010. It was founded by Dr Gaggandeep Singh Alg, who with a number of other health care professionals and students wished to serve humanity with their knowledge and expertise. BSDO is an exciting and vibrant charity, made up of students and professionals from all backgrounds. BSDO has been serving families and communities regardless of caste, creed or religion in accordance with the teachings and guidance of Sri Guru Granth Sahib Ji (The Eternal Sikh Guru). They are a non-political charitable organisation.
The aims of the organisation are the following:

1. Educate and promote health awareness amongst all communities.
2. To provide free health screening to all communities and, when needed, referring individuals to their own General Practitioners/ Dentists/ Optometrists/ Pharmacists.
3. To help support those involved or wanting to get involved in health care.
a. This includes school and college students who aspire to study health care courses such as Medicine/ Dentistry/ Optometry/Pharmacy.
b. Undergraduate students currently studying health care courses
c. Post-Graduates, including qualified health care professionals
4. To be a charity, helping those less fortunate than us.
Since starting BSDO has screened well over 2000 people. Their fantastic health screening programme has developed over the years and has shaped the set up of the organisation. BSDO is now made up of: British Sikh Medics, British Sikh Dentists and British Sikh Optometrists. The organisation screens for common health problems including hypertension (high blood pressure), obesity, diabetes, common eye problems, oral screening and recently cognitive impairment. BSDO works alongside many major organisations, most recently with Alzheimer's Society UK. The screening events have been extremely successful. In the last 3 years the Ambulance Service has been called numerous times, most recently for a 37 year old lady having a heart attack, diagnosed during the screening event itself. Luckily this lady was diagnosed and treated on time.
BSDO have been supporting the education and futures of many students. As well as providing tailored advice and support to those wishing to enter higher health care education, they have taught science and medicine to audiences of over 200 students. They do this all as seva (humanitarian work).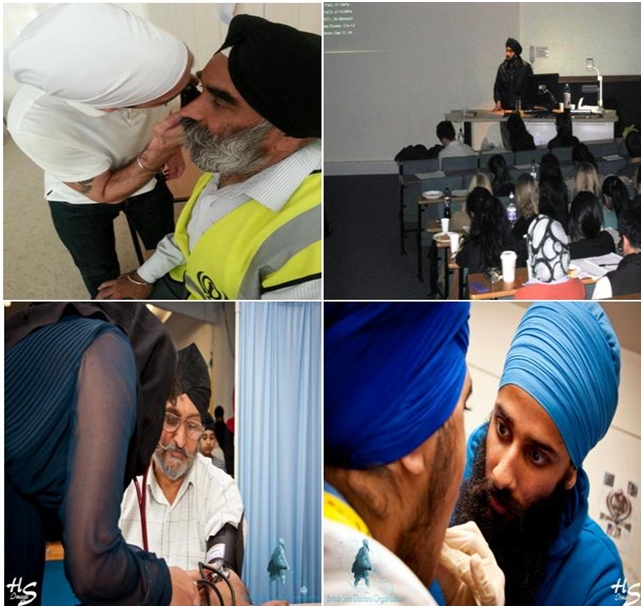 The photographs above show just some of the health screening and education Seva BSDO carry out.
Copyright of British Sikh Doctors Organisation and Harbind Singh Photography

BSDO needs the support of people from all communities and wish to invite you all to their screening events. It is an excellent devoted charity, they want more professionals to join them and carry on this amazing seva for years to come! Their slogan is simple: 'Support Us Support You'.
Please see the BSDO website www.britishsikhdoctors.com, follow them on facebook (www.facebook.com/BritishSikhDocs) and Twitter (@BritishSikhDocs). You can also email BSDO on [email protected]
BSDO would like to acknowledge our whole team and Board of Senior Health Professionals. Special mention goes to Dr Manmit Kaur, Dr Dilraj Singh Sokhi, Sister Tina Louise Gibbons, Michael Gibbons, Seyan Brothers, Simrit Kaur Sandhu, Dr Jaspreet Kaur Lall, Dr Harpreet Kaur Mann, Dr Baljeet Singh Premi, Bharpoor Singh, Sanveer Singh Tiwana, Gurnam Singh Aulakh, Simrun Kaur Chowdhary, Harbind Singh, Parnam Kaur, the Alg Family, Amrinder Singh Seghal, Deepinder Singh Seghal and the rest of the team.
Written and Edited by:
Dr Gaggandeep Singh Alg, Navdeep Singh Alg, Dr Anchal Kaur Alg and Dr Satpal Kaur Chaggar
Photographs : Copyright of British Sikh Doctors Organisation and Harbind Singh Photography