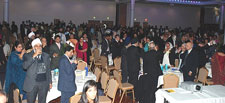 Over a thousand people joined Sikhs to celebrate, the three hundredth anniversary of Guru Maneyo Granth – Believe in the Granth as your Guru.
In 1708  Guru Gobind Singh, the tenth Guru, bestowed all spiritual power to the Guru Granth Sahib, the Sikh Scriptures and said "This is now your Guru, you will not worship or pay homage to  a living person, as of now Guru Granth Sahib will be the Eternal Guru"
A succession of ten Gurus and 239 years of spiritual knowledge was hence bestowed on the Guru Granth Sahib.
The evening of celebrations for the tri century at Bingley Hall in Birmingham included speeches from seven faiths, Buddhist. Christian,  Jain, Jewish, Hindu, Muslim and Sikh.  They all spoke passionately  about the teachings of the Sikh faith, whilst aliening the principals of their own religion to those of Sikhism.
Lord Mayor or Birmingham welcomed saying "The Sikh Holy Scripture, Guru Granth Sahib Ji, declares that the purpose of human beings is to achieve a blissful state and to be in harmony with the earth and all of God's creations."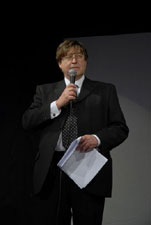 Chancellor Alan Rudge, cabinet member for equalities and human resources said "Sikhism is one of the religions which is founded on the principles of global interfaith communities and mutual Inter-community respect and harmony"
The speaker for the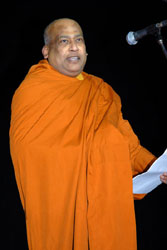 Buddhist community was Venerable Kassapa OBE, he said "In the Guru Granth it is said, remember God, work hard and share food. Similarly in Buddhist teaching the Buddha said we must develop ourselves spiritually for the good of many others in society"
The Revd Dr Toby Howarth, Inter Faith Adviser to the Bishop of Birmingham spoke from the heart he said "It is one of the extraordinary features of the Guru Granth Sahib that is so relevant to our own context here in this wonderfully diverse region that not only are the words of the Sikh Gurus preserved in its pages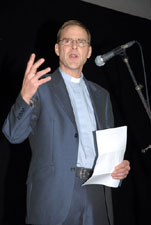 but also compositions of great mystic sages such as Nam Dev, Kabir or the Muslim mystic Sheikh Farid. It seems to me that here is a beautiful example as well as an important challenge to us as a multi religious city and region: that all of our traditions need to be prepared to bring the best of our resources to the great task of building a society in which our children and grandchildren can grow up in peace and prosperity"
The speaker for the Jain's in Birmingham was Mr Arvinder Jain, he said " I was exposed to Sikhism as this was the most predominant religion in the region. I soon became familiar with Sikh philosophy and teachings, which I often found were very similar to the teachings of Jainism. I did not feel that Sikhism was ever indifferent to me.  In fact the opposite, I felt that I actually grew up with the Guru Granth sahib Ji"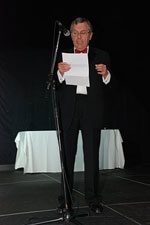 Jewish Speaker – Brian Cooper "You know, there are a great many similarities between Sikhism and Judaism – and I don't just mean our shared belief in the one true God.  Like Sikhism, Judaism also rests on the same three pillars – which we usually translate as Penitence, Prayer and Charity.  Hard work is implicit since it is only by earning a living that one can fulfil the mitzvah of Charity"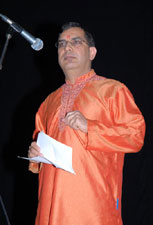 Speaking on behalf of the Hindu community was Pandit Dharam Dutt Vasistha, he said "The truth is that the Greatness of Sri Guru Granth Sahib can not be explained in words.  It has to be realised and practiced.  If we try to understand the deep spiritual meaning of Sri Guru Granth Sahib then we will feel ultimate enjoyment of the world.  Sri Guru Granth Sahib is the conclusion and essence of Vedas"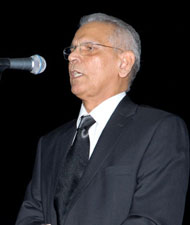 Representing the Muslim community was Dr. Abdul Rashid, from the Central Mosque in Birmingham, he said "No doubt there are innumerable messages in the Guru Granth Sahib, but for me the one message that sands out above the others is the message of co-existence of people of diverse faiths, a tolerant dialogue and respect for each other".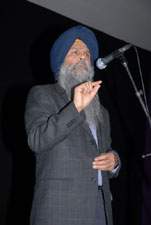 Sardar Bahadur Singh concluded the speeches for the faith leaders, he said "Sikh believe in One God, we do not believe in ritualism neither do we have a 'living Guru' our Guru is the Guru Granth Sahib, the sacred Scriptures have been bestowed as our Word Guru, giving us direction in our daily lives
"The Almighty felt there was no longer a need to send a prophet and hence the Guru Granth Sahib is our Guru"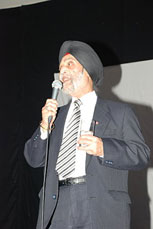 Loyal Toast was given by  Dr Jagjit Singh Taunque MBE, Deputy Lord Lieutenant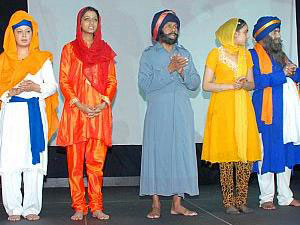 A play called Guru Maneyo Granth was preformed by the Punjabi Academy; this explained the concept of Guru Gobind Singh's message to Sikhs to worship only the Guru Granth Sahib.

This event was the dream of Eastern Media Group, and took four years to plan "We are very proud of the participation of Mrs Satinder Kaur Taunque and Dr Jagjit Singh Taunque, they made the vision we had a reality" said Dr. Gurjeet Kaur Bains, Editor in Chief.
The evening was compared by Satinder Kaur Taunque, chair of Guru Gobind Singh Study Circle and Gurjeet Kaur Bains, from Eastern Media Group.
Mrs Satinder Kaur Taunque said "We significantly delivered the message of Guru Maneyo Granth, to all faith communities"
"Having an audience that was both diverse in age, faith and gender was both challenging and satisfying, with Guru ji's grace the audience enjoyed the multi faith element of these celebrations"
Jaspal Singh, chairman of EMG Oline said "We are pleased to have this opportunity to share the values of our faith and this very important anniversary in our religion with other faiths in Birmingham"
"The hard work of the organisers is very apparent; as far as I am aware there has never been a similar event in the Britain"
"The speaker all proved it is possible for us to celebrate each others faith whilst keeping our own faith"
Dr Jagjit Singh Taunque, Deputy Lord Lieutenant had the responsibility to organise the speakers, he said "We are very proud that we have this strong relationship with other faiths, particularly as they were able to join us on the incredibly important anniversary, to speak on our religion, Sikhism"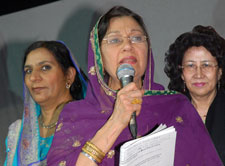 "We were proud to welcome the Consul General of India Mrs Pavel and her senior officers, along with many other honourable guests and dignitaries"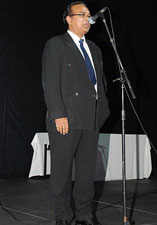 The venue was sponsored by Harry Duggal of Bingley Hall, the food was provided by Sukhdev Catering.
Charity for the evening was Sikh society UK, Kewal Singh Uppal said "As a charity we welcomed the initiative of a multi faith, this was in alignment to the teachings of Guru Granth Sahib. I feel the organisers have done us proud"
A special souvenir was published by Eastern Media Group to commemorate this auspicious anniversary and given to the audience as memorabilia.