Mere Naal Hai
(Waheguru guides and is in front of me - He is constantly with me, Waheguru!!)
By Dya Singh Ji, Australia.
CD Review: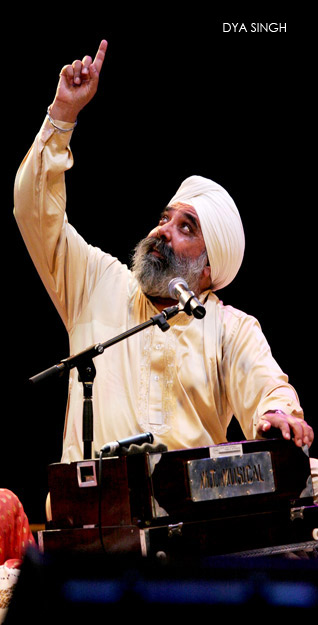 Dya Singh performs virtually everywhere in the world. His itinerant existence makes it difficult to keep track of him until you hear that Big Dya is in town. By chance I sent a YouTube link to all including Dya Singh on So Satguru Pyara Mere Naaal Hai and Dya Singh sent me the CD which I listened several times and will recommend it to all to listen to it as it is soothing and the soothing chorus provided by Jagie and Dya Singh's daughters very enchanting and spiritually uplifting. On this occasion, he performed at the Auckland Sikh Youth Camp 2010. He was accompanied by Vocals from Yadhvinder Singh(Jagie), Amrita Kaur, his daughters Harsel, Jamel Kaur, Parvyn Kaur and Saffal Singh and Saahiel Kaur. The tabla was by Ustad Menjit Singh from Auckland. The additional vaja/ synthesiser were by Yudhwinder Singh from KL and he patiently recorded the selected shabads at Auckland Sikh Youth Camp.
Dya Singh with the support of others produced a CD entitled Mere Naal Hai with 5 selected shabads and Waheguru simran that lasts for 3.02 minutes. The CD is dedicated to Bahenji Rajinder Kaur Mehta of Torquay, who was a great enthusiastic sponsor of the Gurmat Sangeet of Dya Singh. Dya is based in Australia, he is acknowledged as the most significant singer/musician in the world today of the Sikh mystical musical tradition, a form that originated in Punjab but spread around the world with Sikh Diaspora worldwide.
Originally from Taiping, Malaysia, his father was a renowned Sikh spiritual minstrel and Dya learnt the Sikh hymns and the art of singing beside his father in the Sikh 'Gurdwaras' from the age of five onwards. He stopped singing publicly for almost fifteen years and in 1992 began again to present concerts in Australia.
He turned fully professional in 1995 and his achievements in this time include the release of over 20 CDs(numbers are increasing all the time) as well as tours nationally and to USA, England, Canada, Singapore, Germany, Ireland, Japan, Singapore, Thailand & Malaysia, UAE (Dubai) and Kenya. He frequents UK frequently as his brother Bhai Sahib Gurmukh Singh lives in the UK; he is a prolific writer and well versed and conversant with Sikh themes, traditions, customs, beliefs and its vibrant history of the Sikhs.
Dya Singh has been one of Australia's pioneers in the development of new Australian 'World' music. A Dya Singh performance is many things and moves as the mood requires... soothing, uplifting, exhilarating, hypnotic, informative with interaction and improvisation between the musicians and conveying the sense of joy that arises from creativity and spirituality meeting on stage. The music is transformational in that no matter what the context, the music is true to the traditional intention and captures the essential mystical quality that has inspired the Sikhs (and many others) for centuries. The critics are unanimous in their praise of his voice, his control over his material and his innovations and improvisational approach to the music.
"Dya Singh is the true messenger of the universal message of Amritsar - the epicentre of the Sikhs - and it's Golden Temple. He and his group remind me of the Golden Temple - not as a holy shrine of the Sikhs alone, but a holy shrine of all people."


(His Holy Highness - The Dalai Lama at the Closing Ceremony of the Parliament of the Worlds Religions in Melbourne on Dec. 9 2009 organised by Cultural Infusion).
'Mere naal Hai' is a collection of hymns in straight vaja/jodi kirtan form rendered mainly in Auckland in the recent (April 2010) Youth Camp. Thanks to Jagie (Yadhvinder) in Auckland who has an in-house recording studio. So, this is for lovers for 'straight' kirtan. The CD starts off with So satguru pyara Mere Naal Hai which lasts for 20.00 minutes. Basant rut aye and Dya mentions about Kalyug which is explained in simplicity and it is sung in beautiful raag. The dialogue between his nephew and Dya is all about the true teachings of Guru Granth Sahib. The interaction and dialogue gives an insight into the connection with Waheguru, The Wondrous Lord all pervading and infinite. Dya says: To see God in all. See Waheguru, touch Waheguru and see Waheguru in everything you do. Waheguru is infinite and to be are of Waheguru's constant presence and to develop a greater awareness is the priceless gift one can possess. So satguru mere naal hai; The shabad means "I am not alone in this world The Almighty guides me everywhere He is in front of me I follow Him wherever he takes me He frees me from all troubles I only need to call Him. He has already forgiven me for my follies. He is guiding me now, He will guide me till I meet my end.."
The second shabad is Charan chelo marag Gobind lasting for 13.02 Ustad kare sada nirankaar. ustat man meh kar nirankar. kar man mere sat biuhar:.Praise the Formless Lord in your mind. O my mind, make this your true occupation. Nirmal rasna amrit piyo. sada suhela kar lehi jiyo. Let your tongue become pure, drinking in the Ambrosial Nectar. Your soul shall be forever peaceful. nainhu pekh thakur ka rang. sadsang binse sab sang. With your eyes, see the wondrous play of your Lord and Master. In the Company of the Holy, all other associations vanish. charan chalo marag gobind. mite paap japiye har bind.With your feet, walk in the Way of the Lord. Sins are washed away, chanting the Lord's Name, even for a moment. kar har karam sarvan har katha. har darge nanak ojal mata. ||2|| So do the Lord's Work, and listen to the Lord's Sermon. In the Lord's Court, O Nanak, your face shall be radiant. ||2||
The third shabad Hau gusayean dha pehelvaneda last for 12.16 and this shabad is beautifully rendered and I enjoyed every minute of the shabad.
The fourth shabad Basant Rut aye which lasts for 8.12. It is the Bani written by Guru Arjan Dev Ji's Bani Abh kelu ayo re ek naam bovahu bovahu. Now the Dark ages of Kalyug has come, now plant the Naam, the Name of One Lord. Basant rut aye. The spring of enlightenment is just around the corner. This shabad composed by Guru Arjan Dev Ji in Raag Basant and is on Ang 1185 of Guru Granth Sahib Ji. Naam is the only panacea to Kalyug and it eradicates the five vices as Khalsa who the pure hearted gladiator is constantly fighting to cross the ocean of turbulence and achieve equipoise and bliss.
The fifth shabad lasts for 16.13 minutes and it is Taati vao n lagayi- Tati vao na laga di ji, Gurandi, sharan peya was rendered in raag and just listening to it gives us all the protection from evil and any lingering threats. The hot wind doesn't blow over one who has the Guru's protection. Tati vao na lagai, tati vao na lagai Parbrahm sharanai, Gurandi, sharan peya.... Chaugird hamare Ram kar, chaugird hamare Ram kar Dukh lage na bhai ji, Gurandi, sharan peya... The Lord's protecting circle is on all four sides pain and sorrow do not bother me, o brother. Satguru poora bhetya, Satguru poora bhetya Jin bant banai ji, Gurandi, sharan peya.. I have met the perfect Satguru, Who has made me as He wanted. Ram nam okhadh diya, Ram nam okhadh diya Eka liv lai ji, Gurandi, sharan peya... He gave me the medicine of God's Name, and I am in tune with Him. Rakh liya tis rakhan har, Rakh liya tis rakhan har Sab byadh mitai ji, Gurandi, sharan peya... The Protector has saved me, and cured all my sickness. Kaho Nanak kirpa bhai, Kaho Nanak kirpa bhai Prabh bhayo sahai ji, Gurandi, sharan peya... Tati vao Nanak says, "The Lord has given His grace and support to me."
Finally the Simran Waheguru that lasts for 3.02 is conducive for meditative naam simran. Waheguru is such a powerful shabad that enables one to recite and feel focussed. Waheguru is a term most often used in Sikh faith to refer to God, the Supreme Creator or the Creator of all. It means "The Wonderful Teacher" in the Gurmukhi language. "Wah" translates to "wonder" and Guru is a term denoting "teacher". "Waheguru" is the distinctive representation of God's name in the Sikh dispensation. In Sikh scripture, the Guru Granth Sahib Ji, the term does not figure in the compositions of the Gurus, though it occurs therein, both as Waheguru, in the hymns of Bhatt Gayand, the bard contemporary with Guru Arjan Dev Ji (1553-1606), and also in the Varan of Bhai Gurdas Ji. The Waheguru Simran does relax you and it is worth listening to it. Dya has done a longer version of it which enables one to relax on Naam and drift away into deep relaxation and total ecstasy (Samadhi).
I have listened to the CD and I really enjoyed every second of it and it is such a delight for me to do a review on it and recommend for others to have a copy.
You can contact Dya Singh by email [email protected] or website [email protected]
God is the breadth of all breadths (Kabir) and Be your own guide and your own torch (Buddha). Naam utterances is the only way forward for all of us and never waste a second and take the time to meditate in His Name by just listening to Mere Naal Hai as Guru Ji is always with you to guide you to connect with The Wondrous Lord, Waheguru.