Today's age is known as the age of science. It is no exaggeration to say that the inventions of science are currently playing a huge role in human life. Many of the current discoveries are astonishing, including the discovery of the human robot, one of the most important and revolutionary discoveries in this field. The 'human robot' is also a modern type of robot whose body is designed to resemble a human body. It is a matter of great pride for our Punjabis that 'Sarbans Kaur' is also going to be a part of this Series of inventions.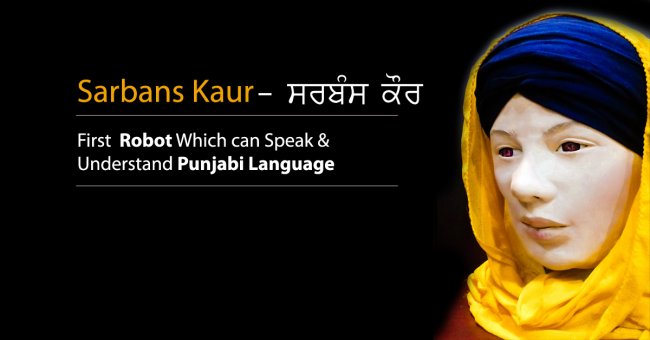 'Sarbans Kaur' is the first turbaned Sikh robot to speak and understand Punjabi, It is developed by Harjit Singh, the Jalandhar based software programmer and computer teacher by profession. This robot works with the help of artificial intelligence, communication and the database fed into it. The most important aspect is that Harjit Singh has made this robot out of basic household items and its database can be equipped with innumerable knowledge, questions and answers.
Key Features of this Robot: -
The First Turbaned Sikh robot.

The First robot that can speak and understand Punjabi and Gurbani.

It can be used in Teaching also.

Sarbans Kaur can be used as a guide at religious places.

Its database can be updated as time demands.

It would be used for the Pormotion of Punjabi Language.
Further General knowledge, social knowledge, arithmetic, history, entertainment etc. can be fed into the Sarbans Kaur to Enhance its ability to react, understand and respond which is in the process of further improvement. Building a robot's torso, arms, and legs requires a great deal of investment, time and effort, and it is hoped that this work, initiated by Harjeet Singh, will met the overwhelming response from the government or a research institute to reach its destination. Harjit Singh's goal in building this robot is to serve the Punjabi mother tongue and keep it alive in the race of globalization.
Sardar Harjit Singh, who has been working tirelessly to develop talent in government schools and is working as a computer teacher in Government High School Rohjari, District Jalandhar, came up with the idea of inventing a programming language called 'Sarbans' six months ago. The main purpose behind creating this software was to provide computer programming coding in Punjabi language to the students studying in the schools. In 'Sarbans' students can easily learn the basics of programming by working in graphics and paint tools. The biggest feature is that the software can be downloaded for free from the Sarbans website.
This robot needs a quiet environment to communicate through facial expressions like closing eyes, laughing, crying, spreading mouth etc. need to be worked on. Equipping Sarbans Kaur with complete artificial intelligence is also an important part of the next phase of its preparation. Harjeet Singh is soon going to launch an online campaign 'Teach Sarbans' to expand its database with the help of the general public. It is hoped that this research initiated by Harjit Singh will reach its destination and raise the heads of Punjabis all over the world with pride. But for all this, this Punjabi language advocate needs the cooperation of all of us so that he be able to present this robot on the world map as a state-of-the-art robot.
Jagjit Singh Ganeshpur,
Computer Faculty ,
GHS Laksihan,
Hoshiarpur,
M-94655-76022