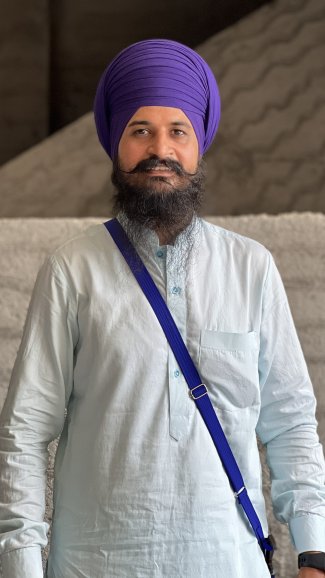 How did you come to work at SikhNet?
I used to visit the SikhNet website for reading Hukamnama, watching the Film Festival videos and listening to radio channels. Then one day I saw a job opening posted on the website. I started in 2016 as a Content Manager for Gurbani Media Center. I started with cleaning up the media library and giving it a fresh look. The new updated Gurbani Media Center app for iOS was released in 2017 and I was involved in managing the content experience for the app users.
 What is your favorite thing about your job?
I think my favorite thing is that Guru is taking the seva from me to present the Gurbani media to the cyber sangat in a way which helps them to enjoy and get more benefit out of the content posted on the Gurbani Media Center.
How is your journey with SikhNet developing or how has the role changed over time?
I started as a Content Manager for Gurbani Media Center. I developed skills in Audio Engineering and Video Editing. Now that we are shifting gears to implement, upgrade and promote the Gurbani Media Center, I am involved as an Assistant Product Manager for the overall Gurbani Media Center department.
What does the area of the GMC mean to you? How do you see your role as it contributes to SikhNet and how this contributes to the world in general?
Gurbani Media Center = Learning (GMC is not just an app but it's a way of learning what the Gurbani says. It helps us to listen to Gurbani and understand what the shabad means by reading the Gurbani translations)
I am learning how to present what the users demand and then the users learn from listening and reading the shabads.
Learning is what I see as a developmental factor at SikhNet. There's a lot to learn and numerous ways to develop and implement your skills into different areas at SikhNet. 
Can you describe an average day, task, or process for SikhNet?
 An average day at SikhNet can be working on a single task or managing different tasks. I remember days when I was utilizing my bandwidth to create content for the Gurbani Media Center app for iOS before its launch. The other day I was using my video skills in creating a video for all the services that SikhNet provides. Sometimes it can be managing many different tasks back to back. 
What is something you love to do outside of SikhNet
I enjoy cycling and going on bike rides for long hours and exploring new places. My wish is that I could influence more people to include cycling in their daily lives so as to burn some calories,  save some carbon and lead a healthy life.
Would you like to get the SikhNet summary delivered to your inbox every Friday? If so subscribe to the news (HERE).  If you'd like to contribute an original article, please read our editorial guidelines and email us at: [email protected].