A Prayerful Reflection: Kanwal Prakash Singh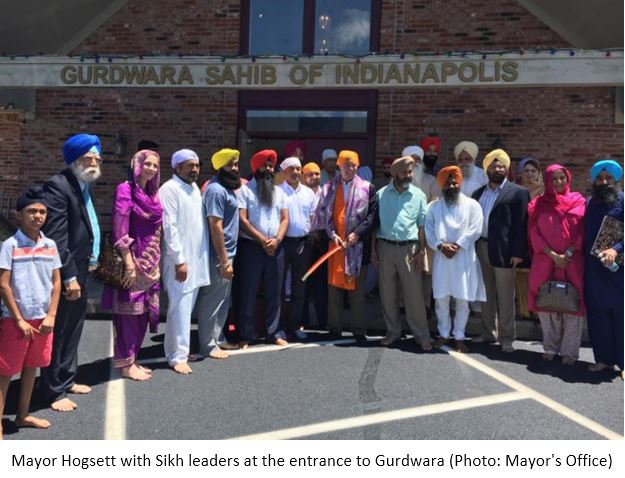 Indianapolis Mayor Joseph Hogsett paid a visit to the oldest Indiana Sikh congregation and Gurdwara (Temple- Acton Road) on Sunday, June 25, 2017. This was his first visit to the Sikh Gurdwara since his election as the 49th Mayor of the City and assuming office on January 1, 2016. Much like his predecessors Mayor Greg Ballard (5 visits) and Mayor Bart Peterson (2 visits), Mayor Hogsett promised to beat old records. Mayor Hogsett is a former Indiana Secretary of State (1989-1994), Indiana Attorney General (2004) and U.S. Attorney Southern District of Indiana (2010-2014).
Indianapolis is the second most populous city in the Midwest and 15th largest city in the United States. The City is the economic and cultural center of the Indianapolis Metropolitan Area and is home to 2 million people with nearly 10,000 families from the Indian subcontinent.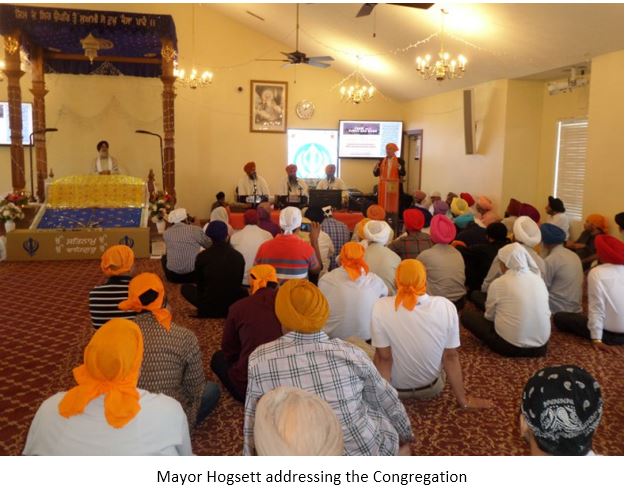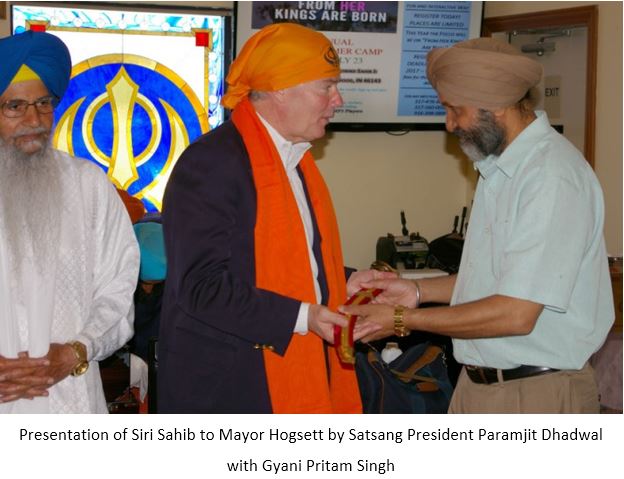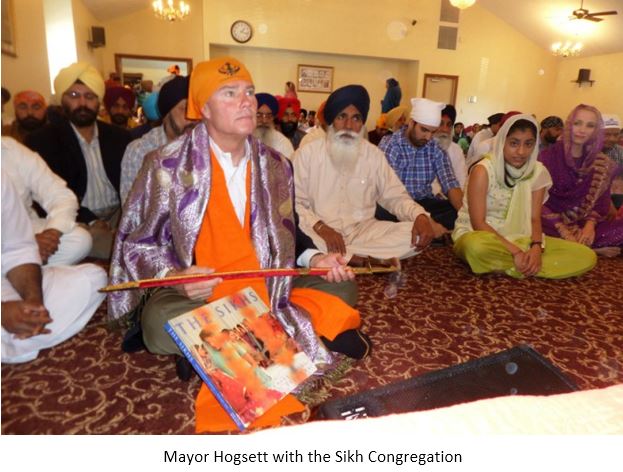 Mayor Hogsett was warmly greeted by Sikh leaders and addressed the Sikh Satsang congregation of several hundred. Mayor Hogsett was extended warm Punjabi welcome, Sikh traditional hospitality and honors by Sikh Hoosier leaders: Maninder Walia, Paramjit Singh Dhadwal, Gyani Pritam Singh, Chirjeev Oberoi, Baljit Singh Oberoi, Amandeep Sidhu, Harpreet Sandhu, Harjinderpal Singh, Gurpreet Singh, international Danish Punjabi celebrity Anita Lerche, Jasmine Singh, Pinka and Kulbir Singh, and others. Following presentations of the traditional Siropa (a sacred Robe of Honor) and Sikh sword, reserved for special dignitaries and a symbol of being a righteous and compassionate fighter for equality, justice, and dignity of all citizens. In addition, Mayor Hogsett was presented a book: The Sikhs, an illustrated coffee-table volume about Sikh faith, culture, and community and a special scarf for Mrs. Hogsett. KP Singh, long-time Indiana resident, served as the master of ceremonies. KP and other Sikh leaders briefed the Mayor about the Sikh faith, culture, and community during his visit.
Throughout his visit and in his remarks, Mayor Hogsett was very gracious and respectful of Sikh traditions; deeply understanding Sikh Hoosier concerns; passionately emphasizing that the diversity of faiths, cultures, and ethnic communities greatly enrich Indianapolis. Mayor Hogsett was very appreciative of the contributions made by Sikh Americans that today number 2,500 families in the Metropolitan Area and praised their half a century of civic engagement, constructive involvements, and generous support of worthy causes and interfaith initiatives.
Mayor Hogsett promised to meet with Sikh leaders regarding safety issues and large incidents of crime at their business establishments. He encouraged parents to think of law enforcement as a career for interested young sons and daughters. Mayor Hogsett was totally at home; he appreciated the hospitality and warm welcome. He assured Sikh Hoosiers of his support and friendship; promised to return to learn more about Sikh traditions, and work towards their rightful place in the fabric and spirit of their City.
Mayor Joe Hogsett's visit was a part of the Sikh Educational and Cultural Society of the Sikh Satsang of Indianapolis and its on-going rewarding efforts to mainstream our gifts and concerns; learn from city, state, national, interfaith, business, and education leaders to be concerned and engaged citizens as we make Indiana our home. We hope these efforts also continue to dispel challenges of mistaken identity, wrongful associations, and unfounded stereotyping of Sikhs. We are grateful to our distinguished Mayor Joe Hogsett to honor us by his visit to the Sikh Gurdwara; witness and celebrate another colorful community in our beautiful cultural and spiritual family highlighting our growing and celebrated diversity that greatly enriches our great City and the State of Indiana.

(Photos by: KP Singh, Harpreet Sandhu, Amandeep Sidhu, City of Indianapolis).