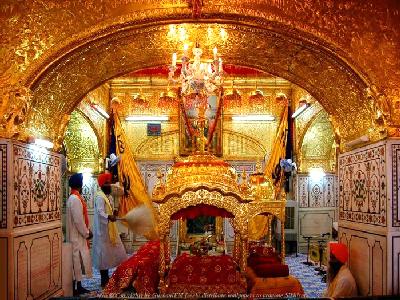 Hazoor Sahib's own rich story has, until now, been somewhat lost in the vast history of India.  In The Master's Presence: The Sikhs of Hazoor Sahib, the new book by Nidar Singh Nihang and Parmjit Singh, firmly gives it the place that it deserves.  Hazoor Sahib, which literally means "Master's Presence", is the shrine built over the ashes of Guru Gobind Singh, the tenth and last living Guru of the Sikhs, who walked fully armed onto his own funeral pyre of sandalwood to be consumed in the light and flames as he sat in a trance-like state. 
 
Their book, of which this is the first of a two-set volume, is an alternative view of our history; it conveys the vision of Sikhism untainted by its reformation in the Northern States.  It is the result of over ten years of methodical and meticulous research, drawing upon sources in Hazoor Sahib, Maharastra, and libraries and museums around the world, by two highly respected men of great integrity and authority. 
 
In The Master's Presence is also a wonderful story, well told, full of colourful characters, spies, intrigue, and warfare, all played out in two very different parts of India: the plains of Punjab in the north and the Muslim state of Hyderabad to the south.  It is though, fundamentally, the tale of survival, often against all the odds, of a people, their way of life, the preservation of a settlement and the protection of a shrine.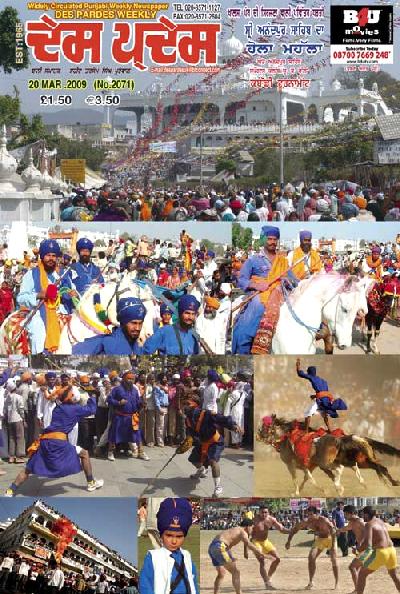 Sometimes in the forefront and sometimes just a silent presence in the narrative, the thread which weaves its way throughout is of the Akali Nihangs, who were originally the backbone of Guru Gobind Singh's army.  Before his death he gave them, his beloved warriors, specific instructions to carry on the traditions and uphold the way of life which he had taught; that of Degh (cauldron), Tegh (sword), Fateh (victory), to nurture and defend until victory is achieved.  Akali Nihangs were recognisable for their tenacity and also for their striking appearance.  They were beyond fear, revered for their lifestyle and what they represented. 
 
In the middle of this abundantly and beautifully illustrated book, you'll find a lithograph from the British Library, our national library in London. The scene is a gathering of the great and the good, recorded in their sumptuous glory for posterity as they sat watching an evening's entertainment at the palace of Raja Chandu Lal. This Sikh devotee, who served as the finance minister of Hyderabad State, was the chief patron of Hazoor Sahib long before Maharaja Ranjit Singh turned his attention in the 1830s to the tenth Guru's final resting place.  Glancing along the rows of faces, it is easy to form a view about who they are and what they did.  But there, silently casting his eyes over the scene, seemingly incongruously, is an Akali Nihang warrior in full dress, armed with a matchlock and steel mace.  Who is he, why is he here, what is he, and what does he stand for?  To ignore such questions is to leave history incomplete.  The strength of In The Master's Presence is that it answers these questions in a clear, concise and well-written way.   
It is plainly clear that this book has been written by a man who lives this tradition and understands it from its source.  Nidar Singh Nihang has dedicated his life to preserving these Sikh martial traditions, and lecturing and teaching about them extensively.  He is also one of the most highly acclaimed contributors to the Asian Art course run annually at the Victoria and Albert Museum in London.  Nidar Singh Nihang is an imposing figure, who looks as though he's just sauntered out of some eighteenth-century military camp in the middle of a Punjab that no longer exists. He is the embodiment of the spirit of what he writes about in his book. He brings it to life, makes history happen in this moment. Parmjit Singh's tireless research holds the book together and his previous book, the wonderful Warrior Saints: Three Centuries of the Sikh Military Tradition is already a collectors' item.
 
Throughout these last 300 years, the Nihangs have been true to their Master's word.   I have spent many days with them over the years and been deeply touched by how they live in total service and dedication to defending this very sacred way of life.  Each carries the bearing of great inner strength, a quality until then I had barely seen in any one human, let alone in each member of an entire community.  Their caring was not personal; the foundation of all their actions is love and devotion to something greater than themselves.  There was nothing forced in their lives, which is what made it so powerful.  They know what they stand for and that they will stand for it until the end of their days.  This uncompromising stance we can thank for the preservation of the shrine in Hazoor Sahib, and for a way of life that would still be recognised to this day by Guru Gobind Singh himself. 
 
Another one of the illustrations which caught my attention was a nineteenth-century painting of a Sukhei Singh using a wooden pestle and mortar to make the "drink of martyrs" or shaheedi degh - one can almost hear that rhythmic grinding of spices. You can still see this enacted by modern Nihangs to this day in any one of their encampments located across Punjab.  Someone else who has captured exactly the same scene is Nick Fleming, a photographer who spent time living with these nomadic warriors (see www.nickfleming.com).  This continuity of history, the coherence between what is in Nidar Singh Nihang and Parmjit Singh's book and what Nick sees in his photographs, testifies to the verity of this tradition. 
 
In the Master's Presence is a substantial piece of work, both weighty enough for the scholar, and light-hearted enough for the interested individual.  You need to feel it, hold it and most of all look through and read it to recognise its very special place in the annals of Sikh and Indian History. 
 
Following its highly successful launch last month in the Jubilee Room at the House of Commons, you can now come along to a special book-signing event to meet Nidar Singh Nihang, Parmjit Singh and Nick Fleming at Waterstone's in Ealing on 21 March, from 11am to 3pm. The address is 64 Ealing Broadway Centre, London W5 5JY (Tel: 020 8840 5905).
About the writer:
Guru Kaur is a Teacher, Mentor, Spiritual Advisor, Work & Life Consultant. She is also a Minister of Sikh Dharma and has lived in rural Punjab to study, experience and enjoy its rich heritage.