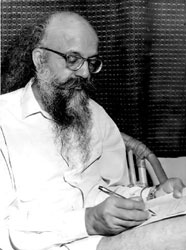 Recipient of President of India's Certificate of Honour for excellence in Persian (1998), Punjab Sahit Shiromani Award by Punjab Government (1998), Doordarshan Panj Pani Sanman for his being the 'Best Teacher of the State', Millenium Award by Punjabi University Patiala (2000), Bhai Vir Singh International Award by National Institute of Panjab Studies, New Delhi (1993), Sarvasresht Sardar Kartar Singh Dhaliwal Puraskar from Punjabi Sahit Akademi, Ludhiana (1999), Award for Best Children's Literature during the decade by Punjabi Academy Delhi (1994), Bharatiya Sahitya Akademi Delhi Award for Best Translation in Punjabi for the year (1994), and many more prestigious awards. Also conferred with the degree of Doctor of Literature (D. Litt. honoris causa) by Panjab University Chandigarh (2008), Emeritus Fellowship by Ministry of Education & Culture, Govt. of India (1984), Emeritus Fellowship for Life by Guru Nanak Dev University, Amritsar (1993), Fellowship from Panjabi Sahitya Akademi (1980), Honorary Professorship of San Jose State University, California, USA for contribution to Punjabi Literature and Sikh Studies (2003), and so on. The list of awards and honors conferred upon this legendary scholar is pretty extensive.

Born on 11 January 1918, Prof. Pritam Singh belonged to a very humble background and led a life of utmost simplicity. He grew up knowing the importance of living within ones own means, however frugal they might be. Despite all adversities in life or vagaries that partition threw his way, Prof. Pritam Singh stood firm in his ground and in his belief in Sikhism. He was an indomitable believer in leading the path by example. He remained straightforward and honest in his dealings with all, willing to sacrifice rather than compromise on any occasion.
These traits of his personality were evident in his writings as well. His mental agility even at the age of ninety could leave everyone spellbound. Veracious and candid, he was not afraid of presenting his point of view.

He picked up his pen with conviction of presenting what he believed was authentic, and never to the fancy of anyone's whims. To him goes much credit for modern and scientific study of Punjabi language and literature.
With numerous national and international publications to his credit, each word written or spoken by Prof. Pritam Singh was more precious than the rarest of gemstones. Although he held Master's degrees in English (1940), Persian (1941) and Oriental Learning (1941) from Panjab University, Lahore, he was extremely proficient in Persian, Urdu, Panjabi, and Hindi languages.

He began his teaching career in 1941 as Head of the Departments of Panjabi at Doaba College Jallandhar and its sister institution, Kanya Mahavidyala, Jallandhar City. He was then invited by Principal Niranjan Singh of Sikh National College, Lahore to work as Head of the Departments of Persian & Panjabi, where he remained until 1947. After the partition of India he worked for one year in Delhi as part-time lecturer in Punjabi in Ramjas College, Indraprastha College and Hindu College. For about two years he worked as editor of Punjabi Publications in the Panjab University at Shimla. He joined Government Mahendra College, Patiala in 1950 as the first Head of the Post-Graduate Department of Panjabi. He continued to teach Panjabi even when he was promoted to Principalship of Government College, Faridkot, Government College, Ludhiana, and later of Government College, Mukatsar. In 1969, his services were utilized by the Panjab Government to frame the Acts of the then proposed Guru Nanak Dev University, Amritsar and Panjab School Education Board, Mohali. He spent the last eight years of his professional career at Guru Nanak Dev University, Amritsar in the capacity of Professor and Head of the Department of Guru Nanak Studies, from where he retired in 1980.

He had worked as the President of Kendri Punjabi Lekhak Sabha (Regd.) and President of Punjabi Sahitya Akademi, Ludhiana. He also worked as Member of the General Council of Bharatiya Sahitya Akademi - New Delhi, Punjab Arts Council - Chandigarh, Core Committee of Anandpur Sahib Foundation – Chandigarh, Hindi Sahitya Sammelan, Prayag, Panjab State University Textbook Board – Chandigarh, besides being Member of the Syndicates of Punjab University, Chandigarh and Guru Nanak Dev University (GNDU), Amritsar. He was associated with the Panjab University, Chandigarh as member of the Syndicate for two years and as member of its Senate for eight years. He was the Advisory Member for Panjabi with National Book Trust, India – New Delhi, University of Jammu – J&K State, Language Department, Punjab Government – Patiala. He also worked as Chief Editor of Journal of Sikh Studies, GNDU Amritsar and Alochana (Punjabi Quarterly) of Punjabi Sahitya Akademi, Ludhiana.

Prof. Pritam Singh guided and taught numerous students of Ph.D. and M.A. for over sixty decades, and had admirers and scholar friends both in India and overseas. He visited many countries to preside over conferences, deliver keynote addresses, present research papers or give public lectures on subjects connected with Panjabi and Sikh Studies. He visited Moscow (1977), Tashkent (1978), West Germany (1982 & 1985), Belgium and Thailand (1983), Singapore (1990 & 1992), U.S.A. and Canada (1984, 2000, 2005), and many more nations.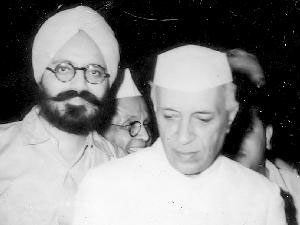 Simple living and high thinking is an apt description for this great writer and linguist. Despite the international awards, honors and recognition he received for his writings, his lifestyle never changed. He lived a saintly life, dedicated entirely to fertilize the growth of Punjabi and Sikh literature. A saffron parna on head, a white vest, a pair of loose-fitting white pyjamas, and slippers in feet were the routine clothes while at home. Getting 'dressed' would mean wearing a cotton or khaddar shirt with pleated pants, a simple turban, and slip-on shoes (gurgaabi). He always ate a simple and limited diet. Jaggery and roasted black gram were his favourite snacks, stored in the old five-kilogram Dalda ghee containers kept on the floor besides the chair he sat on.

During the day he would sit on the white cane chair under the shade of a mulberry tree planted in the front lawn right next to the main gate, with his signature writing board, papers and pen. These papers comprised the one-side blank newspaper pamphlets, opened envelops and waste printouts on which the linguistic grandmaster strung together words for the colossal volumes which were made available to the world in the form of heritage manuals spanning scholarly studies of the ancient Punjabi manuscripts (hath-likhtan), works of fiction, biographical and autobiographic sketches, like 'Moortan', 'Panjab, Panjabi, Panjabiyat', 'Kachian, Pakkian de Bhaa', 'Panjabi Lekhak Kosh' and so on.

His work on "Ahyapur Vali Pothi" is quite significant in separating the Bani of Aad Guru Granth and various spurious writings attributed to the Sikh Gurus. He proved that Guru Arjan never used Goindwal Pothi (Ahyapur Vali Pothi) for the preparation or as a source for Aad Guru Granth in 1604.

Prof. Pritam Singh recently wrote an authoritatively researched book - Sri Guru Granth Sahib Wale Sheikh Farid di Bhal, in which brought out his research on a subject that he had been working on for almost three decades. He also edited the works of Bhai Kahan Singh Nabha and Baba Farid Shakarganj.
His unique contribution towards the promotion of rich Punjabi literature for children in the form of book series on Maharaja Ranjit Singh and on Guru Gobind Singh would always act as a source of inspiration for the young writers. His works in children's literature have been translated in many languages. One of his children's stories, entitled Bhai Kanahiya, has been translated into Japanese language.

He had the foresight of having collected around 1000 rare manuscripts of various sizes and dates written in Punjabi, Hindi and Sanskrit, some of which he donated to various museums. But for him, these manuscripts (hath-likhtan) would have been lost to ignorance and time. He has donated these manuscripts and the entire personal library to the Guru Nanak Dev University, Amritsar.

On 25 October 2008, few minutes after addressing a letter to a publisher regarding couple of books that were ready for publication, Prof. Pritam Singh breathed his last, almost as if he had instructed the Yumraj to wait until he finished his present preoccupation. This came four days prior to the death anniversary of his father-in-law, an equally great legendary scholar – Prof. Sahib Singh.

Prof Pritam Singh had been a towering figure and was known as "Bhisham Pitama" of Punjabi language. In 2003, while Prof. Pritam Singh was being conferred Honorary Professorship of San Jose State University, California, USA for contribution to Punjabi Literature and Sikh Studies, Sh. N.S. Rattan, former Principal Secretary, Higher Education, Punjab, and Vice-Chancellor of Punjabi University compared Prof Pritam Singh to "Baba Borh", mentioning that Prof. Pritam Singh had done a yeoman's service to Punjabi Sikh History and Sikh culture by collecting and preserving the old manuscripts in Punjabi. Ex-Jathedar Sri Akal Takhat Sahib, S. Joginder Singh Vedanti, while performing the antim ardas addressed Prof. Pritam Singh as "Proarh-Vidwaan of the Panth", i.e., the Most Refined Scholar of the Sikhs.

Prof. Pritam Singh's outstanding services towards the promotion of the Punjabi language, linguistics and literature have left a lasting mark on the canvass of Punjabi language and Sikh history, which would keep illuminating the paths of generations to come. Punjabi University, Patiala has announced a fellowship to be instituted after the name of Prof. Pritam Singh. This would be bestowed upon a person with outstanding contribution in the field of Punjabi language, art and literature.

An irreplaceable void has been left behind by the sudden and untimely demise of Prof. Pritam Singh. His knowledge was more vast and deeper than the seven seas, and perhaps there were many more layers yet to become visible. The great scholastic Titanic shall be remembered forever.