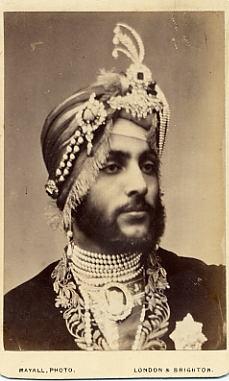 Chandigarh, Punjab: Efforts made by the Anglo-Sikh Heritage Trail of the United Kingdom to preserve rich Sikh heritage and culture, including rightful projection of last Sikh Maharaja Duleep Singh, were applauded here after Prof Harbinder Singh delivered a lecture on "Punjab - annexation and beyond".
Professor Harbinder, who is UK-based Honorary Director of the Anglo Sikh Heritage Trail, not only presented in perspective the historic events related to Maharaja Duleep Singh after annexation of the Sikh state by the British, but also held that before his death, the last Sikh Maharaja had denounced Christianity and he died Sikh.
Getting a standing ovation after the presentation, Professor Harbinder said while the graves of his wife and son had Christian inscriptions, the grave of Maharaja Duleep Singh had no such inscription. It was suggested that last remains of Maharaja Duleep Singh should be brought to India and given a funeral in accordance with Sikh rituals and rites.
Professor Harbinder touched several other aspects, including how Sikhs had an altogether different relationship with the British than people of rest of India. He also brought out preservation of Sikh heritage and pride in the armed forces, especially Sikh regiments, in his presentation.
Professor Harbinder also talked about the Anglo Sikh Heritage Trail saying it was unfortunate that Sikh community had in the past did not do much to preserve its rich heritage.
Some members of the audience also decried attempts by the British to twist Sikh history and introduce distortions after Professor Harbinder read out excerpts from relevant books.
Others who joined deliberations included former Punjab DGP GS Aujla, Air Marshal KS Bhatia, Bhai Ashok Singh, Lt Gen TS Gill, Gurpreet Singh, Prof Harnam Singh Shan, Sukhdyal Singh Bhullar, Prof Narindra Singh and SGPC member Hardeep Singh of Mohali.
Participants also deplored neglect of Sikh historic points, including artefacts related to Saragarhi and Sabaraon wars. Some participants were also critical of "denigration" in Sikhism.