Living with History
Reflections from the 1984 Living History Project Team

"Before you guys came I was talking to my son about what we were going to talk about, and I've never had an opportunity before to do that with him…for that I want to thank you," Ginnipal Singh told us on camera, as we finished one of the first interviews for the 1984 Living History Project. This reassured us we were on to something with this Project. This is an initiative to document and preserve video testimonies of any Sikh who remembers and is willing to recount 1984.
The idea is to capture various reactions, memories, recollections, so we, as a community, can release, capture, and reclaim our trauma as well as our strength as a community. This 30th year anniversary, the Project is working to record 1000 interviews, to preserve a set of stories for generations to come. Generations that might otherwise lose out on the rich recent history, even though today, it breathes and lives right around us.
Ginni recounted his own family's experience surviving 1984 and the broader way in which these "cowardly and hate-filled events" broke trust and seeded insecurity. Yet, he's here today-a successful young technology executive and even more successful father-living to tell his story with nuance and grit, with the same perseverance that Sikhs have displayed throughout history.
"This is important for our children to know what we went through… and how strong, how resilient our community is. We are proud of who we are."
1984 made a diverse but collective impact on the Sikh community. Whether they were in Amritsar or in Australia, in Patiala or in Pune, in South Delhi or in South Hall, in Trilokpuri or in Toronto, all Sikhs were hurt by 1984; differently, but collectively.
We are making 10-15 minute videos to capture Where Were you in 1984? Akin to any American who was alive when President Kennedy was shot, or when the Twin Towers were attacked, any Sikh alive when 1984 happened, has recollections. What made this even more unforgettable for Sikhs was the attack on the collective identity for years to come. 1984 is thus a year that symbolizes a change in the Sikh people, forever.
"I hope it will come back," says Rajvinder Singh Bains, noted Human Rights Lawyer in Punjab, of what he sees 1984 as having robbed Sikhs of in large measure: resilience, fearlessness, heart happiness. And yet, his own interview reflects all three. The man who has worked with thousands directly impacted by 1984 and its aftermath in Punjab, explains what visiting the destroyed Akal Takth Sahib meant to him as a young man, and how it re-pivoted his political ideology that informed his rights work: from a communist ideology, to one rooted in Sikh dharm.
Those who lived through 1984 may not have forgotten, but many may have suppressed the stories and feelings for very long, for survival. But that doesn't mean the desire to be heard has vanished. Thirty years later, we have the space and relative security to hear and tell our stories.
"You know, when we moved to the States, and we read the diary of Anne Frank...I really felt at that time that… she was a person I could relate to. The story was so close to the heart and I wish I could capture the details of what people experienced during that time…the mass butchering that occurred," Gurpreet Kaur told us. Her own father was first caught in the violence in June in Punjab and then the violence in November in Faridabad, Haryana. Now, thirty years later, she is able to share details, and make herself heard.
As we hear the stories of 1984, we are struck by the unity felt by the community in the wake of 1984. While today, like any other community, there may be several factions and disagreements, in our not-so-distant history, Sikhs from all walks-men and women; blue and white collar; right and left wing-largely came together.
"Somehow it was bigger than family…much bigger than your personal loss," says Bhajan Singh Bhinder, who began keeping his hair and Sikh articles of faith as a result of 1984.
We are mapping the various forms of activism in response to 1984, while not ignoring the various trauma responses felt throughout the community and through generations.
As much as Sikh ethos teaches us resilience, it also teaches us empathy. Sometime this empathy needs to be directed inwards-towards our community and toward our individual self. We cannot underestimate the long-lasting impact of 1984. We hope this Project will continue to allow us to see ourselves as survivors: having taken control to tend to our wounds, after having been victimized by something that was not in our control.
Recording our own voices, on our own terms, is in our hands today. It's as simple as 1-2-3, and we hope Sikhs will continue to send us videos through this Thirtieth year since the watermark year. Once we own our history, we can begin living with it, owning our future.


1984: Living History Project. 'Record History - Make History'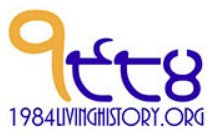 About this project
1984 Living History Project's mission is to mark the watershed year of 1984 through capturing the stories of anti-Sikh violence in India, while recognizing the survival and resilience of a people.
Through a do-it-yourself easy process, everyone can contribute videos to the Project and build our archive of Living History. See our step-by-step Toolkit . (http://www.1984livinghistory.org/share-a-story/) for more information
This Project seeks to build awareness of state-sponsored human rights violations, suppression of information & social trauma.
Whether in Punjab, in Delhi, in Calcutta, in California, in Singapore, Nairobi or anywhere else in the world, any Sikh old enough to remember 1984 has a story to tell!
The 1984 Living History Project is a tribute to survival and strength. This Project was born at Saanjh, during a Bay Area Sikh leadership retreat, as young U.S. students and professionals discussed the importance of preserving memories, story-telling, and developing a layered understanding of the 1984 events that changed the Sikh people forever.
The videos we began collecting illustrated one fact: Sikhs will forever share 1984 as a common experience, across differences, as a community; whether direct victims of violence, or then in faraway places; whether bankers or farmers or doctors or government employees; whether men or women or girls or boys; whether young or old; whether rich or poor; whether professionals or students; whether politically left-wing or right-wing or in between …
So, help us with this project of remembrance and solidarity!
During 2014, marking 30 years since the deadly events of 1984, we are marking a Year of Videos.
We invite you to submit a video, or tens of videos, that simply capture what an individual remembers about 1984, the June Army attacks and/or the November pogroms, and how True to the spirit equal representation and opportunity, we strongly encourage all to, as far as possible, record videos that follow a similar format.
Please read the Toolkit for Your Video (http://www.1984livinghistory.org/share-a-story/) with resources in Punjabi and English before making your own videos.
Thanks for preserving our virsaa, our living history.
Partners

Copyright © 2014 1984 Living History. All Rights Reserved.