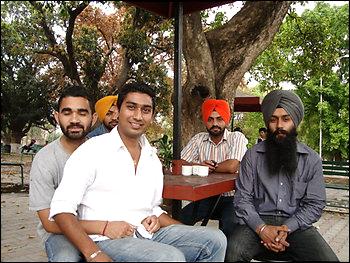 The story is hardly new.  Every few weeks, we see reports by journalists that reinforce a well-known reality - many Sikh men in Punjab are cutting their hair and removing their turbans.  I am hardly an alarmist.  I do believe that despite the overwhelming trend, there are counter-currents as well.  In an earlier post, I described what I have termed a 'Sikh turn'.
Although many Sikh youths have for the time being removed their turbans, their sense of a religio-ethnic identity still remains strong. Maybe the temptations of modernity and especially the desires of the opposite sex are strong and many feel that at this point in their life they would rather pursue women and cannot live up to the great ideals of their Gurus.

This should not be read as a rejection of those ideals but a realization of where they are and their priorities at this time. (Though this may be the case of those that remove their pagri on their own account and not in those families and children where they never had it as many in the diaspora)

As discussed previously, the 'Sikh turn' is occurring. The psychological tragedy of the post-1993 Sikh community is beginning to wane and we may be witnessing the dawn of a new era. It may not be in the Khalsa symbolic form that many hope, but a religio-ethnic movement is occurring. The youth are not disinterested and disconnected; they are engaged and can be mobilized. The pull of the pagri is not dead in Punjab either as we see many Bihari migrants joining the Qaum's ranks. This is a good sign. A new generation will soon have its own version of 'pagri sambhal jatta.'[link]
A recent article in the Washington Post revisits the issue, highlighting a looming impending court case.
Now, a court case about college admission quotas for Sikhs is threatening to alienate hundreds of thousands of short-haired, un-turbaned youths.

In August, four students petitioned the high court after they applied to a medical college under a Sikh quota but were denied admission. The college said the students, who had cut their hair, did not fit in the category of Sikh. In the ongoing legal proceedings, religious bodies and scholars have testified about the importance of uncut hair to Sikhism.

"The case is about college admission quotas, but it has become part of dinner table conversations everywhere. People are asking, 'What am I? What will I be after the judgment?' It is unsettling," said Gurminder Singh Gill, an attorney for the Shiromani Gurudwara Prabandhak Committee, an elected forum of the Sikh clergy that runs the college and whose rules are designed to prevent the dilution of Sikh symbols. "The court ruling will impact future interpretations of the word 'Sikh.' "[link]
It does seem rather odd that the SGPC lawyer is so explicit about his opinions to call for an end of keshadhari quotas.  Would the SGPC really want someone like this responding to the case?
Although I don't want to go too much on a tangent, I did want to make a few comments about the article.  I find it extremely problematic the use of 'ritual' in the title (pagh salute QC!).  For many Sikhs - those that proudly wear their turban and even for some that choose not to wear one due to their understanding of its importance - than it is definitely not a 'ritual.'  As an important writer, once stated: These are not symbols.
Another problem is the frequent juxtaposition between 'modern' and 'traditional.' Somehow in the article, we are too believe that a young boy that cut his hair is 'modern':
Text messaging with one hand and holding a cup of milky tea in the other, spiky-haired Amandeep Singh Saini, 27, recalled the year-long battle he waged against his traditional Sikh parents to cut his hair.
Somehow we are to believe that it is normal that he should cut his hair and have spiky hair, as afterall he does 'text message.'  I assume keshadhari Sikhs do not text-message?  Unfortunately such ridiculousness is hardly new nor will it soon be abated.
Regardless, I would like to hear your thoughts on the case and on the story, NOT to hear your PERSONAL definition of a Sikh.
According to the Sikh Rehit Maryada, we already have one:
Any human being who faithfully believes in:
i. One Immortal Being,
ii. Ten Gurus, from Guru Nanak Sahib to Guru Gobind Singh Sahib,
iii. The Guru Granth Sahib,
iv. The utterances and teachings of the ten Gurus and
v. the baptism bequeathed by the tenth Guru, and who does not owe allegiance to any other religion, is a Sikh