Trump campaign mailer features Fishers man, misidentifies him as Muslim supporter
October 20, 2016: FISHERS, Ind. – A Trump campaign mailer circulating throughout the U.S. prominently features a Fishers man who is a Muslim supporter.
Except there are two problems with this. First of all, he isn't Muslim. Secondly, he's not a Trump supporter.
Gurinder Singh Khalsa, 44, emigrated to the U.S. from India 20 years ago, and he became an American citizen 10 years ago. He is a Sikh and the leader of a nonpartisan political action committee called "SikhsPAC."
According to SikhsPAC.com, it is an organization dedicated to raising awareness of Sikh culture and translating the values of Sikh culture into politics.
So understandably, he was shocked when one of his friends saw him on a Trump mailer identifying him as a Muslim supporter.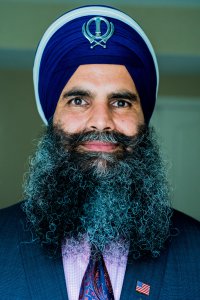 Gurinder Singh Khalsa
Khalsa is in the very top left hand corner of the flier pictured wearing a red, white and blue turban under the caption "Muslims." The purpose of the flier was to show Americans that Trump supporters are diverse.
Khalsa calls this an affront to all 30 million Sikhs worldwide.
"For many Americans, the sight of a beard and turban conjures images of Osama Bin Laden and Islamic terrorist," said Khalsa. "Sikhs are an entirely separate religion. We have absolutely nothing to do with terrorism in the Middle East or anywhere else in the world."
Khalsa said since the mailers were sent out, he's received thousands of calls from Sikhs all over the world voicing concerns that this incident demonstrates a lack of awareness when it comes to preventing acts of violence against Sikhs in the US.
Khalsa said he did not give them permission to use his photo, and he is unsure when or where it was taken. But he hopes this can be a teaching opportunity for all Americans regardless of party affiliation.
Here is a list of other news outlets that have also aired a video with Gurinder Singh on this issue: 
These channels have also featured the story: