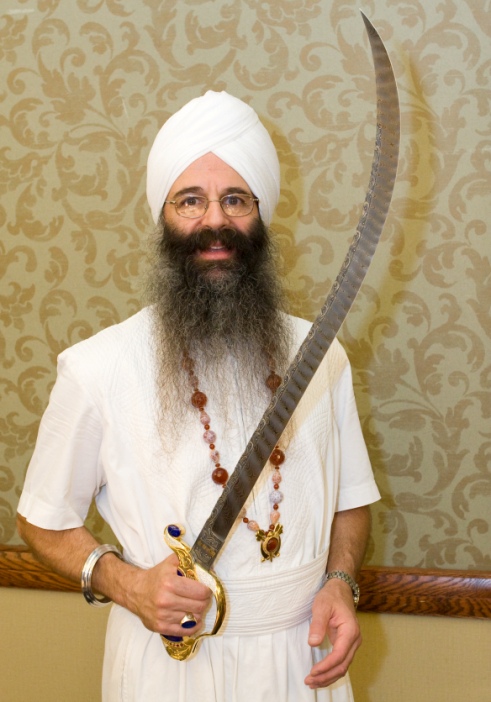 Jot Singh Khalsa, the master armourer and kirpan maker has been working on a new project: compact, affordable, artisan-made Khalsa Kirpans which are entirely handmade to precise tolerances, using choice materials. He began shipping the larger version of these kirpans in late 2009 worldwide and the response has been very gratifying.
In 2010 he began offering black and ivory colored Kirpans along with the original maroon color. One of the consistent responses from clients who received those earliest Kirpans (along with appreciation for their quality and artistry) was 'it's a bit large for everyday, can you make something smaller?'
In response to this request he began offering his new 'Compact Kirpans' which many are appreciating, finding they are able to wear them very nicely under clothing when desired.
These new compact kirpans have a 3 inch (7.6cm) blade  and a 5.75 inch (14.6cm) overall length including the handle. The original model has a 6 inch (15.2cm) blade  and measures 11.75 inches (29.8cm) overall including the handle.
The handle design is slightly different and the blades are ground from Swedish made Sandvik 12C27 stainless steel, an excellent blade steel used extensively in the cutlery industry. They are extremely sharp and very durable. They are also available in 3 colors - black, brown and ivory.
Also available are adjustable length straps (gatra) for those who prefer the convenience of being able to wear the Kirpan comfortably at the length they prefer 'right out of the box.'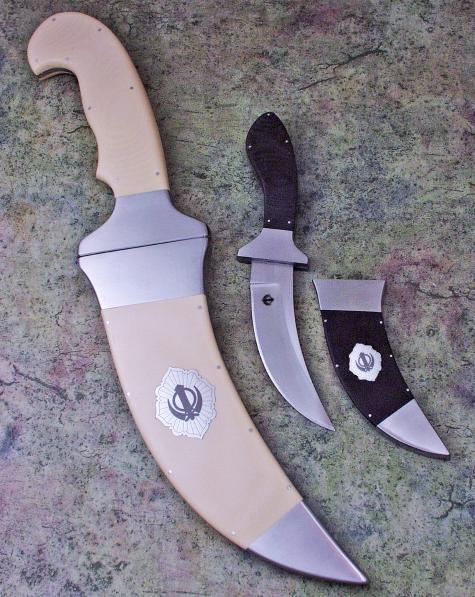 Jot Singh continues to develop new products by request, and he hopes to soon be offering more affordable highest quality full sized swords, suitable for weddings. He is planning to show prototypes at the Nagar Kirtan at Dasmesh Darbar in Surrey, BC on April 21st, 2012. In approximately one month he plans to launch a newly designed KhalsaKirpans.com website with new items and options, a completely new look and feel and quick and easy browsing, ordering and checkout.
Khalsa Kirpans is offering a Baisakhi special from now until April 13th, 2012 on all of their Artisan Kirpans in both small and large sizes. Those who purchase 5 Kirpans  (in any any combination of size and color) through KhalsaKirpans.com or through one of their worldwide resellers and shipping to a single address will receive for free, a 6th Compact Kirpan Package any color along with a gatra and pouch.
Below is a photo of one of Jot Singh's custom-made Kirpans. It is made of stainless Damascus steel with argentium sterling silver and ocean jasper (mineral from Madagascar) and 24Kt. gold inlay work and engraving. Jot Singh invites everyone to contact him to create something unique and inspired for yourself or your loved ones.He is a true artist and creating beautiful kirpans is his passion.