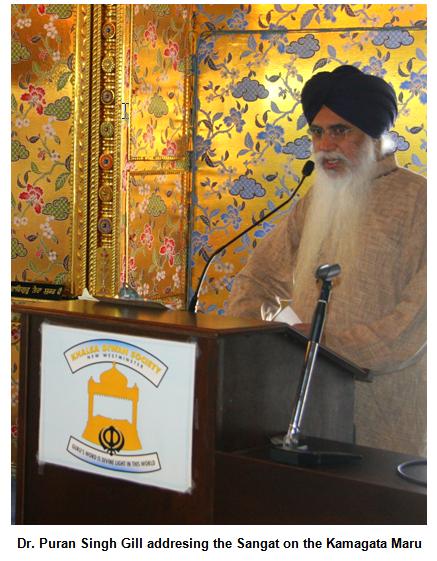 New Westminster, BC, May 25, 2009 - Once again the past weekend was busy one for the members of the Khalsa Diwan Society New Westminster.

On Friday 22nd the weekend programs kicked off with a special tribute to the passengers of the Kamagata Maru. It was on May 23rd 1914 that the ship arrived in Vancouver and as local residents remembered that historic day 95 years ago, the congregation was once again informed of the sacrifice of the crew and local residents of Vancouver and the Khalsa Diwan Society in particular.

The Kamagata Maru remembrance programs ended on Sunday May 24th with Dr. Puran Singh Gill informing the Sangat of the historical events in the Punjab, Hong Kong, Britain, Canada and other parts of the Commonwealth that shaped the events of the Kamagata Maru incident. In addition, to informing the Sangat, a special seminar was held for the children outlining the events and consequences so that we remember and learn from these historical events.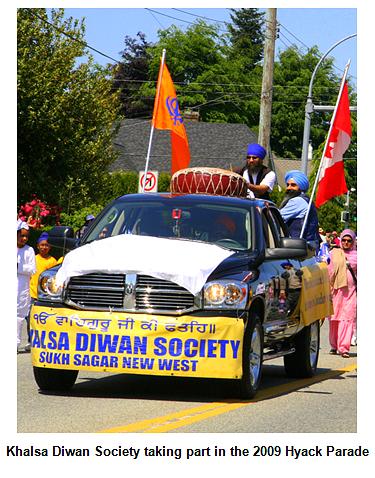 On Saturday May 23rd for the third year in a row, members and volunteers took part in the 28th Annual Hyack Parade through the streets of New Westminster B.C. The Khalsa Diwan Society New Westminster was one of about 140 entires in this year's parade and as previous years, youth with parents marched through the streets, while young Sikhs demonstrated the ancient art of Gatka (Sikh Martial Arts) performing to many delighted residents throughout the streets of New Westminster, BC.

On Sunday May 24th members of the Sangat took part in the annual Queensborough Day festival.

The Queensborough Day festival celebrated the diverse culture and uniqueness of the residents, organizations and businesses of Queensborough. The Sikh Temple put on a turban tying demonstration, which explained the significance of the turban, which demystified many of the previous misconceptions around the turban. The volunteers at the booth also tied turbans on many of the participants and members of the local fire and police departments as well as other dignitaries.