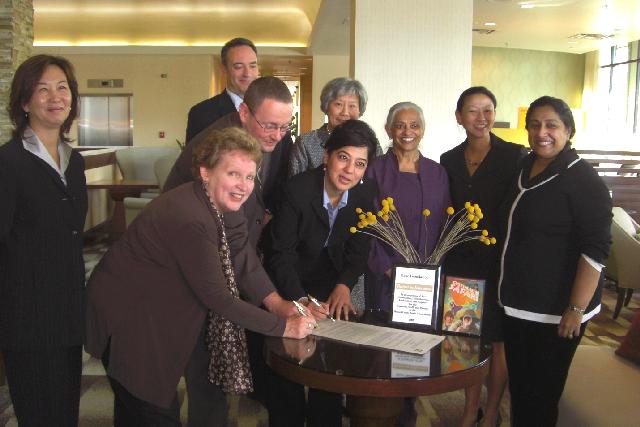 Ellicott City, MD --- A pioneering partnership with the Kaur Foundation will build understanding and appreciation for the Sikh culture, customs, and perspectives in Howard County Public School classrooms and communities. The partnership was formalized with an official signing at the Waterside Restaurant in the Sheraton Columbia Town Center Hotel on Monday.

This is a proud and pioneering partnership with an entire County school district. The agreement drawn up has some wonderful new direction for the schools with the objective of exchanging resources and opportunities to spread awareness of the customs, religion, and cultural heritage of the Sikhs in the classrooms... including an understanding of "what teachers should know about the Sikhs..."

Under the terms of the partnership, the Kaur Foundation and the Howard County Public School System will exchange resources and opportunities to spread awareness of the Sikh cultural heritage in the classroom and community. The Kaur Foundation donated copies of their DVD titled Cultural Safari, an engaging introduction to Sikh culture, to each school media center. The Kaur Foundation will provide additional educational resources depicting Sikh customs, religion, geography, and history, for teachers to augment social studies lessons, and to serve as a resource for staff regarding the needs and concerns of students and families of Sikh heritage.
 
At 8:30am, Mirin Phool, President of the Kaur Foundation joined Ellen Flynn Giles, Vice Chairman Howard County Board of Education; John Krownapple coordinator of Cultural Proficiency for the HCPSS; and Joan Fox of the HCPSS Partnerships office signed the formal partnership agreement.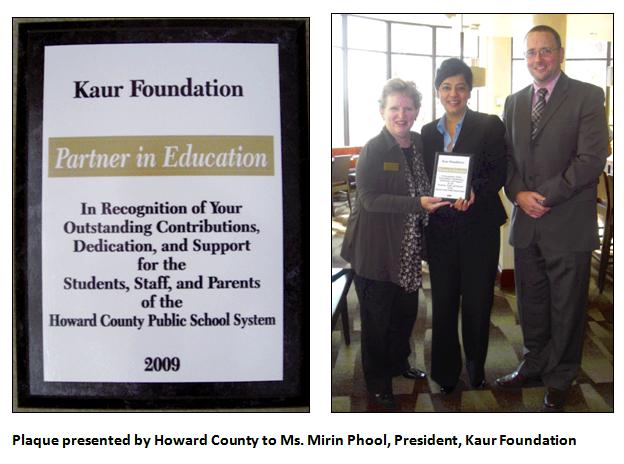 The Kaur Foundation works to foster an understanding between the Sikh American community and society at large. In projecting a positive Sikh identity, the organization builds community partnerships to promote understanding and acceptance of diversity.

The July 2007 issue of Forbes magazine lists the Howard County Public School System among the top 10 public education school districts in the nation. The Howard County Public School System (http://www.hcpss.org/) consistently ranks as Maryland's top school district based on student performance.