Introduction
The Guru Nanak Punjabi School, on behalf of the Sikh Society of Calgary, is pleased and excited to announce the "Believe & Belong - Celebrating Calgary's Diversity at Canada's 150th" event! The intent of this event is to bring together our friends and neighbors to celebrate diversity, promote inclusion, and to create opportunities to work together for common goals. Through this event, we want to emphasize that Sikh values mirror Canadian values. We want to remind our friends and neighbors that there are more commonalities than differences in the various cultures, faiths and identities that make up Canada. More specifically, through this event, we aspire to create connections between community members, local organizations and youth groups, while celebrating the universal message of equality, love and joy.
Before expanding on the details of our event, let us tell you more about who we are. The Sikh Society of Calgary is an NPO organization and the oldest Gurdwara, (Sikh Temple) in the city. It was built in 1976, with a dedicated Sangat (congregation) that has grown steadily over the years. We also run a Punjabi school that has an associated Youth Group.
The Believe & Belong Canada 150 Celebration
The Believe & Belong Canada 150 celebration will take place this summer. It will be held on Sunday, July 23, 2017 from 1:00 PM – 5:00 PM and will be open to the general Calgary public. It will be held at the Bridgeland-Riverside Community Association.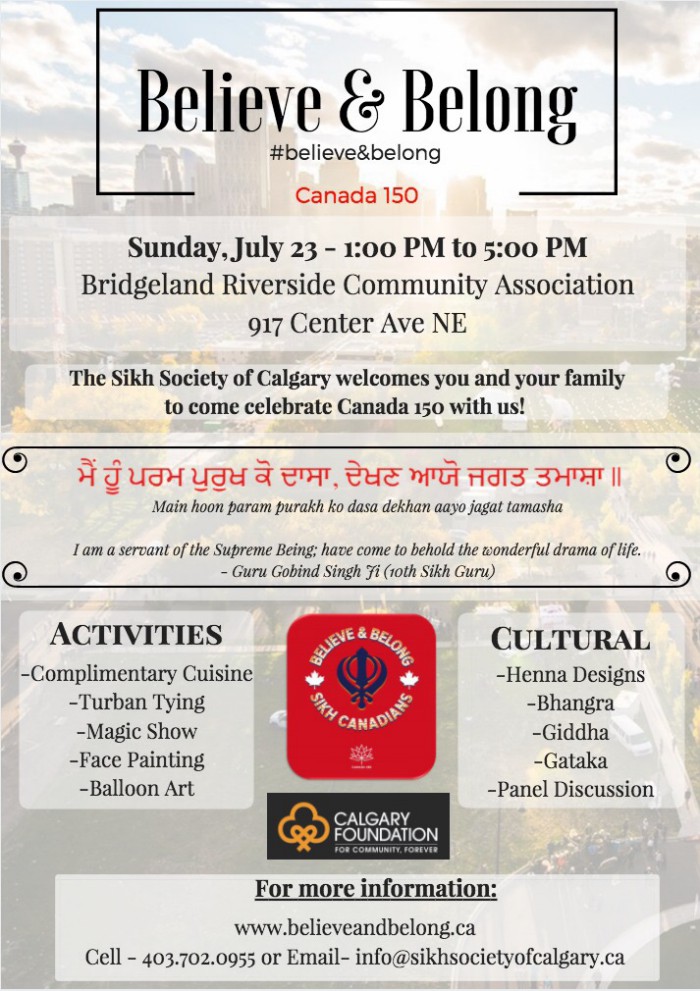 The highlight of this event will be a one-hour Panel Discussion about the intimate relationships Sikhs have had with Canada since 1902, when the first Sikhs arrived in Canada. The Sikh panel discussion will include 3 Sikh members who play a unique role in the Calgary community. One of our panelists is a highly respected Religious Studies instructor at Mount Royal University. The second panelist is couple who want to share their evolution and personal journey through Sikhi. Our final panelist is a Sikh Yoga instructor, who is also a family physician in Calgary.
In addition, to share the universal experience of being a Sikh, there will be a Turban tying event where anyone can learn what the Turban represents. Everyone is invited to participate by having a Turban tied on their head or tying one on another. Turban tying events have proven in the past to be a highly successful and fun way to promote dialogue between the 'tie-er' and the 'tie-ee'. Of course, no celebration is complete without music and great food! There is nothing like delicious food to bring people together! This event includes complimentary food (food trucks) to allow the public to enjoy East Indian cuisine. In terms of music and dance, there will be stage events with various cultural performances from the Sikh/Punjabi community.
We have also included complimentary children's activities such as face painting, balloon art, magicians and a bouncy castle. Finally, we have selected a truly international sport in order to host soccer games throughout the day to allow kids and adults alike to participate.
Summary
Historically, Sikhs have contributed to cultures and nations as builders, liaisons and community leaders who build understanding and tolerance. This event will allow the Sikh Society of Calgary to share our message of inclusion, peace and belonging within the diversity of our city.
Our event motto is "Believe and Belong". We will share with the Calgary community what it means to be a Sikh and a Canadian and how one does not need to look further than the freedoms outlined in the Charter of Rights to understand what a Sikh believes. Most importantly, this event will allow the youth to share their faith and bridge a relationship with other youth who will be volunteering. We are inspired to work with our youth to create a sense of belonging within their community and develop a deeper love of their own faith as they host this event where individuals of all ages, cultures, groups can come enjoy complimentary food, complimentary activities and presentations as we celebrate Canada's 150th.
Jas K. Dhaliwal ~ [email protected]
THE VENUE
Bridgeland Riverside Community Association
917 Centre Ave NE
Calgary AB T2E 0C6