eSangat, short for electronic Sangat is an interactive, electronic platform that allows us to maintain the daily practice of Naam Simran and Nitnem in the company of others (Sangat).  What makes eSangat unique is that the format is "electronic" in the sense that we meet on a teleconference bridge and not physically.
Background
I have always struggled trying to balance my household responsibilities with the intense desire to sit in Sangat. It is difficult to attend Sangat Samagams frequently because it entails hours or days away from home.
After attending Sikhnet's online classes and live webinars in 2018, I became aware of many Gursikhs around the world who want to do Sangat but don't have access to a Gurudwara.
Even if you live near a Gurudwara, not all Gurudwara's open during Amritvela or have daily regular Sangat programs.
Doing Simran and Nitnem in Sangat has multifold benefits as compared to doing it alone.
eSangat is an attempt to address these problems. It is not meant to replace a physical Gurudwara or physical Sangat but provide a platform to do Sangat electronically and without physical limitations.   
How does eSangat work?
eSangat is generally done per the following schedule:
US Eastern Time

Amritvela – 3:30 am to 6:00 am (Naam Simran followed by Nitnem of five Banis, Ardaas and Hukam)

US Pacific Time

Amritvela – 3:45 am to 6:00 am (Naam Simran followed by Nitnem of five Banis, Ardaas and Hukam)

Sandhya – 6:00 pm to 8:45 pm (Naam Simran followed by Rehraas Sahib, Ardaas, Hukam, Hukam Katha,  Sehaj Paath, Aarti, Kirtan Sohila)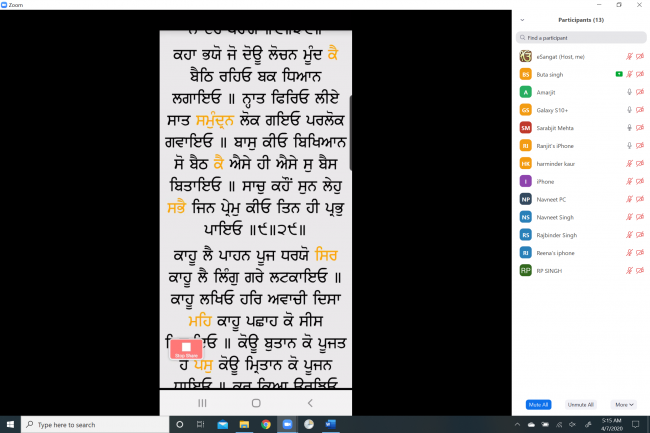 Using your smart phone, you join an online meeting in the time slots mentioned above. First a Simran recording is played on the bridge during which all phone lines are on mute. Sangat is encouraged to chant in synchrony with the recording. After the recording ends we do Gupt or Silent Simran for 5-20 minutes depending on the instance of eSangat. The host sevadar announces the conclusion of the Simran.
The Sangat then does the recitation of the Nitnem Banis. For each Bani (or parts thereof), two Sangat members unmute their phone lines and recite the Paath one line at a time. The Banis being recited are displayed on the screen for everyone to follow along. Sangat can read from the screen or open their own Pothi/Gutka to recite the Paath.
Ardaas is done by a Sangat member followed by an electronic Hukam or physical Hukam if a Sangat member has access to the SGGS Ji. The Hukam is also displayed along with translation on the screen.
What are the benefits of eSangat?
Preservation of Amrit Vela.
Introduces a discipline and rigor to completing Nitnem at its designated time.
Get the benefits of doing regular Sangat from the comfort of your home.
Reciting Paath in Sangat makes us alert and cautious to mistakes.
Damdami Taksal's Sundar Gutka App is used to display Bani's. Vishraam (Pauses) are color coded.
How can I join eSangat?
Please browse through the following sample eSangat recordings that will give you an audio-visual of what's described above.
eSangat Amritvela - https://www.youtube.com/watch?v=wXqbK6kSjcM&t=38s
eSangat Sandhya (evening) - https://www.youtube.com/watch?v=Bb62ghvTLAA&t=54s
Sukhmani Sahib - https://www.youtube.com/watch?v=cdwvG6h1lls&t=738s
If you are interested in joining eSangat, please email [email protected] with your name and location and a Sevadar will get in touch with you.
Frequently Asked Questions
I can't wake up so early, can I still join? – Yes, you can join anytime eSangat is in session.
I am not good with technology, can I still join? – Joining eSangat is as easy as making a phone call. We will assist you with any issues.
Why do phone lines have to be on mute?  - Teleconference bridges are not designed to allow multiple speakers at the same time. There is also an element of electronic lag which means that there is a delay of several seconds after the sound has been spoken and before you hear it electronically. Lag causes Sangat to not be able to recite/chant in unison.
I am not in the US Eastern or Pacific time zones, how can I join eSangat? – While we do have Sangat joining from India, it would be ideal to have a virtual Sangat that is time appropriate for your time zone. Please email

[email protected]

if you wish to start a virtual Sangat in your time zone.
Additional Sikhi use-cases for electronic platforms like Zoom, Webex, GoTo Meeting etc:
(eSangat uses the Zoom cloud conferencing platform)
In today's day and age, modern tools like zoom can overcome the physical barriers that prevent us from doing regular Sangat.
Waheguru Ji Ka Khalsa ! Waheguru Ji Ki Fateh !!