Nov 7th 2014 -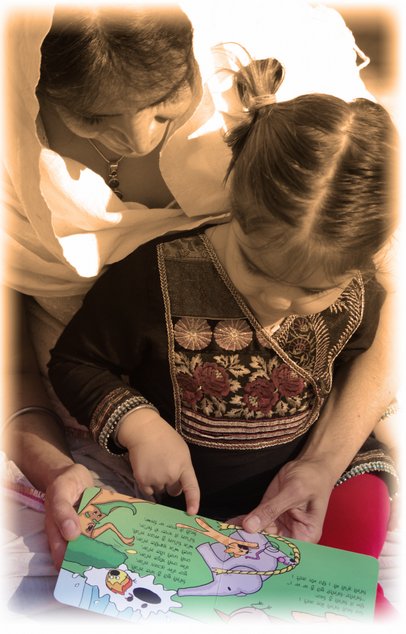 Fascinating Folktales of Punjab joyfully announces the expansion of its bilingual book series, with the launch of two new illustrated board books -"Jatt tey Ghuggee" ("The Farmer and the Dove") and "Bhukhhar Keeree" ("The Very Hungry Ant").


In March 2013, their team launched the first three folktale board books (The Sparrow and the Pippal, The Sparrow and the Crow, The Lamb and the Dhol). The two new titles, printed in the same format and style, complete the board book series.


Printed on heavy, child-friendly, laminated art-board, this five-part, colorfully illustrated series is especially designed to present Punjabi folk literature in an engaging and attractive way to children of all ages. These books connect children to Punjabi heritage and language from a very early age by bringing forgotten folktales back to life. As the stories are presented in a rhyming fashion, children memorize and expand their vocabulary in no time, forming associations and bonds with Gurmukhi script.


Fascinating Folkates of Punjab has young children interested in Punjabi literature for the very first time. One year since their release, these books have become favorite gifts for birthdays, holidays, and Gurpurab celebrations. Parents have happily reported how their children demand to read these books many times a day. These books have helped grandparents recall forgotten stories from their youths and they are thrilled to have a collection of illustrated tales to share with their grandchildren.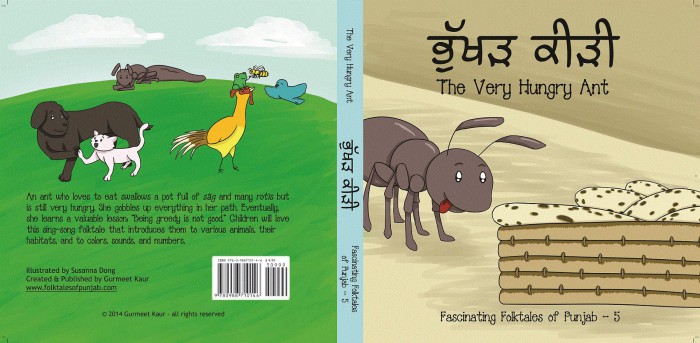 Sikhnet congratulates Fascinating Folktales of Punjab and invites the author to share some thoughts with our readers.
Sikhnet: So Gurmeet Kaur, What inspired you to undertake the process of writing these childrens' books?
GK - I am a mother of two children. My quest for good quality Punjabi literature for my children began many years ago when my first child was born. I searched for many years but did not find illustrated Punjabi language books especially folktales suitable for reading to young ones. You can find folktales from around the world easily; all cultures have done a wonderful job in preserving and presenting their folk literature to their children in an attractive way; why haven't we?
The question bothered me until the answer dawned upon me - that if you want something bad enough, you will find a way to do it.
So, when my daughter turned one, two years ago, I decided to create them myself. I have taught Punjabi in Gurmat schools for many years and felt a strong void for such literature. Last year, on Vaisakhi, we launched a set of three books and this Gurpurab week, we present the second set of two, completing the board book series.
Sikhnet: Why are the folk tales of the Punjab important? What are the values and messages in these stories that speak to you the most?
GK - Folktales of Punjab are many thousands of years old. They carry the wisdom of a people that have lived in a land which constitutes one of the oldest civilizations known to man. These stories have the language of our ancestors, the life lessons that they learnt while laughing and playing, and the ones they passed along to their next generations. These tales are a mirror into our past. Probably our Gurus heard them when they were children as they cuddled in with their grandparents by a lamp in the nights. I feel a tremendous sense of duty in preserving them especially for children. Because, the language, the associations, and the sense of morality learnt at an early age becomes everlasting.
Guru Granth Sahib tells us: The stories of one's ancestors make the children into good children" [951].
The tales that speak to me the most are the ones that carry the message of "courage despite all odds" that you will see in several of my books.
Sikhnet: How did you learn these tales? What is your personal most favorite folk tale?
GK - I have been collecting these tales for almost two decades. When Angad Singh, my first one, was a baby, I used to tell him the "Sparrow and the Pippal" tale while feeding him. He was a poor eater but the tale worked each time. It was the rhythm and the beat, and the beauty of the language that enraptured him. Seventeen years later it worked on my daughter, Liv Kaur the same way.
So I dug out my collection, and searched for more. I retold them with the help of my editor Sr. Nirvair Singh and here we are.
All five of the tales, that I have documented so far are my babies, even though they are adopted. So I cannot say I favor one over the other but I think my retelling capabilities are improving so my best work is yet to come. After the board book series, I plan to move up to an older age group and you will see some marvelous tales being retold and illustrated beautifully.
Sikhnet: Tell us about your most recent project.
GK - Well, the responses from my first three books are very heartfelt even though the finances were not. Parents wanted more and faster. So our team has answered the call! This Gurpurab and holiday season we proudly present:
"Jatt tey Ghuggee" - "The Farmer and the Dove"
A dove steals a farmer's grain. He cages her and takes her to the King demanding justice. Their journey across Punjab's fields and villages is filled with many twists and turns. Maternal love, justice, and freedom all come together in this heart-warming folktale.
and…
"Bhukhhar Keeree" - "The Very Hungry Ant"
An ant who loves to eat swallows a pot full of sãg and many rotïs but is still very hungry. She gobbles up everything in her path. Eventually, she learns a valuable lesson: "Being greedy is not good." Children will love this sing-song folktale that introduces them to various animals, their habitats, and to colors, sounds, and numbers.
The illustrations in both books are exquisite and human characters have made their entrance in the books along with the flora and fauna. They both are delightful.
Sikhnet: Do you have a special message for the youth?
GK - Yes, absolutely.
Stay rooted. Stay connected.If you don't know where you come from you will not know where to go.
Learn and live your language. Punjabi language will not only help you stay connected to the land of our Gurus and ancestors but also help understand the Guru Granth Sahib. I can say this from personal experience. As my understanding of the language is growing, so is my comprehension of the Guru. The joy one gets from reading and understanding Gurbani in the language of its origin cannot even begin to compare with the translations. The reason Guru Sahib wrote in the language of the common people is for them to relate with it easily. Let's not make it a language of the past.
--------------
About Fascinating Folktales of Punjab:
The project is dedicated to publishing high quality Punjabi folk literature for children that is fun, educational, and inspiring. We aim to connect children to Punjabi language, heritage and Gurmukhi script from a very early age while preserving the folktales of Punjab that are disappearing quickly.
Fascinating Folktales of Punjab is Gurmeet Kaur's first children's book set and is illustrated by Susanna Dong.
The books are printed in a limited edition and are available on their website at www.folktalesofpunjab.com
If you would like to donate to help move this project forward please visit:
https://www.dvnetwork.org/projects/fascinating-folktales-of-punjab

Donations above $50 in the week of Nov. 8th to Nov 16th 2014, will be rewarded with a signed set of books shipped anywhere in the world.