Last year was the first that SikhNet decided to make a theme: onKAUR, and this theme struck a chord with directors and audiences alike. This can possibly be linked with cases of rape and sexual harassment being highlighted recently in India causing an uproar of dissatisfaction with a culture of "eve-teasing". Despite the Guru's teachings, Sikh culture is largely male dominated. I think Sikh women have had enough. I think change is coming. This was reflected in the Film Festival.
After 8 years, the Film Festival reached new heights. Let's take a look at the numbers...
| | |
| --- | --- |
| 2012 total views | 2013 total views |
| 300,884 | 544,055 |
| 2012 average views | 2013 average views |
| 13,081 | 27,202 |
The average views per video more than doubled in 1 year!
Here at SikhNet we were more excited than ever for the film festival. We started planning it earlier, chose a theme, implemented a new voting system, and tried to engage the audience through facebook. We noticed that instead of just a few videos with professional level production, that basically became the norm. After the 10 winners and runners up were awarded (including a tie), we felt there were several other films that deserved special recognition so we awarded an additional 6 non-cash awards. The point is, there were lots of good films. It seems like there is a kind of renaissance of amateur Sikh filmmaking, and here at SikhNet headquarters we are humbled to be riding that wave. So if you didn't get a chance to watch the videos last year, take a break from American Idol, and check out these short films (they're all under 25 min).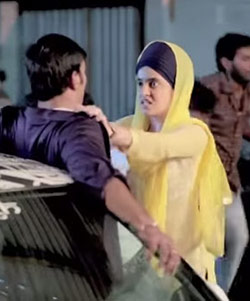 Highest viewed videos from 2012:
101,132 - Karizmaa of Kaur – co-winner in the senior age group
68,419 - Kaur - A True Identity – 2nd runner up in Drama for Intermediate age group
53,417 -  Friendship
43,290 - Am I Kaur? – Winner in Documentary for Intermediate age group
39,918 - Power of Kaur
22,513 - Kaur - Attire Of The Soul – Winner in Drama for Intermediate age group
22,155 - Roar of the Kaur – 1st runner up in Drama for Intermediate age group
*Video views as of the morning of May 15, 2014
Please tune in to this year's film festival. The new theme is: Uncommon Courage.
NOTE: Don't forget about the comedy category. Last year we only had 1 submission to the comedy category. Compete to win $1,000.