Jagmeet Singh, The Sikh-Canadian is the first visible minority in Canada to lead a major federal political party.
Here is an inspirational story of transformation of newly selected NDP Leader Jagmeet Singh from Jimmy Dhaliwal.
Born January 2, 1979, Jagmeet Singh is the eldest of three children. His first name, which means "friend of the earth," is a combination of his parents' names, Harmeet and Jagtaran.
They wed in Punjab in an arranged marriage in the mid-1970s. His mother was already living in Canada at the time, having been sponsored by her sister. Harmeet, in turn, sponsored her husband, and Jagmeet Singh was born in Scarborough on Jan. 2, 1979.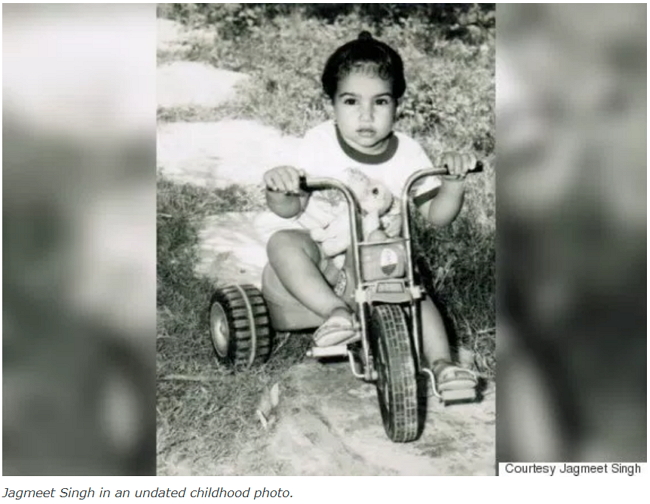 When he was one year old, his parents sent him to live in Punjab with his father's mother. Harmeet worked at a bank, and Jagtaran, a trained physician, was working as a security guard at night and studying for his medical recertification during the day. They were struggling to make ends meet and couldn't take care of the baby.
A year later, Jagtaran was accepted to the psychiatry program at Memorial University in St. John's and Singh returned to live with his parents.
"For a little bit of time, I called my actual mom 'aunt' [Bhua] because I called my grandmother 'mom' …. My mom was really sad."
Newfoundland is where Singh learned English. His sister, Manjot, was born shortly after the family's arrival, and his brother arrived three years later.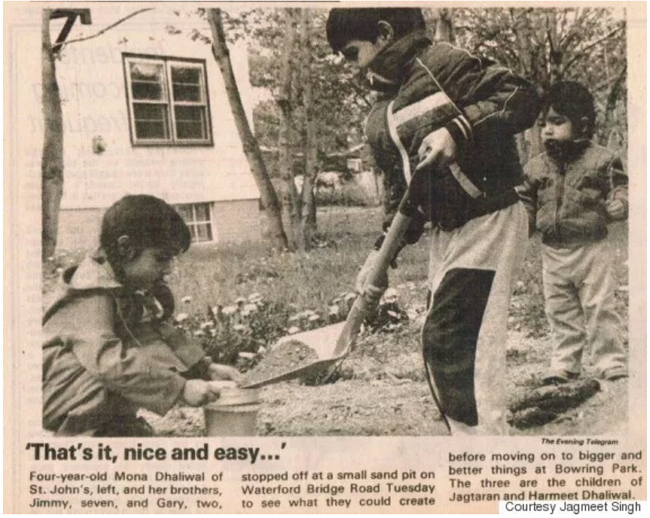 A newspaper clipping shows seven-year-old Singh with his siblings playing in the sand. The caption identifies him as "Jimmy."
His birth certificate actually reads: "Jagmeet Singh Jimmy Dhaliwal." His parents thought it would be easier to go by Jimmy and "less weird sounding than Jugmeet," he explained. (Jagmeet is pronounced "Jugmeet.")
Singh dumped "Jimmy" (a name "chosen just so I could fit in") in favour of his first name when the family moved to Windsor, where his father got a job as a hospital psychiatrist.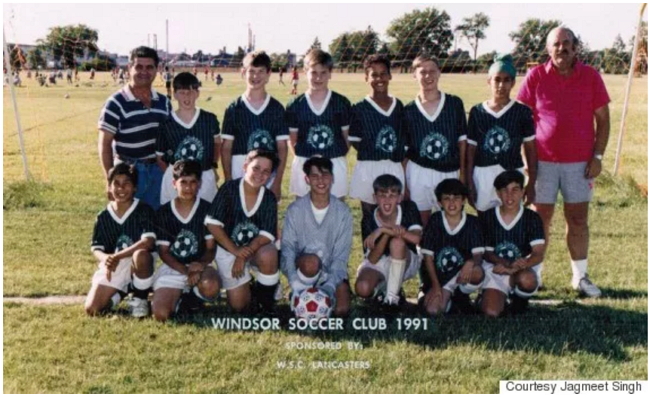 Jagmeet Singh, at top right, was about 12 when this team photo was taken.
Learning to fight
Windsor was "rough." Jagmeet  Singh says he was bullied as a youngster and took up martial arts to defend himself, going on to captain his high school wrestling team and winning the Toronto championships in Brazilian jiu-jitsu.

"Kids would say: 'You're dirty, your skin is dirty, why don't you take a shower' … or 'You're not a boy, you're a girl because you have long hair,' and then they would just come up and pull my hair, or just punch me."
It wasn't just the kids, Singh said. Parents would also point and laugh.
His father enrolled him in taekwondo so he could learn to defend himself. Singh later became captain of his high school wrestling team and won the scholar athlete award. Between 2003 and 2007, he was the GTA's undefeated champion for his weight class in submission grappling — a form of judo, wrestling and Brazilian jiu jitsu.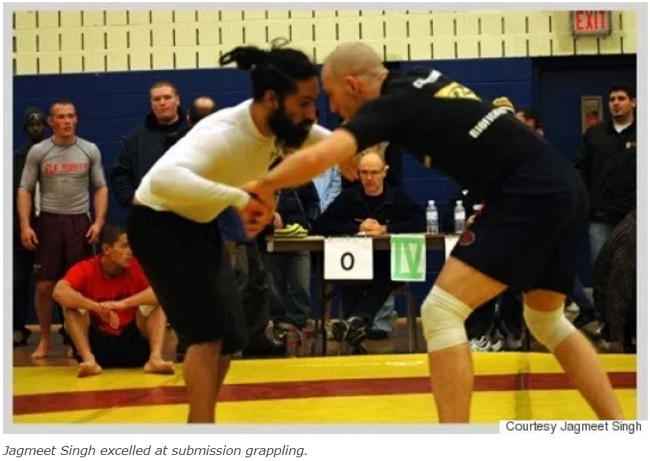 Being picked on also forced him to learn to portray confidence, he said.
"That makes you less of a target when you are very sure of yourself," he said. "I tried to carry myself very confidently and I had to try to develop this mentality that people are going to stare at me, they are going to look at me, so I better give them something to look at."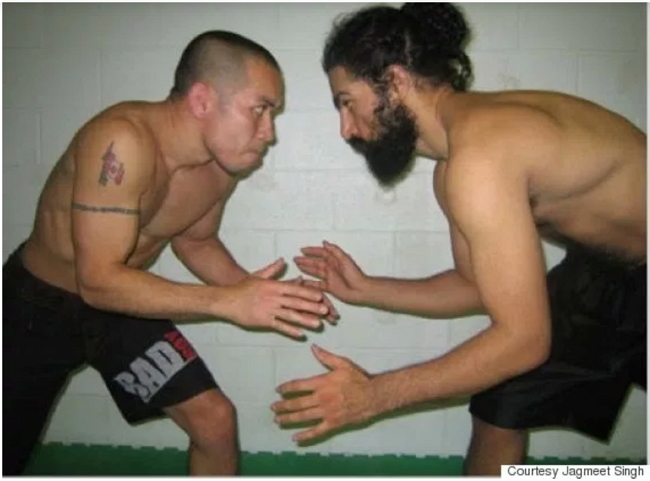 Windsor is also where Singh learned French. He came to the language in a somewhat unusual way.
In grade school, Singh was fascinated by Punjabis' struggle for language rights in India. "They didn't allow certain states to be able to teach their own languages … and it was really oppressive," he said.
He focused on that language issue for school work, and his research invariably led him to struggles that French-Canadians also faced.
"I felt like it was kind of an act of solidarity. I'm Canadian, I'm born in Canada, and as an act of solidarity, I learned the language of another community that was also struggling with their language rights."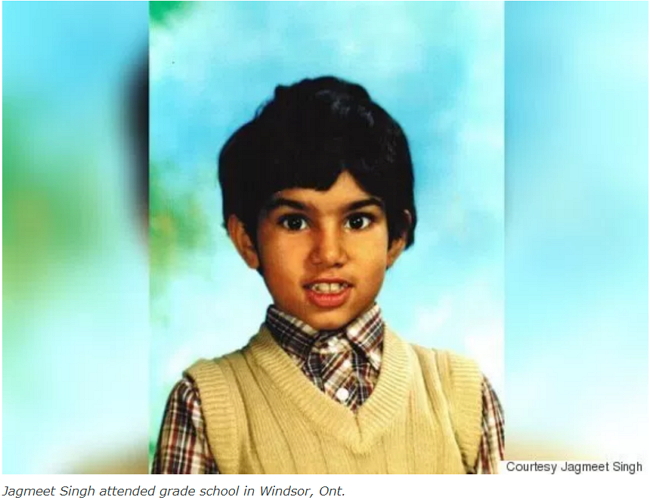 He took French as an elective, worked with a tutor in Grade 8 to improve his skills over the summer, and did "extra things" after school to "develop a better accent."
Singh listened to francophone music, including New Brunswick heartthrob Roch Voisine and French singer Patrick Bruel.
"I bought his cassette, 'Alors Regarde,' and I used to play it a lot," he said, of his 1989 HMV find.
Singh said he speaks French "fluently for an anglophone with a decent non-anglophone accent."

Concerned about the daily fights at school, Singh's father sent him across the border to attend high school in Detroit. Some of his father's friends had enrolled their kids in the private Detroit Country Day School, and his dad thought it would remove the bullying and help him focus on academics and sports.
The new school helped.
Changing course
Singh went on to complete a bachelor of science in biology with a minor in sociology. He intended to follow his father's footsteps and go to medical school. But when his dad got sick, he began pursuing a computer science degree as he felt it would allow him to enter the workforce sooner. Singh changed course again when he was accepted into law school.
As a student, Singh championed anti-poverty efforts, immigrant and refugee rights, lower tuition fees, and access to to education. As a lawyer, he provided these groups with free legal advice on their rights during protests and how to do it effectively.
After graduating from Osgoode Hall, he joined Pinkofsky, a big criminal defence law firm in Toronto. It drilled into him, he said, the notion that everyone in a democratic society should be able to get good legal representation.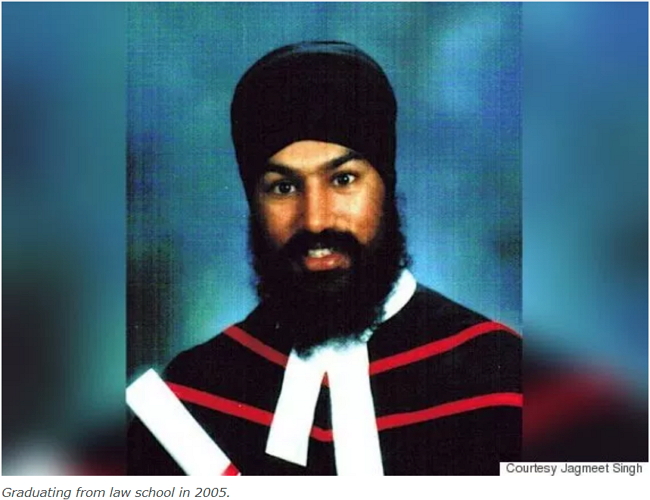 A year later, he started his own practice in Mississauga, Ont. Business was going well, and he was planning a move to a bigger office across from the busy Brampton courthouse, when some of the groups he had helped encouraged him to run for office.
Some Sikh activists, led by his brother, Gurratan, and a friend named Amneet Singh, were particularly vocal. They had protested against the visit of Indian minister Kamal Nath, a man accused of leading a deadly rampage against Sikhs in 1984 after Indian prime minister Indira Gandhi was assassinated by her Sikh bodyguards. '
And they felt the political representation in Brampton wasn't supportive or respectful of their concerns about the visit, Singh told.
He was initially reluctant to give up his law career. He enjoyed his job, liked making money — he candidly admits he has a penchant for the finer things in life — and wasn't looking forward to taking a pay cut.

During his first campaign, Singh eschewed using his actual last name "Dhaliwal." It was the name he used to practice law, and the one everyone knew him by, but he said he wanted to drop the Punjabi upper-caste surname to send a message. The caste system is racist and classist, he said, and he wanted his candidacy to represent a message of equality and justice.
"I want everything we do to have meaning, so I decided that if I'm running to represent the people of my riding, I want it to be known that I will represent all people, not just my clan," he offered.
Some people in the community thought Singh's idea would backfire, but he believes it made him more approachable at the doorstep.
Addressing systemic discrimination across Canada is one thing Singh would like to continue working on if he decides to jump to the federal scene. He also wants to address income inequality and overhaul the justice system so fewer people are spending time in jail for offences that he feels don't require such harsh punishment.

Entering the federal fray
When he launched his campaign for the federal leadership at the same banquet hall in Brampton, west of Toronto, where he celebrated his first election victory in 2011, Singh told the crowd that his party and the country are hungry for new leadership.
"Leadership that will bring people together, to build a Canada that is truly inclusive and where everyone can realize their dreams," Singh said at the time.
Singh has said that he would not immediately seek a seat in the House of Commons until he had time to help increase his profile outside of the House.
During his acceptance speech Singh also tapped into his family's past financial struggles drawing attention to a pledge he made while campaigning — to end job insecurity and precarious work.
Today, Jagmeet Singh, the first turban-wearing Sikh to sit in Ontario's legislature, will now lead a federal political party with his victory in the NDP leadership race on Sunday.
Singh, 38, won on the first ballot Sunday, taking 53 per cent of the vote to top MPs Charlie Angus, Niki Ashton and Guy Caron.