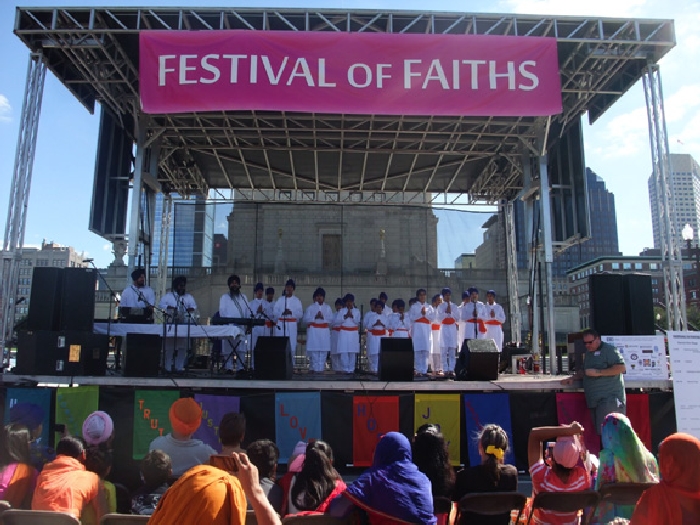 Sikh Youth Choir singing Sikh sacred hymn
Sikhs and Other Faiths showcase their Interfaith Spirit
 
Veterans Memorial Plaza, Indianapolis USA
September 7, 2014
Kanwal Prakash Singh: A Prayerful Reflection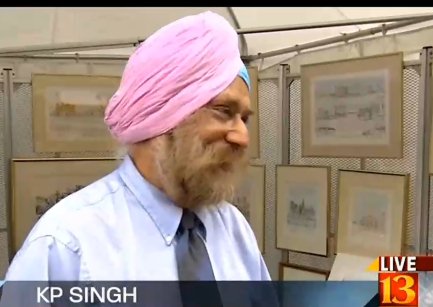 The 2014 Festival of Faiths at the beautiful Veterans Memorial Plaza in Downtown Indianapolis on September 7 focused on bringing faith communities and people of diverse cultures together in a public open-air forum to share, to celebrate, to learn about unfamiliar traditions, and make new friends. There were over fifty interactive and display booths highlighting history, culture, tradition, sacred arts, and representations of various denominations: Christian, Muslim, Hindu, Buddhist, Sikh, Jewish, Mormon, Jain, other faith traditions, and several area educational institutions. The Festival represented and reflected many dimensions of human spirituality, a Youth Dialogue and meditation areas. In addition, there were merchant and food booths. There was a general friendly spirit that permeated throughout the festivities.
Downtown Indianapolis resounded with beautiful sounds of faiths, pleasing colors and icons of spiritual heritage, banners of our shared humanity, echoes and auras of a unifying spirit as Indiana's family of faiths and spiritual traditions gathered to celebrate our spiritual, cultural, and humanitarian richness amidst our diversity.
WALKING IN FAITH AND SPIRIT
This was beautiful, inspiring, and an unmistakable reminder that we have much to learn from and about each other as the first major lesson of imagining and creating a more peaceful world. It could be amazing when we take the time to know and learn from each other and build bridges of understanding; give voice and strength to our common prayers and walk toward each other in trust and friendship; accord and safeguard human dignity and respect; dismantle walls that separate us and unfounded stereotypes that divide us; and together address critical concerns of hunger, poverty, bullying in schools, unprovoked violence and hate crimes, workplace discrimination and harassment, and overcome suspicion and problems of mistaken identity.
It all begins with learning, meeting at common crossroads, and exploring ideas that have the power and mandate us to work together for greater good, creating an environment that answer our shared values and prayers. As we solemnly commemorate the 13th anniversary of 9/11, interfaith initiatives, festivals, and dialogues take on a new urgency. Today, our neighbors and fellow Americans come from distant lands, unfamiliar cultures, with unique experiences and values. We need to know our neighbors, interface with each other's faith and culture. We need to introduce this concept in our earliest educational levels, civic institutions, and multiple community engagement crossroads. Our media could be invaluable in this endeavor.
CULTURE, SPIRIT, AND FRIENDSHIP
One of the most exciting activities was at the Sikh Satsang booth where the Sikh Turban Tying Demonstration attracted nearly150 enthusiastic participants. The Sikh Satsang booth and activities were organized by Maninder Singh Walia, President of the Sikh Satsang and Chirjeev Oberoi, Coordinator of Festival Booth and the Sikh Youth Choir. The Sikh Choir offered a moving rendition of the Sikh hymn, "Na ko beri naheyn beygana sugul sung hum ko bun aayee: No one is a stranger to me and no one is my enemy; I get along with everyone" directed by Ragi Joginder Singh.
The Plaza grounds rocked with the Bongo Boy Drum demonstration and everyone was invited to participate in this joyous experience. A colorful Processional Parade of faith leaders and representatives meandered through the Festival displays and ended at the Sacred Arts Stage where Jewish, Christian, Muslim, Hindu, and Sikh representatives offered brief opening prayers that reflected unifying and an all-embracing spirit. Rev. Richard Brendan, the celebrated host of "Journey's Fire," served as the Master of Ceremonies.
The Sacred Arts stage entertained the audience with unique and colorful performance: IndyKlez (Jewish Spiritual Folk), Yakshagana (Hindu Dance in colorful costumes), Mormon Choir (Traditional Hymns), chants of Buddhist Monks (Tibetan Mongolian Buddhist Cultural Center), Sikh Youth Choir (Sikh Satsang of Indianapolis), Gospel Choir (Light of the World Christian Church). The program ended with a rendition of "We are Family" by The Gospel Choir and a Prayer Circle for Peace with all gathered, led by Dr. David Carlson, Professor of Religion at Franklin College. The Festival of Faiths (FOF) is a signature initiative of the Center for Interfaith Cooperation (CIC). Jane Gehlhausen served as the FOF Chair, assisted by Charlie Wiles, Executive Director, Don Knebel as the Chairman of the CIC Board; the Festival Steering Committee and the entire CIC Board and Lisa Morrison of the Lisa Morrison Media was the Media Coordinator. Thanks to our many friends whose assistance and generosity made possible this landmark event in the heartland of America; the ripple effect is already felt across many time zones and continents.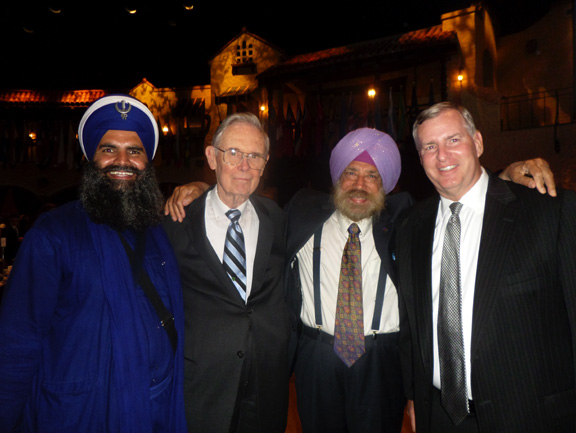 Indianapolis, Indiana USA <> KPSinghDesigns.com <> September 11, 2014
 
The 48th Penrod Arts Fair (one of the largest arts and cultural fairs in the Midwest; average one-day attendance: 30,000). KP Singh has exhibited his work at the Penrod Arts Fair for 44 years. You may enjoy the video link below (3 minute interview with KP Singh):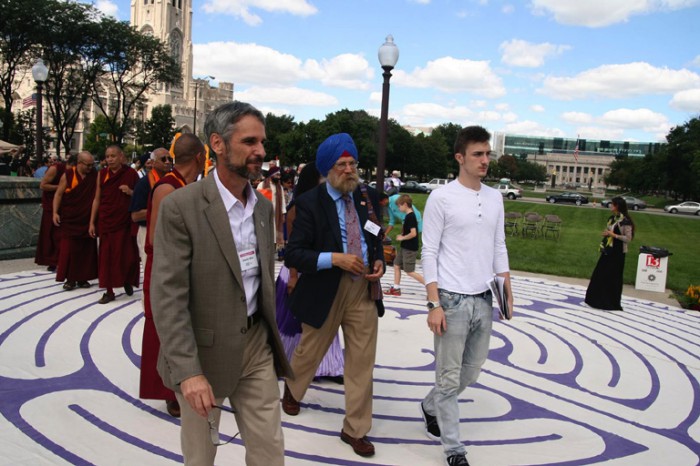 Processional of faith leaders and representatives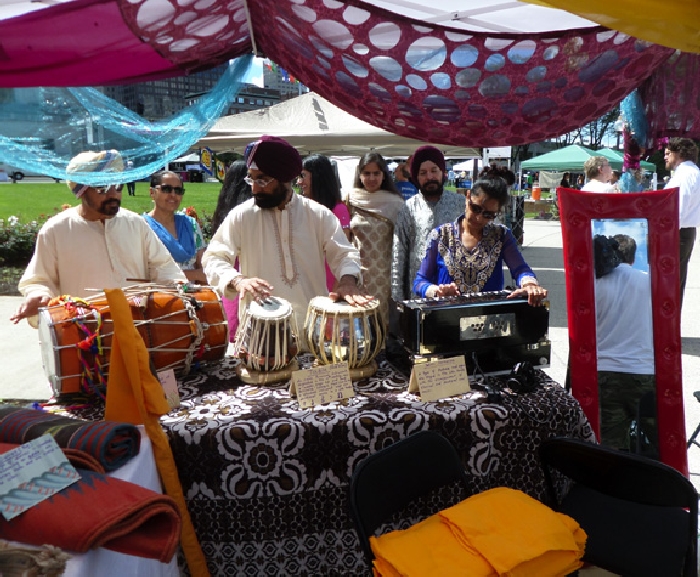 Sikh Satsang Booth at the FOF
Bongo Boy Drum Circle at the FOF
Faith leaders
Festival of Faiths at the Veterans Memorial Plaza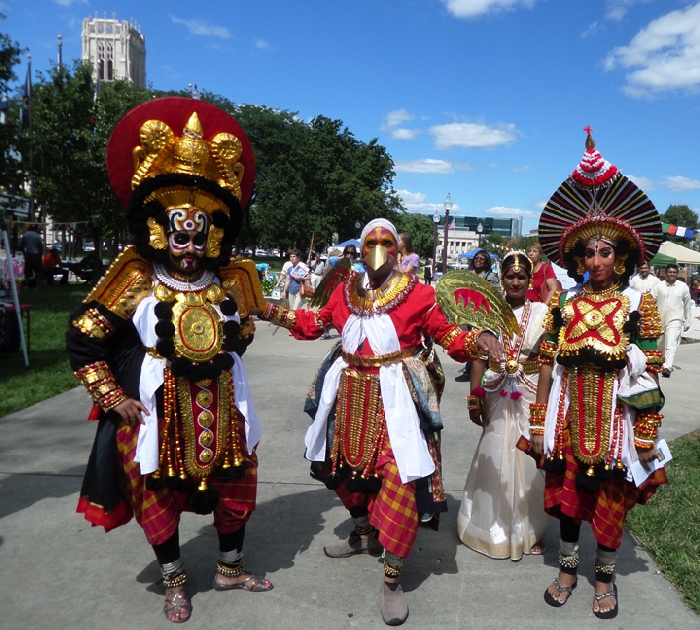 Hindu Dances on their way to the Sacred stage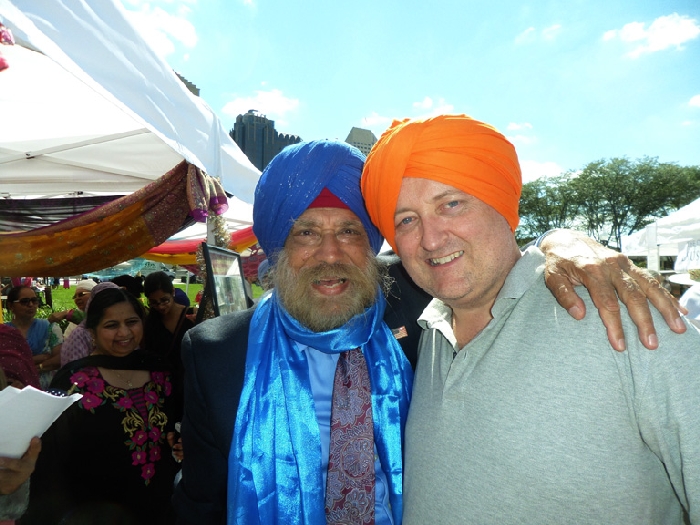 Star Reporter Robert King with CIC Board Member KP Singh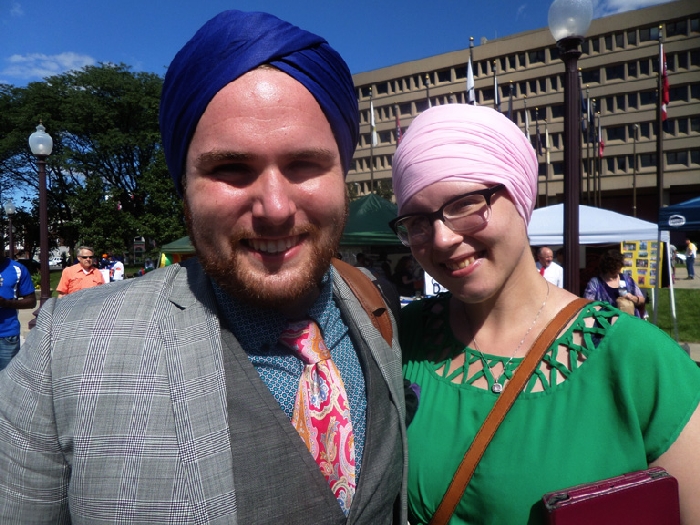 Steering Committee representatives with their Sikh turbans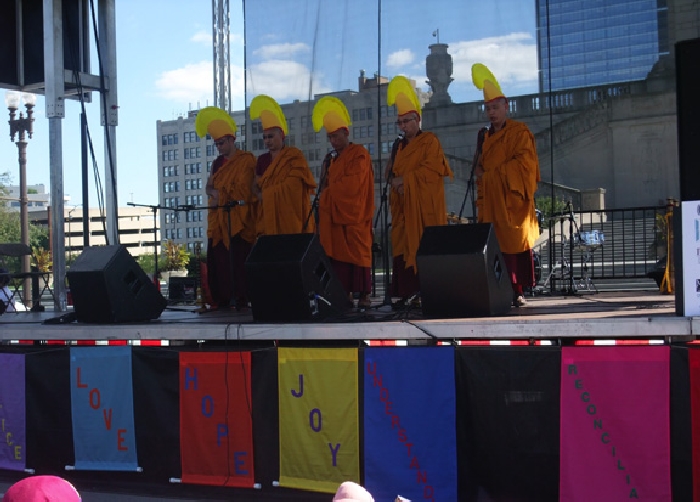 Buddhist Monks chanting at the Festival