Doctor working for 'Sikh-Muslim Affinity' explains how Muslims donated foodgrains to the Golden Temple
Aas Mohd Kaif
Dr Nasir Akhtar of the 'Sikh-Muslim Affinity Foundation' speaks of the heart warming response in Punjab to Muslims contributing 35 tonnes of foodgrains for the free kitchen at the Golden Temple
26 Jul 2020: How did the idea of collecting grains and send it to the Golden Temple come to your mind?
During the COVID-19 lockdown, Golden Temple had issued an appeal for grains. The Golden Temple runs a huge Langar (free kitchen) where food is served to everyone irrespective of their religion. I felt that we should also contribute. While it was possible to collect grains from a few wealthy people, we decided to collect five Kgs of grains from each household in Muslim majority villages.
It took us 35 days and we received a huge response. It has had a positive impact on the brotherly relations between the two communities.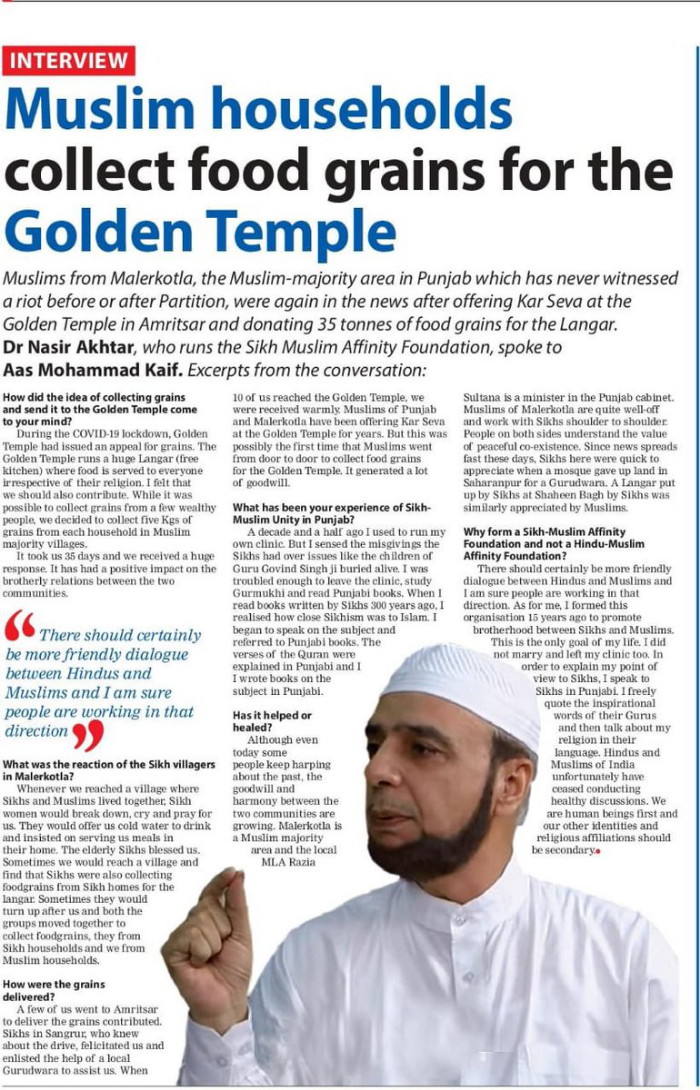 How were the grains delivered?
A few of us went to Amritsar to deliver the grains contributed. Sikhs in Sangrur, who knew about the drive, felicitated us and enlisted the help of a local Gurudwara to assist us. When 10 of us reached the Golden Temple, we were received warmly. Muslims of Punjab and Malerkotla have been offering Kar Seva at the Golden Temple for years. But this was possibly the first time that Muslims went from door to door to collect food grains for the Golden Temple. It generated a lot of goodwill.
Has it helped or healed?
Although even today some people keep harping about the past, the goodwill and harmony between the two communities are growing.