Wahe Guru ji ka Khalsa, Wahe Guru ji ki Fateh!   
ਵਾਹਿਗੁਰੂ ਜੀ ਕਾ ਖ਼ਾਲਸਾ, ਵਾਹਿਗੁਰੂ ਜੀ ਕੀ ਫ਼ਤਿਹ॥ 
Today is the last day of the western calendar and the last day of our annual fundraiser. 

Thank you so much for your support of SikhNet's seva. We are grateful to be able to serve so many people across the world, and it is because of your kind donations. You make it all possible. 

As 2022 comes to an end, 2023 shines brightly before us. To wrap up the year, we're sharing some tips for peace:

1. Sukhmani Sahib  -  Listen to or recite Sukhmani Sahib to experience first hand the lagoon of peace in your spirit, mind and body

2. Connect  -  We have spent years isolating to protect each other, but connection is a vital human need. Reach out to those you love, whether by phone, text or even a letter. Connecting with others is important for our heart health, our happiness and our connectedness with the planet and all beings. 

3. Find what "healthy" means to you - Good health is important part of living your best life, but "good health" is as individual as we are. Take some time to reflect on what helps you the most.  Is it walking? Is it eating differently? Is it meeting with friends once a week to drink tea together? Is it a new fitness routine? A new sleep routine? A new job? A new...? 

4. Know what you love and do it often - Life is busy, but nurturing ourselves is how we stay strong to handle whatever life brings. Knowing what makes your soul light up is important - scheduling it to ensure you have time for it even more important! Take a moment to reflect on what really makes your cells sing, makes your heart soar, makes you feel vibrant and delighted, and set aside time each week for it. 
Our special gift to you this year is this beautiful Gurpurb calendar. Use it to create reminders to take care of yourself. Click here to get your free gift!  *All Gurpurb dates are as per Khalsa Hira Jantri (Publisher: Bhai Chattar Singh Jiwan Singh)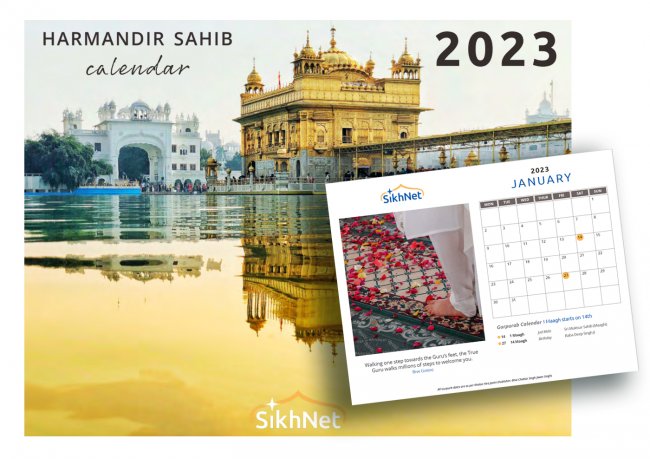 Thank you for everything you make possible, for nurturing the hearts and souls of all who seek a closer connection with Guruji. May this coming year bring you light, love, beauty, connection and joy. 
With love - from our family to yours!